Syncios iOS & Android Manager supports managing data on and off your iPad, iPhone, iPod Touch, Android phone, allowing you easily transfer data including music, video, photo, apps, contacts and more between iPod Touch/iPhone/iPad/Android phone and PC. This iOS & Android Manager also features more functions to better manage your iDevices & Android phone, such as Ringtone Maker, handy Audio & Video converter, etc.
---
1. Manage Android/iOS Data
1. Under My Device tab, choose items to manage from the left panel: Contacts, Media, Photos, Apps and Information.
2. Choose the operation to backup data from iPhone, iPad, iPod Touch or Android phone to PC or copy from PC to Android & iOS devices.
After your device connected, it will be recognized and displayed in the primary window.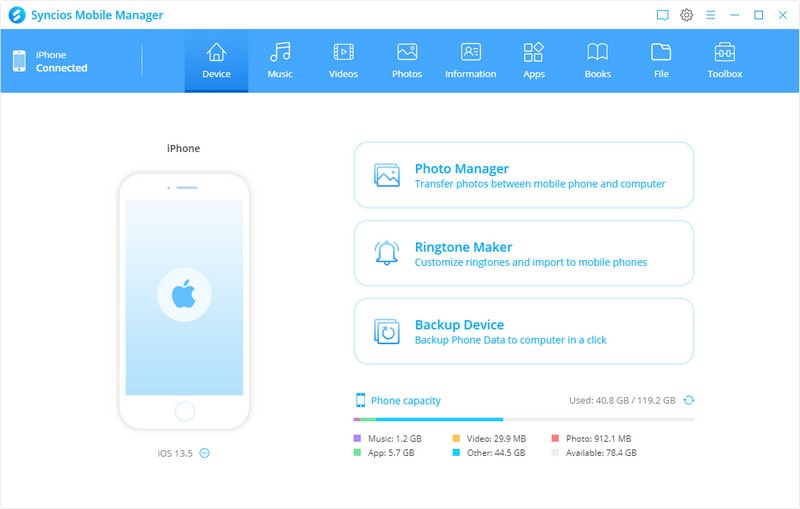 2. Export Data on Android or iOS to PC
Export Android/iOS Music to PC
To transfer Android/iOS music to Windows PC, click Media tab on the left panel of Syncios and then choose the audio type from right panel, including Music, Ringtones, Podcasts, Audiobooks, Voice Memos and iTunes U. Just hightligt Music, all music on your iPhone/iPad/iPod Touch/Android phone wil be displayed on the main window. Simply select the songs you want to transfer and click Export option. You can also import music or music album to device via Add button.

Export Android/iOS Photos to PC
To transfer Android/iOS photos to Windows PC, click Photos tab on the left panel of Syncios, all the albums will be displayed in the main window. Manage the whole album by choosing operation from Import, Export, Delete. Select the album or photos in your device, and then click Export button to transfer photos from Android or iOS to PC.

Export Android/iOS Videos to PC
To transfer Android/iOS videos to Windows PC, click Media tab on the left panel and choose the video type from right panel, including Videos, Home Videos, Music Videos,TV Shows. Choose video files in your device, and then press Export button to transfer videos from Android or iOS to PC.


3. Transfer Data from PC to Android or iOS Devices
It's not a hard job to transfer music/videos/photos from Windows PC to your Android/iOS phone. Simply press Media on the left panel of Syncios. Then click Add to browse your PC for the video, audio, or photo files you want to import to your Android or iOS device. After finding them, click Open to transfer music, videos, photos to your Android phone or iOS devices.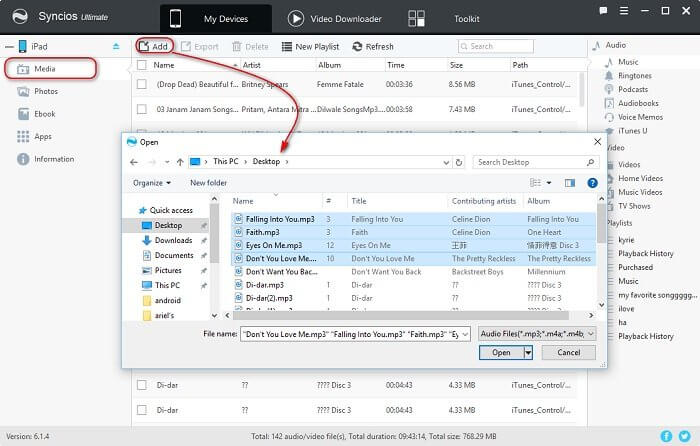 4. Online Videos Download
1. Paste online video URL to the pop-out box > Choose the device you'd like to transfer video to > Start Download!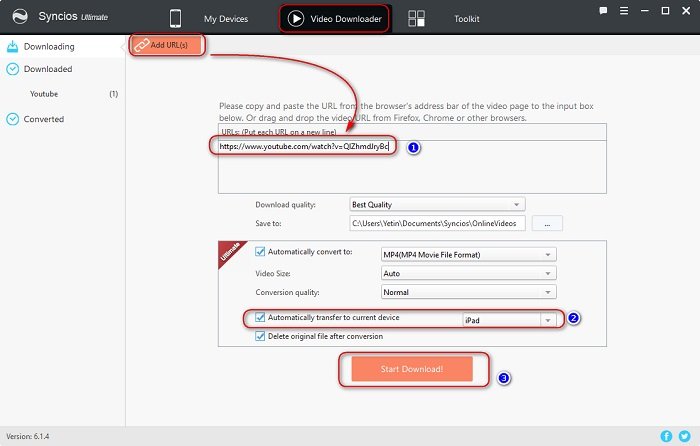 Note: Ultimate version supports automatically converting and importing downloaded videos to your iOS devices, just tick "Automatically transfer to current device." before downloading, it also allows you to select the download quality, output video format, video size, conversion quality.
Download quality: Manually, Best Quality, Smallest File.
Output Video Format: just tick the checkbox of "Automatically convert to" and then choose the video format you need.
Video Size: all kinds of size for your choice.
Conversion quality: Low, Normal, High.
Also, you can choose to delete the original file after conversion.
2. Waiting for downloading for a moment. And after downloaded, choose the video(s) you'd like to transfer to your device.

Note: Syncios Ultimate users please check your device after downloading video. The video is transfered to your device autimatically and don't need to transfer manually
5. For Toolkit
Syncios not only gives you better experience to manage your iPhone, iPad, iPod Touch, Android, but also offers more amazing functions such as built-in video converter, audio converter, and ringtone maker. How to convert video for Android phone or iPhone/iPad/iPod?
1. Under Toolkit, go to Common Functions and click the Video Converter icon.
2. Choose output video format supported by Android device or iPhone, iPad, iPod, including MP3, M4A,CAF and M4R, and then click Browse to select an output folder for the converted video file. Now, press Convert button to start the video conversion process.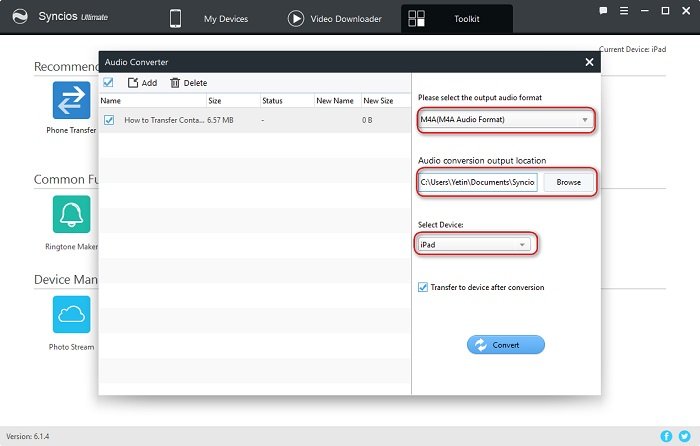 Syncios not only features as great iOS & Android Manager, but also easy-to-use Audio/Video Converter and iPhone Ringtone Maker. How to make iPhone ringtone?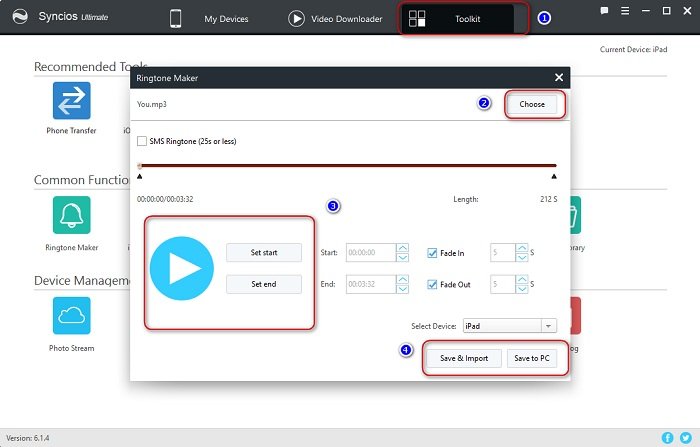 1. Click Toolkit > Ringtone Maker to start the ringtone maker tool.
2. Choose a music file on your PC or drag and drop file to Syncios directly.
3. Set start and Set end to the ringtone and choose effect from Fade In and Fade Out. If you would like to make SMS tone, just simply check the SMS Ringtone option.
4. Choose Save & Import button Syncios would convert your ringtone and then import to current device shown on the upper right corner automatically. Choose Save to PC button you can simply save the output ringtone to local PC.
5. Go to your iOS device, click Settings > Sounds > Ringtone, where you would find the ringtone.