SyncDroid iOS & Android Manager supports to transfer data on and off your iPad, iPhone, iPod Touch, Android phone, allowing you easily to transfer data including music, video, photo, apps, contacts, call logs and more between iPod Touch/iPhone/iPad/Android phone and PC. This iOS & Android Manager also features better managing your iDevices & Android phone, such as One-Click Backup and One-Click Recovery functions and etc.
---
1. Download and Run Syncios iOS & Android Manager
On the start-up interface of Syncios Toolkit, choose 'Mobile Manager' to download this program. After the installation, tap 'Mobile Manager' again to launch SyncDroid program.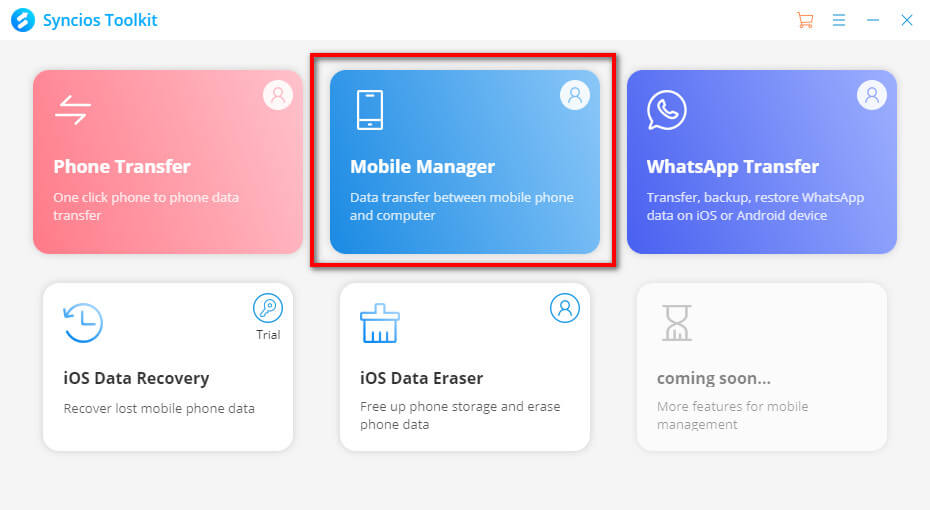 2. Overview Android/iOS Data on Computer
Staying at Device window, connect your device, which will be recognized and displayed in the primary window. You can learn to know the overall capacity of your device.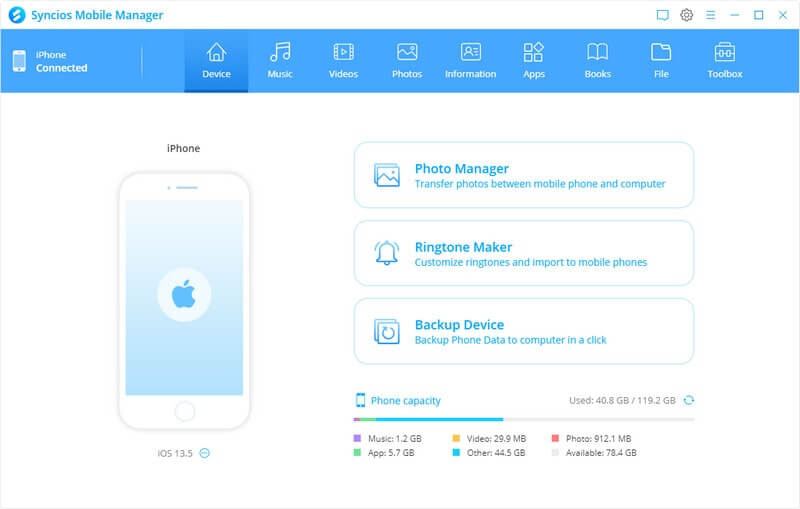 3. Manage Music on Android or iOS to PC
Export Android/iOS Music to PC
To transfer Android/iOS music to Windows PC, click Music tab on the menu above Syncios Manager and then choose the audio type from left panel, including Music, Ringtones, Podcasts, Audiobooks and iTunes U. Just hightligt Music, all music on your iPhone/iPad/iPod Touch/Android phone will display on the main window. Simply select the songs you want to transfer and click Export option and make them a backup to PC.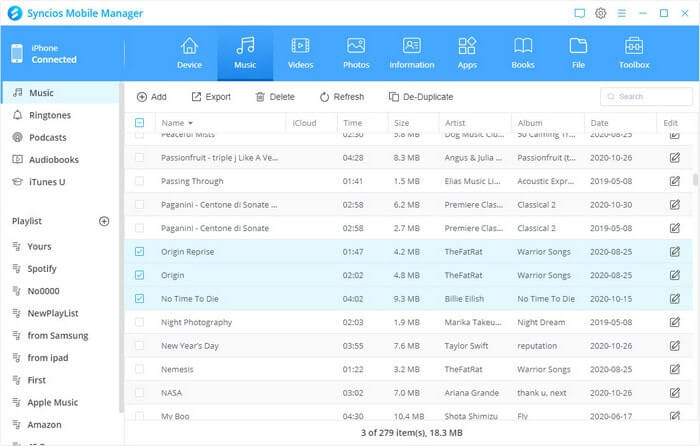 Import Music from PC to iPhone/Android
It's not a hard job to transfer music/videos/photos from Windows PC to your Android/iOS phone. Simply press Music on Syncios Manager menu above. Then click Add to browse your PC for the video, audio that you want to transfer to your Android or iOS device. After finding them, click Open to transfer to your Android phone or iOS device.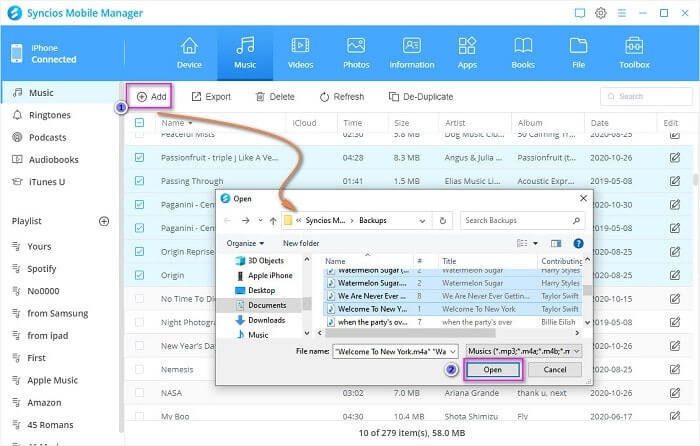 De-duplicate music from Android/iOS
To delete duplicate songs on iPhone or Android phone, you can tap into De-duplicate button. Then select Name, Artist or Album order that might contains the same files.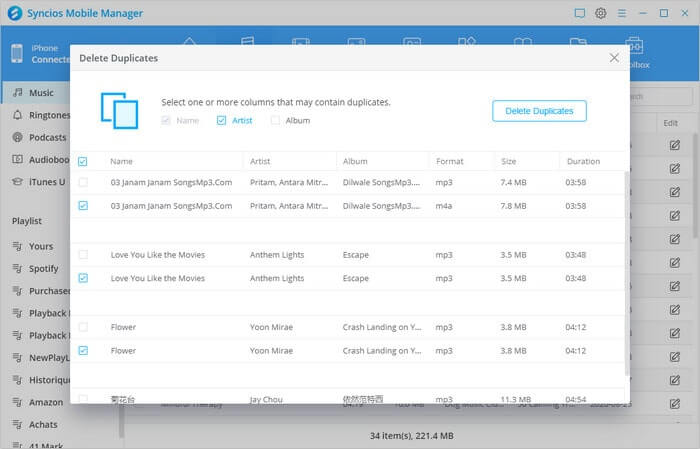 ---
4. Manage Android/iOS Photos on PC
To transfer Android/iOS photos to Windows PC, click Photos tab above Syncios menu, all the albums will be displayed in the main window. Manage the whole album by choosing operation from Import, Export, Delete. Select the album or photos and then click Export button to transfer photos from Android or iOS to PC easily.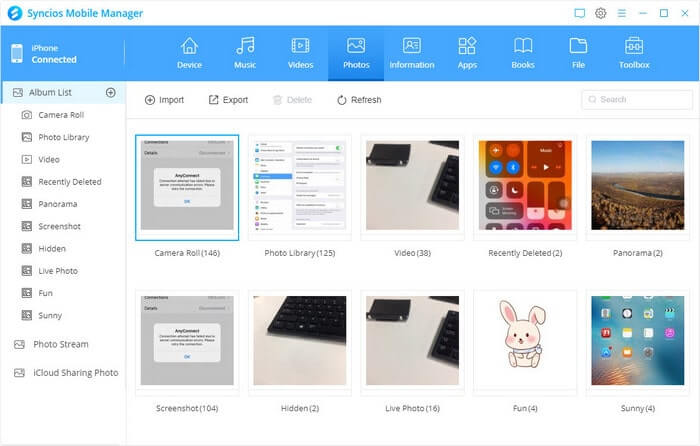 Instead, to sync photos from computer to mobile phone, click on 'Import' button to choose photos from your computer. Select the photos and tap 'Open' to start.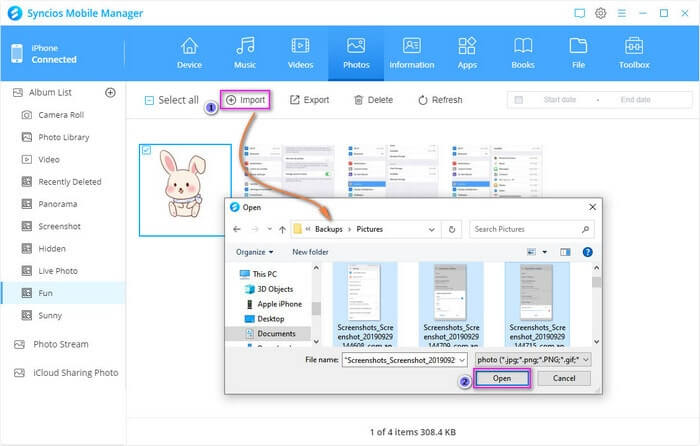 ---
5. Manage Android/iOS Videos
To transfer Android/iOS videos to Windows PC, click Media tab on the left panel and choose the video type from right panel, including Videos, Home Videos, Music Videos,TV Shows. Choose video files in your device, and then press Export button to transfer videos from Android or iOS to PC. On the contrary, directly tap 'Import' button to add video from PC to your device.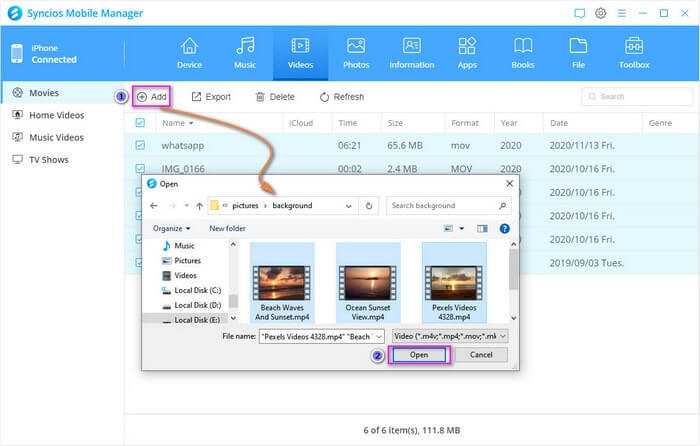 ---
6. Manage Android/iOS Contacts, Messages and Call history
By tapping 'Information' tab, you can go to manage Contacts, Messages and Call history contents on iPhone and Android phone.
Export/Backup/Recover Contacts: Click on 'Contact' option on the left sidebar, choose certain files and hit on 'Backup' button to export them out as vCard, CSV, XML file to PC. Or you can directly sync them to your Outlook contacts. Direct tap 'Recover' key to transfer contacts back to mobile phone.
Export/Backup/Recover Messages: Click on 'Messages' option on the left sidebar, tick off the messages and instruct 'Backup' button to make a backup to PC. Direct tap 'Recover' key to restore the messages backup to original phone or another connected device.
Export/Backup/Recover Call history: Click on 'Call history' option on the left sidebar, tick off the call logs and make a 'Backup' to PC. Direct tap 'Recover' key to transfer call log backup to mobile phone.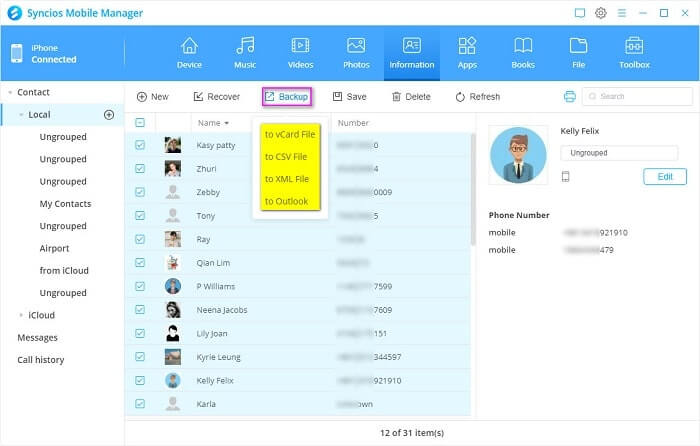 7. Manage Android/iOS Applications
Add Android/iOS Apps from computer to phone: Under 'Apps' management, hit on 'Add' to import apps on pc to your current device.
Uninstall Android/iOS Apps from mobile phone: Tick off the box in front of Name column, simply uninstall the apps from your mobile phone.
Backup Android Apps to Computer: Select your wanted apps, and tap 'Backup' to copy the apk to computer.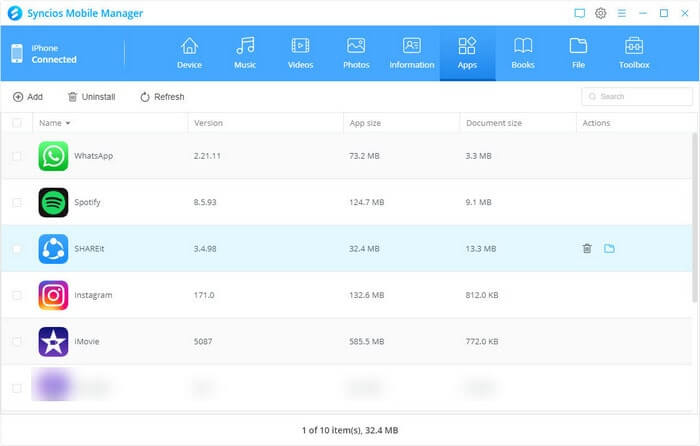 iOS App Document Management:Click on 'Folder' icon after the app to preview files attached in application. You can either add files from PC to document folder or export app files to PC as you need.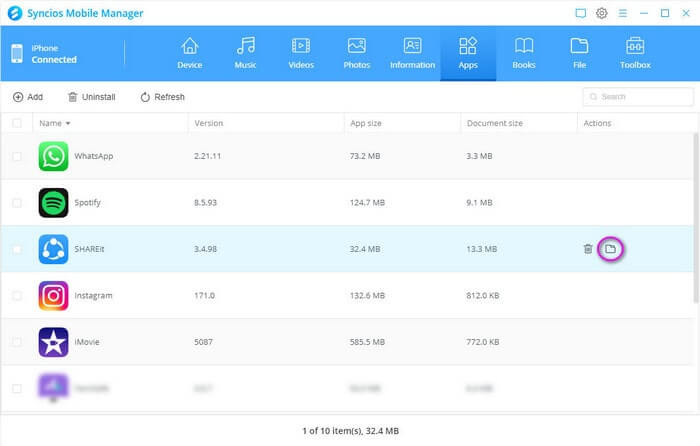 ---
8. Manage E-books on iPhone/iPad/iPod Touch
Enter into 'Books' part, you are provided with option 'Add', 'Export' 'Delete' and 'Refresh' under the main window.
You can export, import and delete ebooks, PDF files and audiobooks on the connected iOS device.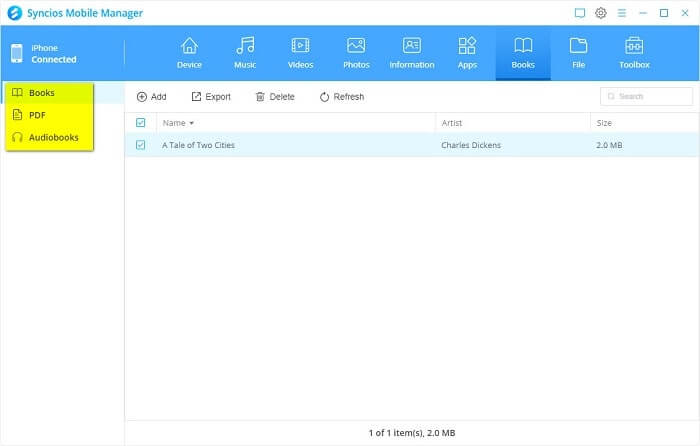 ---
9. Manage Android/iOS File System
By 'File' tab management, users are easily access to Android and iOS device file under Disk Mode. To manage the files or directories from Android/iOS device to computer freely, Syncios offers four operative buttons: 'Add', 'Export', 'New', 'Delete' and 'Refresh' under the main window.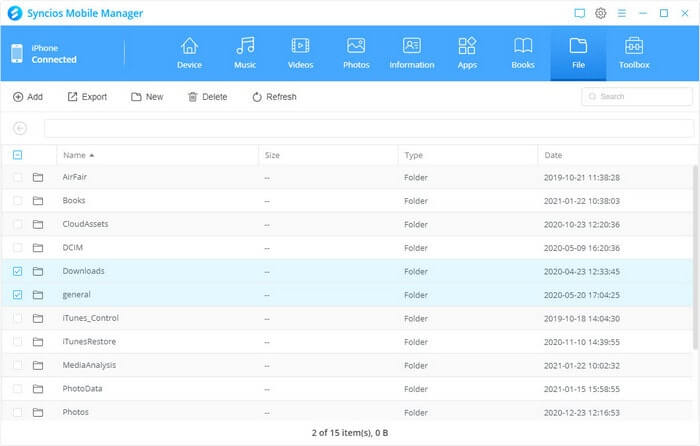 ---
9. Toolbox with Various Mobile Tools
Last part buidt in Syncios Mobile Manager is Toolbox, with many useful yet handy tools. They are One-click backup, One-click Recovery, Ringtone Marker, Heic-to-Jpg Converter, Photo Compression, Audio Conversion and Video Conversion.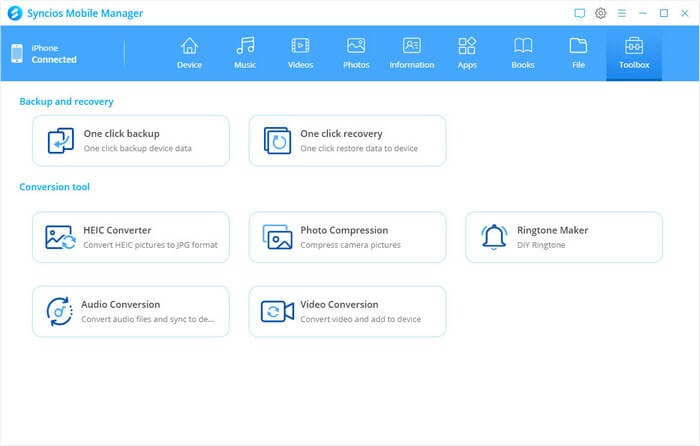 One-Click Backup and One-Click Restore
One-Click backup mobile data to PC: Under 'Toolbox' management, click into 'One click backup' function and futher choose file types. Do set up the backup path below this window and finally tap 'Next' to move on and completed.
One-Click restore PC backup to device: Click into One click recovery, all the previous backup file will list for option. Choose the one you want and one-click to restore them to your original phone or another device.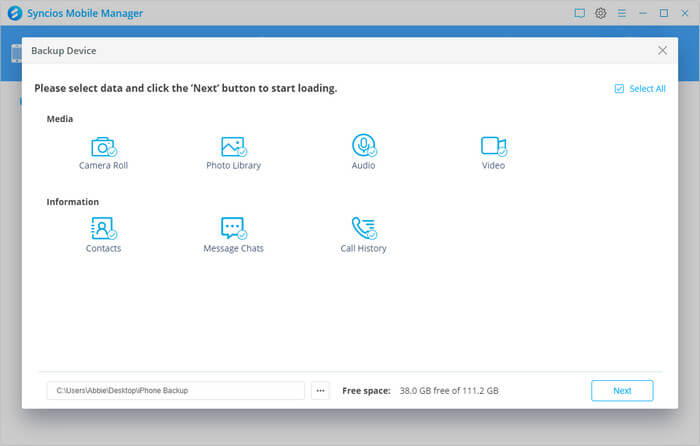 Ringtone Marker
To make your own music into a ringtone fits for a caller or texter ID, you can enter 'Ringtone Maker' tool for a help.
Click 'Select from computer' to import music from computer. Click 'Select from device' to import a song from the connected device. Play the song you select, then set its start and end. Click Import to device to import the customized ringtone to device. Or click Save to computer to transfer the ringtone to computer.
Heic-to-Jpg Converter
HEIC image file format is available only on the iDevices running iOS 11 and Mac running macOS High Sierra. While JPG supports a broader range of OS like Android, Mac, Windows, iOS, and UNIX. If you are in need to convert your HEIC pictures to JPG, go to 'HEIC Converter'.
Two options to add picitures for a conversion, that you can choose the source HEIC photos from PC (Tap 'Add pictures' ) or the device that is currently connected to Syncios (Tap 'Select from device'). On the right panel, set up the path to store the photo after conversion. By default, the pictures will be exported with high quality.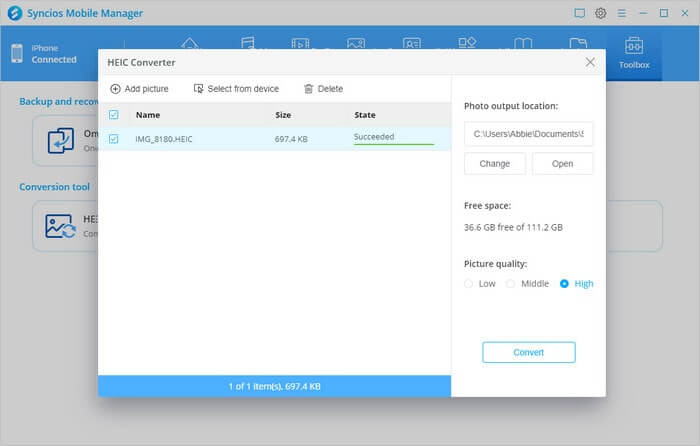 Photo Compression
Photos take up so much storage on mobile phone. To decrease the space occupied by photos, you can enter 'Photo Compression' function to compress photos in batch.
Tap 'Scan photos' to scan the photos on mobile phone. Select photos in batch or in all and then instruct the 'Compress' function. You can also backup the original photos (not compress yet) to PC at the same time. Photos compression will release more available space on mobile phone.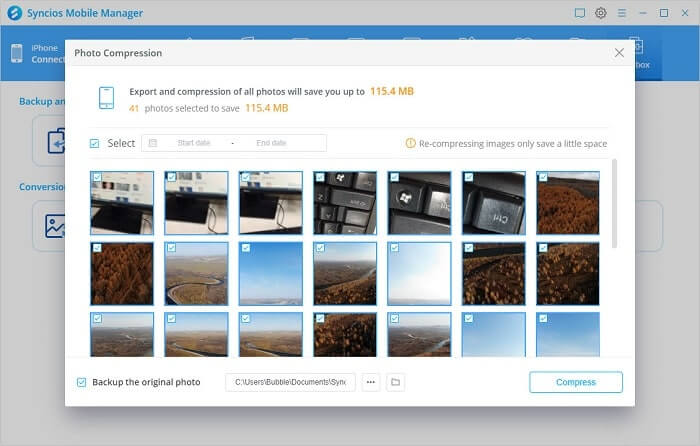 Audio Conversion
To change the format of the original audio, run into 'Audio Conversion' tool.
To add audio, you can directly drag the file from computer and drop it to this editor. Or you can navigate to the 'Add Audio' button and import the files to convert. On the right panel, you are supposed to choose which audio format you want to convert. Optional formats cover MP3, M4A, M4R,CAF, AAC, WAF, FLAC and OGG. At last, if you have connected Syncios to your phone and you are desired to save the converted audio to the phone, do tick off 'Import' opotion and at last instruct 'Convert'.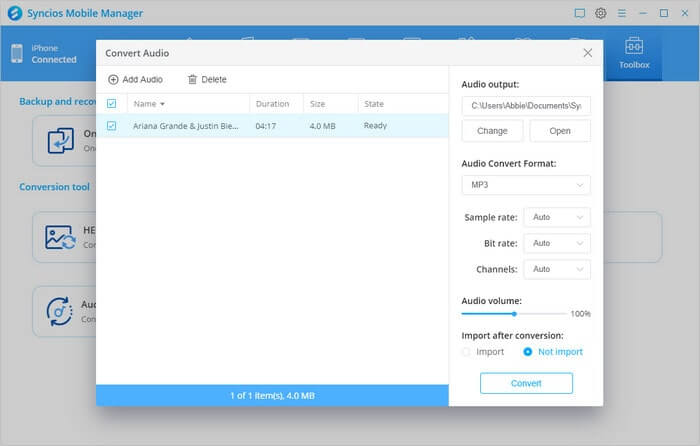 Video Conversion
To convert video files to MP4 format, you can go into 'Video Conversion' part under Toolbox.
Click 'Add Video' button to add the target video into this editor. On the right panel, customize the output path that is to store the converted video. As well, decide the video size from the smallest 480*320 to the largest 1920*1080. Video quality is by default set to High, you can change it to Low or Middle at will. If you have connected your mobile phone to Syncios, do choose to 'Import' after conversion. And at last press 'Convert' to work it out.