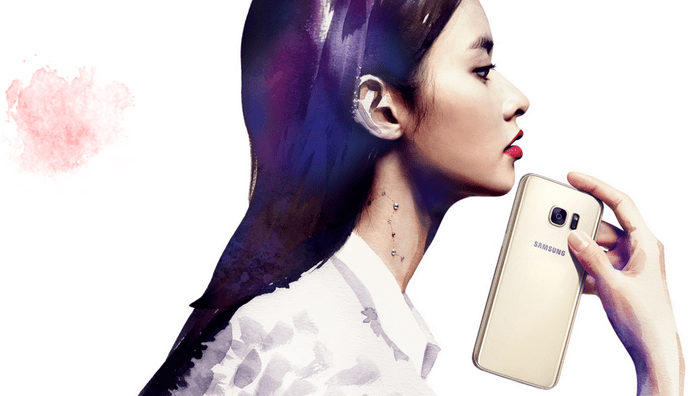 Music describes emotions that have no words; no physical nuance; no way to be communicated other than through music. Music can heighten senses; enhance emotions and extract memories. Music has a way of putting you in a completely different mindset. The mindset of the composer. The mindset of the performer. The mindset of yourself as you feel at that specific moment.-----Jim Davis
When people ask why we need music, there might be a thousand of reasons. For me, music is a special inside world where I can find peace. However, things might not be so pleased when you can not figure out how to import and listen music on your new device, such as the latest Samsung flagship -- Samsung Galaxy S7.
To import music to the new Samsung Galaxy S7, there could be many ways. And this article will show you the easiest ones.
Part 1: How to Transfer Music from Windows PC to Samsung Galaxy S7/S7 Edge
Solution 1: Transfer Music to Samsung Galaxy S7 via Windows Explorer
Simply connect your phone to your PC or laptop using the bundled micro USB cable and then open a Windows Explorer window. You can do this by hitting the Windows key and 'E' at the same time.
Click on 'My Computer' or 'This PC' depending on the version of Windows you're using and look for the 'Devices and Drives' section – this is where your Galaxy S7 or S7 Edge will appear.
If for whatever reason the phone doesn't appear in the Explorer window, make sure it's switched on, unlocked and connected as a media device. You can check what connection type your S7 is using by swiping down the notifications panel – this is also where you can change the connection type if the phone isn't set to media device by default.
Once your phone appears, double-click to open it up and look for a folder called Music. Find the music files you want to transfer over to your S7 and then simply drag and drop them into the S7's Music folder window. They will be copied across and once complete, you can close the Explorer windows and disconnect the micro USB cable.
Solution 2: Transfer Music to Samsung Galaxy S7 via Syncios Samsung Manager
You can also use Syncios Free Samsung Manager to transfer music (contacts, messages, video, call log, photo and other data) between PC and Samsung Galaxy S7/S7 Edge.
Step 1 : Download and install this free Syncios Manager tool on your computer, and launch it. Then connect your Samsung Galaxy Note 8 to computer via USB cable.
Step 2 : Syncios would detect your device automatically, and you need to turn on USB Debugging Mode under Settings > Developer Option. After your device is detected successfully, click on Media button under My devices on the left panel, all of songs and detail information will be listed out.
Step 3 : To import music from your computer to Samsung Galaxy Note 8, click on Add button and then select the songs on computer to import. You can also select a folder by clicking Add Folder. Besides, directly drag and drop songs from computer is available too.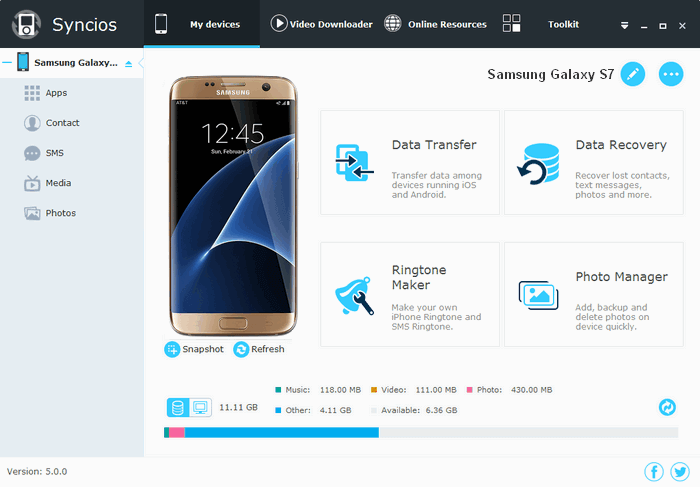 ---
Part 2: How to Transfer Music from Old Phone to Samsung Galaxy S7/S7 Edge
Transfer music from PC to Samsung might be a piece of cake for you, however, how to transfer music from your old phone to Samsung Galaxy S7 could be more tricky than you think. If you have been bothered by this issue, then you have come to the right place. Syncios Samsung Transfer can solve this issue for you in one simple click.
Step 1:Downlaod and install Syncios Samsung Transfer on your windows pc. Launch Syncios Data Transfer program. Connect both of your old phone and Samsung Galaxy S7 to computer via USB cable.
Download
Win Version Download
Mac Version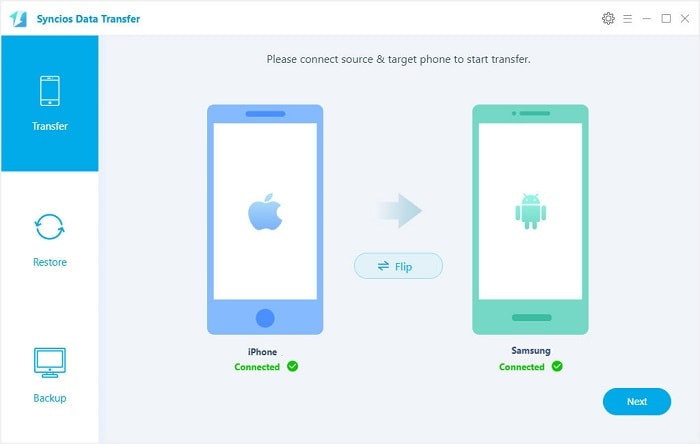 Step 2: On Transfer interface, make sure your old phone is on the left while Samsung Galaxy on the right. If not, click "Flip" button to exchange. After your devices are recognized by Syncios, click "Next", the following screen will allow you to select items you would like to transfer to s7. After making sure your data are chosen, click Next button. During this time, make sure your Samsung Galaxy S7/S7 Edge phone is not disconnected from the computer.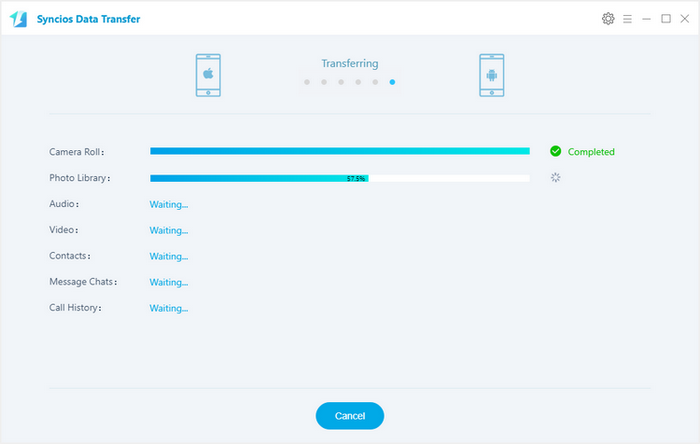 Step 3: After a while and all the data will be restored into your Samsung Galaxy S7/S7 Edge Compact, you will get the pop up message Copy Completed. Click OK, the backup folder will automatically open.
---
Part 3: How to Transfer Music from iTunes to Samsung Galaxy S7/S7 Edge
If you want to copy your iTunes music across from your Mac or Windows PC, you can use the drag and drop methods detailed above (assuming your songs are already stored locally on your computer, otherwise you'll need to download them first). Simply find the relevant music folders within the iTunes directory on your machine and drag your chosen tunes over to your S7 or S7 Edge.
Mac: Music > iTunes > iTunes Media > Music
Win: This PC > Music > iTunes > iTunes Media > Music
Recommend: You can use use Syncios Samsung Transfer to transfer music from iTunes to new Samsung Galaxy S7/S7 Edge, just click Restore mode on main interface, and choose iTunes Library. Choose your iTunes music from the left list then click OK. After a while, the music will appear in your Samsung Galaxy S7.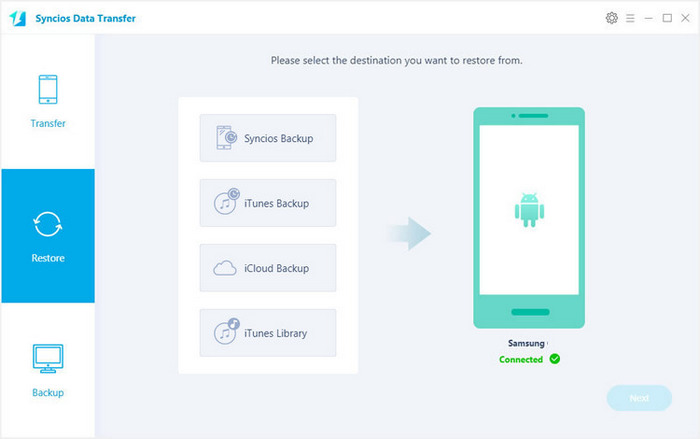 ---
Related Tips & Tricks