To transfer contacts, messages, music, videos, photos, call histories, apps and more from old Samsung to new Huawei Mate 10/10 Pro effectively, we need a powerful phone tool to help us in reducing time wasting. This article will provide you a simplified guide on transfer Samsung data to Huawei Mate 10/10 Pro. Two easy solutions are enough for you to finish transferring.
Solution 1. Transfer Data from Samsung to Huawei Mate 10 for Free
Step 1 : Install and Run Huawei Mobile Manager
Connect your old Samsung device to your computer and launch the Syncios Mobile Manager. Turn on the debugging mode on Samsung, after your Samsung deivce is successfully detected, you can see: Apps, Contact, SMS, Media, Photos on the left list.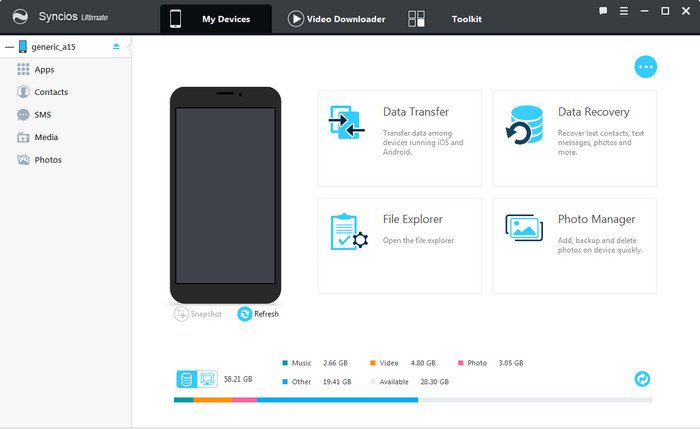 Step 2 : Transfer Contents from PC to Huawei Mate 10/Mate 10 Pro
Then you can choose contents to backup to PC via click different button. You need to backup your Samsung Data to computer first, then restore the backup from computer to your new Huawei Mate 10/Mate 10 Pro device.
For Music/Video transfer, go to Media > Export, choose music files to backup to computer. Disconnect Samsung and plug in Huawei Mate 10/Mate 10 Pro, click "Add" button to import the songs or music folder to your Huawei Mate 10/Mate 10 Pro.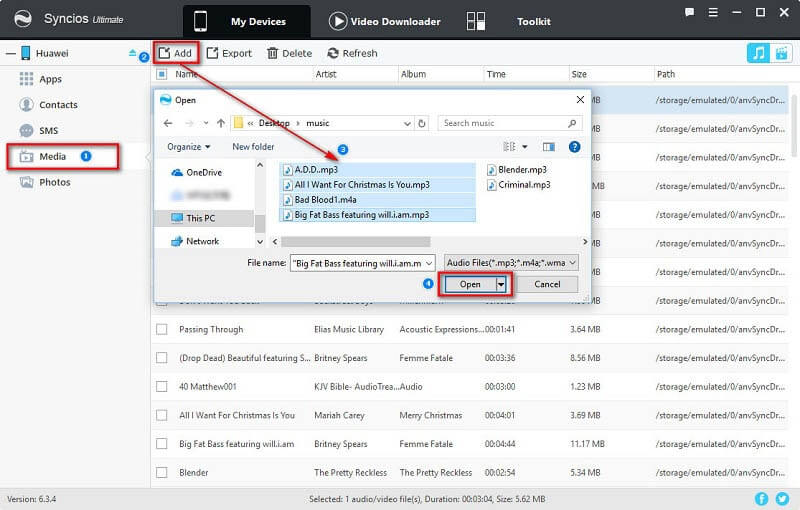 Note: This Huawei manager can help you backup your phone data to PC, then restore to Huawei Mate 10/Mate 10 Pro. However, it needs a few steps and supports limited contents. We recommed you use Syncios Data Transfer to directly transfer data from old phone to Huawei Mate 10/Mate 10 Pro.

Syncios Data Transfer
Syncios Data Transfer is a comprehensive iOS & Android data transferring tool, which allows you to move all you data like messages, contacts, call logs, music, video, etc between iOS & Android devices with great convenience and safety.
Backup and restore phone data in lossless quality.
Restore iTunes/iCloud backup to iOS or Android device.
Transfer iTunes music libaray and playlist to device.
One Click Phone-to-Phone Transfer.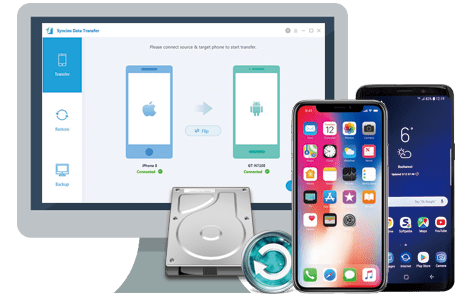 Solution 2. Transfer data from Samsung to Huawei Mate 10 Directly
If your iPhone still works, then we can simply transfer all contacts, sms, music, video, call history from Samsung to your new Huawei Mate 10/Mate 10 Pro with this handy Mobile Transfer Tool. Please follow the steps below:
Step 1 Install and Run Syncios Data Transfer
Download and install the compatible version of Syncios Android Transfer on your computer from below, then launch the program. To transfer your contacts from Samsung Galaxy S4/5/6/7 to Huawei Mate 10/Mate 10 Pro, click "Transfer" section on the homepage.
Download
Win Version Download
Mac Version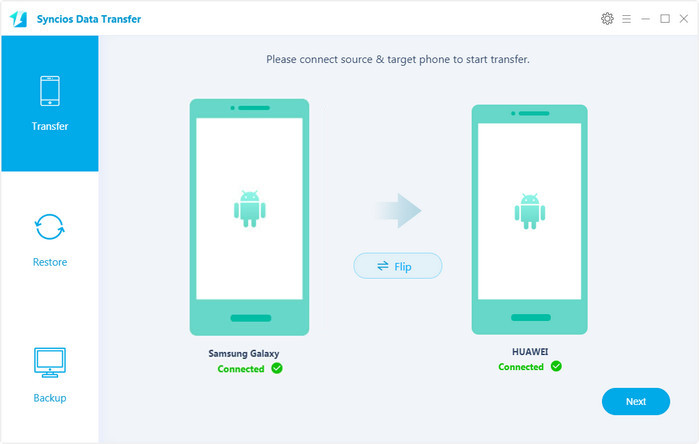 Step 2 Sync All Samsung Data to Huawei Mate 10/Mate 10 Pro.
Connect both of your phones to Syncios via USB cables, Android devices can also be connected via WiFi. Go to Next. To move data from Samsung to Huawei Mate 10/Mate 10 Pro, simply check the data you want on the middle panel after Syncios successful loading your data. Then, click Next.
The Samsung will be showed in left panel and Huawei Mate 10/Mate 10 Pro could be detected as target phone, otherwise, you can click on "Flip" button to exchange the source and target device .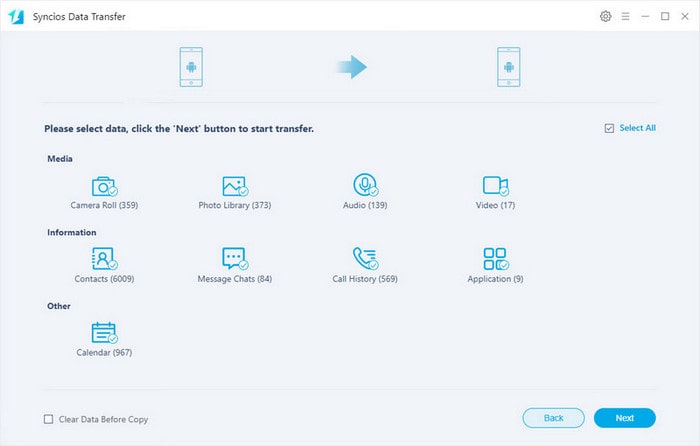 Step 3 Transfer Completed
The transferring process would be launched automatically and after the transfer progress is done, click "OK" to end it. Please make sure both of your phones's connection are active during the whole process in case of some unknown errors.
Now, you can see the Samsung contacts/sms/music and more on new Huawei Mate 10. Download the handy tool and follow the steps to transfer data from iPhone to new Huawei Mate 10/Mate 10 Pro.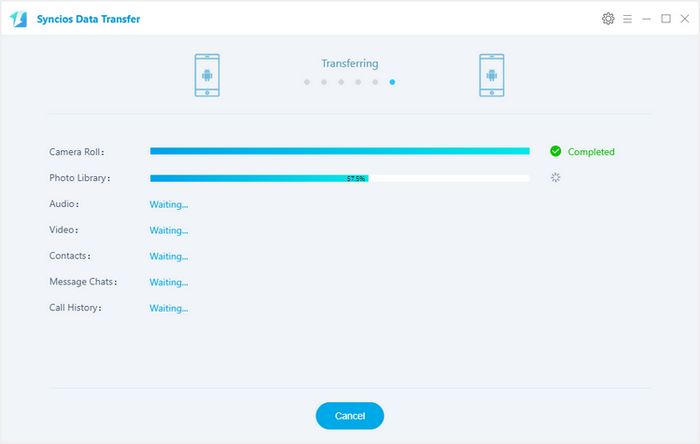 ---
Related Tips & Tricks