Transfer Data from OnePlus 6/7/8 to OnePlus 9/9 Pro
OnePlus 9 is coming out with better color fidelity and improved low-light performance, alongside the OnePlus 9 Pro. If you consider upgrading your OnePlus configuration, then OnePlus 9 updates its flagship smartphone line with the latest-and-greatest processors. And if you have switched from any older OnePlus 6/7/8 to the newest OnePlus 9, lucky for you, this year's top-end model OnePlus 9 series have many of the killer features from previous year's OnePlus 8 Pro. However, we will still focus on the data issue that is how you fix the data migration between 2 OnePlus phones. Here is right your place. Go with it and get everything work smoothly on your OnePlus 9.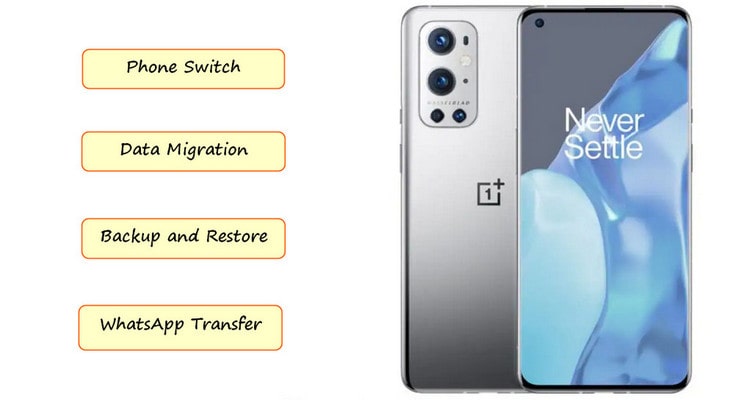 1. Internet-free Transfer from OnePlus 6/7/8 to OnePlus 9/9 Pro
If you are under a poor internet circumstance, then you can directly pick up OnePlus Switch for help. This is a way you can use to migrate data between your OnePlus phones. Data supports to migrate with OnePlus Switch include contacts, call history, short messages, pictures, audio, video, notes, apps, downloads, and documents, etc. The weakness of OnePlus Switch is that process might suddenly crash if it is a large file to send or receive. The worst could be a data loss with no chance to recover them. Anyway, if you are ok with it, have a look on the steps:
Step 1 On your OnePlus 9, open the OnePlus Switch app. Select [I'm a new phone], then select your old phone's type. A QR code is displayed in the upper part of the screen for connecting to the old phone.
Step 2 Open OnePlus Switch on the old phone, select [I'm an old phone] and scan the QR code on the OnePlus 9 screen. The two phones will be connected.
Step 3 After they are successfully connected, select the data you would like to be migrated on the old phone, and tap [Start Switching]. A moment later, the data will be migrated.
---
2. Direct Transfer from OnePlus 6/7/8 to OnePlus 9/9 Pro
It is not an ideal idea around a wireless transfer if the data is too rare, so you need to find another safer way to get through the data transfer. Syncios Data Transfer is a nice helper in this way. Syncios Data Transfer is a good helper for anyone who needs to migrate data in a straightforward way. It achieves a direct data transfer from your old OnePlus 6/7/8 to OnePlus 9, including Contacts, Messages, Call logs, Apps, Photos, Music and Video more. All you need to do is to get both sides already, and instruct a simple transfer function, and data will be moved as you expect. Specific steps are here: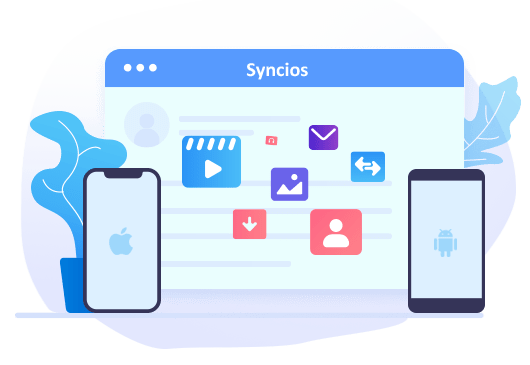 Step 1 Click the download button above to download and install Syncios Data Transfer on your computer. There are mainly 5 functional modules on Syncios Toolkit. To run Syncios Data Transfer, you should enter into [Phone Transfer] module on the interface.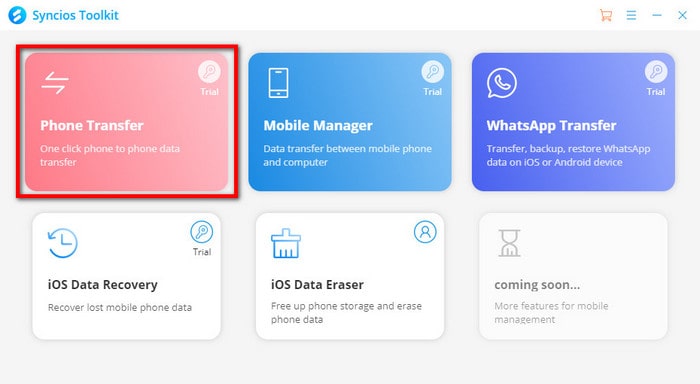 Step 2 Staying in [Transfer] part on Syncios Data Transfer, you can see 2 phones icon on the right panel, which means that you can connect 2 phones to it and further complete a transfer. So connect your old OnePlus and the OnePlus 9 to it.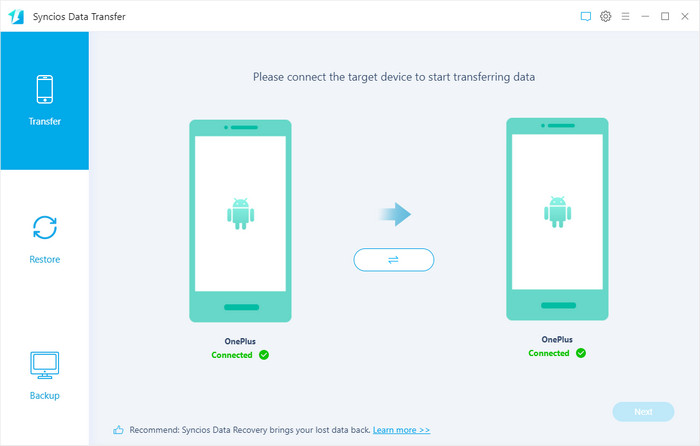 Step 3 Next, choose the file types you want to directly move from the old OnePlus to OnePlus 9. These file types cover photos, audio, video, contacts, messages, apps, call history and calendars.
Step 4 After selection, tap the next and start the transfer process. Do keep both phones in a close connection to program during the transfer period. If data to transfer is in a large size, patience is required.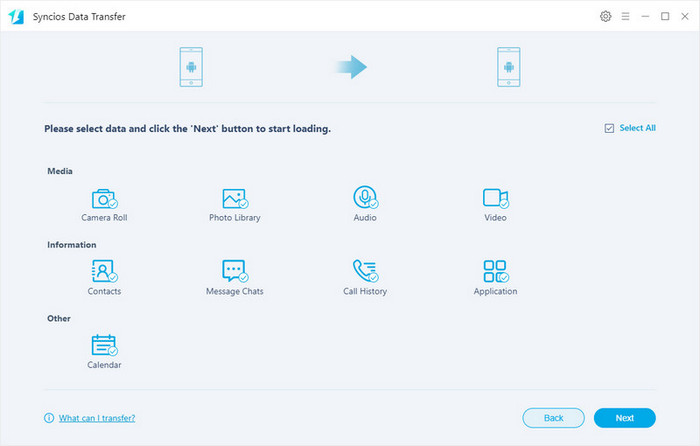 ---
3. Transfer Specific Item from OnePlus 6/7/8 to OnePlus 9/9 Pro
For some, they do not have to move everything from the old OnePlus to OnePlus 9. Instead, they just want to make a migration selectively, which means that they can migrate specific items or files to OnePlus 9. And for the rest, they might mean to give them up or keep them on old OnePlus only. If this idea occurs to you, you can try this way to transfer your data from OnePlus 6/7/8 to OnePlus 9.
Syncios Mobile Manager gives such a way to manage specific file type on a computer. It will access and project your file and data on computer, so you can further manage and organize the data effortlessly. Of course, you can select specific items in batch to transfer. To do that, go with these steps: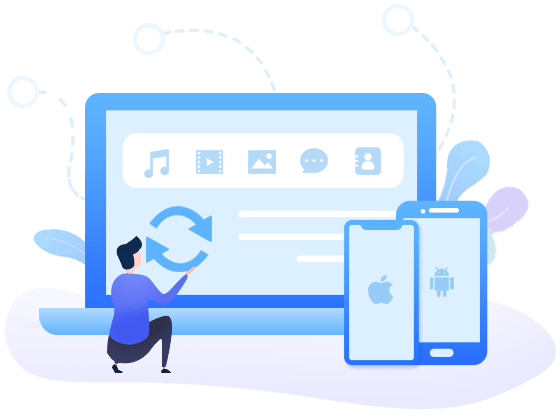 Step 1 Download and install Syncios Mobile Manager by tapping the button above. Do note that one is for Windows computer, the other is for Mac. Based on your real condition, pick the one compatible with your computer. After installation, click it to start. If you are shown with Syncios Toolkit, do choose [Mobile Manager] to start the program.
Step 2 Since we are firstly to do a specific item backup, you are supposed to connect with your old OnePlus phone. For the convenience of organizing the mobile data, you can click the tabs listed on the top to manage a specific file type. Here we will take an example of music so click into the [Music ]tap on the menu.
Step 3 If phone is stably connected to Syncios Mobile Manager, all music tracks on your old OnePlus will be read by Syncios and displayed on the window for a management. Here you can selectively choose the songs or tap on the first box in front of [Name] to choose all of them.
Step 4 Go ahead, tap on the [Export] button to copy the selected items to your PC. You wil be prompted to set up a path to store them in according. When it is set up, Syncios will start syncing them to your PC for a backup.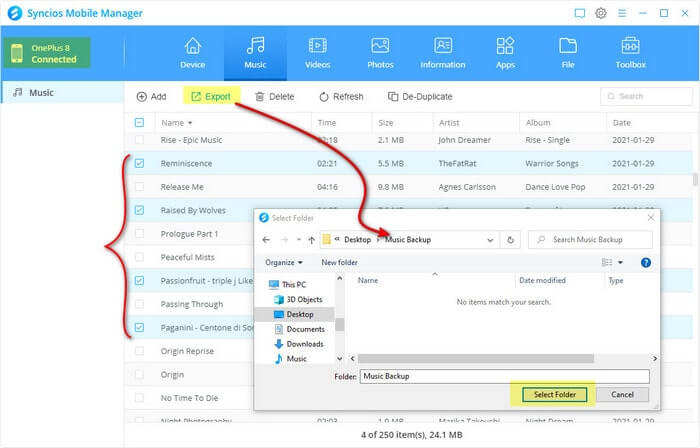 But How to Transfer Specific Item to OnePlus 9?
Step 1 Now please connect your OnePlus 9 to Syncios Mobile Manager. (You don't need to disconnect your old OnePlus, but switch the management to OnePlus 9 by tapping the triangle on the left corner.)
Step 2 Under music tab, this time you then just click the [Add] operation, you will be guided to access to computer path again. But you are meant to choose the exported music and open them to sync to OnePlus 9. Not a while, the music contents will be moved from PC to OnePlus 9 at ease.
For other files, do what you do with music contents migration. Both Export and Backup mean that you are going to transfer the files on device to PC. Alternatively, Import and Add mean to transfer files from PC to your device.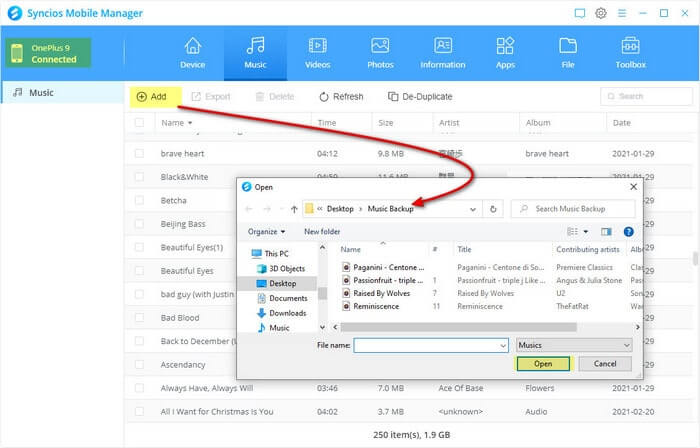 ---
4. One Click Backup OnePlus 6/7/8 and Restore to OnePlus 9/9 Pro
Another method you can use to transfer data from OnePlus 6/7/8 to OnePlus 9, you can make a whole backup of the old phone to PC, and then restore them to OnePlus wholly as well. Yes, we are talking about One-click Backup and Restore. Unlike the way to selectively backup and restore, this means is time saving. It also means an extra choice if you lost phone by accident. To do with, go with steps:
One-Click backup OnePlus 6/7/8 to PC
Step 1 On Syncios Android Manager, connect your OnePlus 6/7/8 to Syncios Moible Manager and then go to [Toolbox] in the top menu. Among all the tools, pay attention to the first 2 tools: [One click backup] and [One click recovery]. Please tap into [One click backup].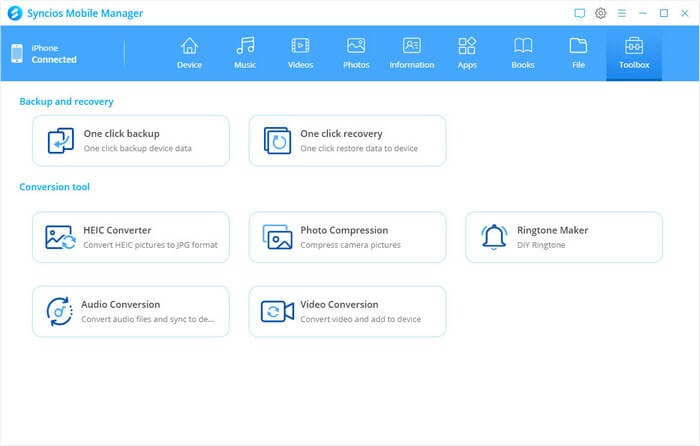 Step 2 Here, select data by file type instead of a specific item. Select the file type to select all the items under this type. And this is what it differentiates from selective backup and restore in Part 3. If you need all the files, then choose all the types provided.
Step 3 Go to the lower left, where you need to create a storage path for the backup contents.
Step 4 Now, click 'Next' > 'Backup' and make a full backup of the old OnePlus to computer.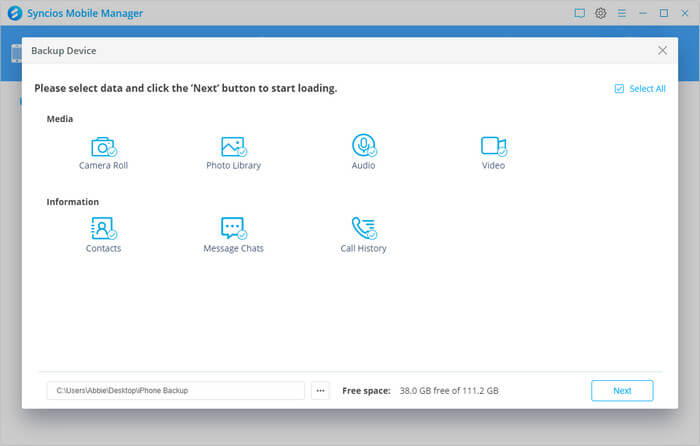 Note: If you have backed up your old OnePlus data to PC, you can just store them on PC for a long time. It is up to you to restore them to OnePlus 9 right now or in the future.
One-Click Restore OnePlus backup on PC to OnePlus 9
Step 1 If you want to restore the backup to OnePlus 9 at present, do firstly disconnect OnePlus 6/7/8 from Syncios Mobile Manager. And then connect to OnePlus 9 in turn.
Step 2 Likewise, go to Toolbox. But this time, enter into [One click recovery] module.
Step 3 You will be prompted to select a Syncios backup file from the list. Just pick the backup come from the former OnePlus 6/7/8, and tap Next. If you have changed the path where you put the backup contents, you will have to manually select them by tapping the [Select>>] below.
Step 4 Choose the file type you want to transfer to OnePlus 9 and tap Next > Recovery and wait until all is completed.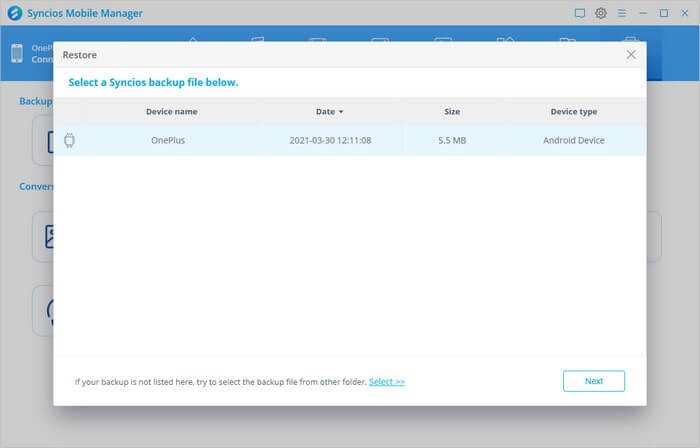 ---
Transfer WhatsApp from OnePlus 6/7/8 to OnePlus 9 (Pro)
Those ways we talked above do not cover WhatsApp transfer. So in the last part, we need to have a look on how to migrate the WhatsApp data if you shift from OnePlus 6/7/8 to OnePlus 9. The tool we will mention following is Syncios WhatsApp Transfer. It is targeted to WhatsApp migration like [Backup, Restore and Transfer]. Most notably, the feature of [Transfer WhatsApp between 2 devices] is exactly used for what we need in today's topic.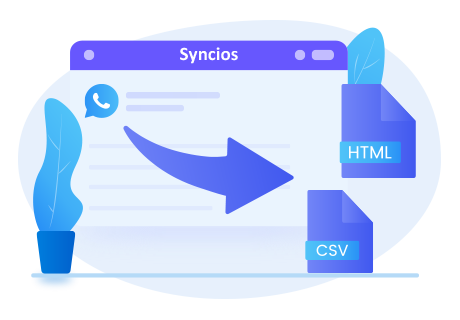 Step 1 Get a Syncios WhatsApp Transfer on your computer. Or you can click the download button above to get one. If you happen to be a Windows computer user, then you will firstly get a Syncios Toolkit. After that, click [WhatsApp Transfer] mode to start the program.
Step 2 On the homepage of Syncios WhatsApp Transfer, enter into the first feature named Transfer WhatsApp between 2 devices. This feature allows users to directly transfer WhatsApp messages and WhatsApp attachment from one phone to another. The scope of devices supported could be Android or iOS phone.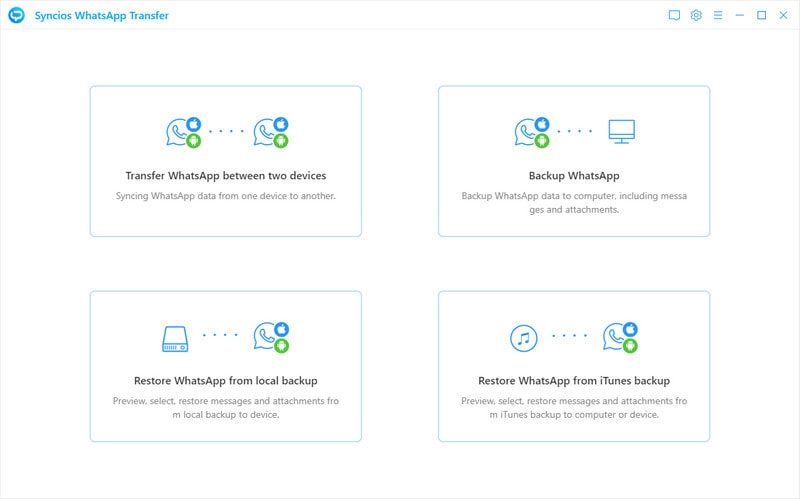 Step 3 As the screen tips note, connect your OnePlus 6/7/8 and OnePlus 9 to computer with USB cable. When they are recognized by Syncios, you can see the phone icon brighten as the following screenshot. Note that, receiving phone will be placed on the right side. In this case, do place your OnePlus 9 to the right by using the Flip button.
Step 4 Now, you can go with the process as long as you instruct the Transfer function. The program will start to read and exact the data from source phone, and gradually transferred them to OnePlus 9 safely.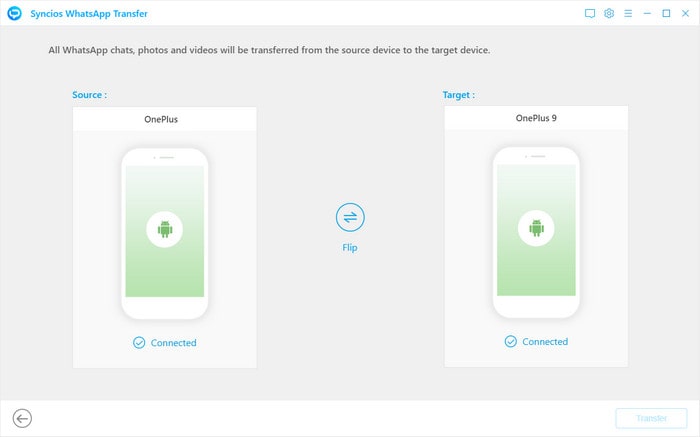 End words: Indeed, the methods we give you above are also appropriate in cases like iPhone (iOS) to OnePlus 9 transfer, Samsung (Android) to OnePlus 9 transfer. Syncios Mobile Manager, Syncios Data Transfer and Syncios WhatsApp Transfer help to make different contributions to a data transfer from OnePlus 6/7/8 to OnePlus 9. If you need technical helps when using OnePlus 9, just leave us messages in the comment part.
---
Related Tips & Tricks