How to Transfer Data from Samsung to OnePlus 7T/7T Pro
It is now common for people to switch their mobile phones. And recently released OnePlus T series is coming as OnePlus 7T/7T Pro. What's surprising is that the OnePlus 7T isn't just a minor refresh with a new Snapdragon 855+ processor – it picks up many of the features that set the more premium OnePlus 7 Pro apart from the OnePlus 7, including a third rear camera and a 90Hz display. While the new OnePlus 7T looks a lot like its predecessors from the front, the rear is all new. Unfortunately, issues increase while moving data from old phones to new 7T/7T Pro, not getting process set but once your application crashes, it would lead to phone reboot.
As mobile phone user, we would want to have more choices to ensure the complete preservation and the seamless transfer of mobile phone data. This will undoubtedly let you fall into consideration before you switch the phone. We have the same hope to fix out this issue so our today's topic happens to be how to transfer the data from Samsung phone to OnePlus 7T/7T Pro. To know more, follow the tutorial below to solve your mobile data transfer problem.

Method 1. Transfer data from Samsung to OnePlus 7T/7T Pro for free
Obviously, many people can find many utilitarian tools available on Play Store or in some software website, which can help you out for transferring data from your old android smartphone to a new android smartphone or from android to iPhone. You do have option in which one as your best choice. Among them, Syncios OnePlus Manager comes first for its multi-functional features, who is as well dedicated to manage mobile phone files. People are highly recommended to have one to back up and restore data. Besides, data transfer is available with Syncios OnePlus Manager.
Preparation: On your PC, please download and install Syncios Manager from the official website. Once get all done, you can set a shortcut of the program on your desk drawer. And then connect both your Samsung and OnePlus 7T/7T Pro to computer with appropriate cable, you can successfully see the phone displaying in the interface.
Download
Win Version Download
Mac Version
Part 1: Selectively back up data on Samsung ( Take Contacts and Messages as example). Let's take the example for transferring Contacts and Messages on Samsung to OnePlus 7T/7T Pro.
Step 1
Firstly, you should navigate to the Contact option on the left panel under My Device of Samsung.
Step 2
And then selectively choose the contacts to backup to PC. Before you truly back up the selected items, you can edit the contacts by adding more details to the contacts. This really get Syncios Manager popular among data tools.
Step 3
And then click on the Backup or Export button to store the contacts to PC. In this process, you can simply get the data on your Samsung to store in PC.
If you need to migrate messages in Samsung to OnePlus 7T/7T Pro, then return to My Device of Samsung and kick on the Messages option. Similar step is to choose the necessary messages and then export them to PC by Backup button.
Part 2: Selectively recover data to OnePlus 7T/7T Pro. In the previous part, you have successfully backed up contacts and messages to PC. And it's now Syncios Manager's turn to recover the backups to OnePlus 7T/7T Pro.
Step 1
This time, please navigate to the interface under OnePlus 7T/7T Pro and enter Contacts option.
Step 2
Kick on Recover button to instruct Syncios Manager to extract the backup files on PC. And you could at will to migrate the backup to your device.
Tip: Not only is Syncios Manager professional in data backup and recovery by transferring Music, Video, Photo, Apps, Ebook, Contacts, WhatsApp, Messages and more on iOS/Android Devices. But it has handy toolkits for OnePlus 7T/7T Pro users to enjoy like YouTube video Downloader, Audio Converter, Video Converter, Ringtone Maker, etc. Just fully take the advantage of these multi-functional features when you have this one.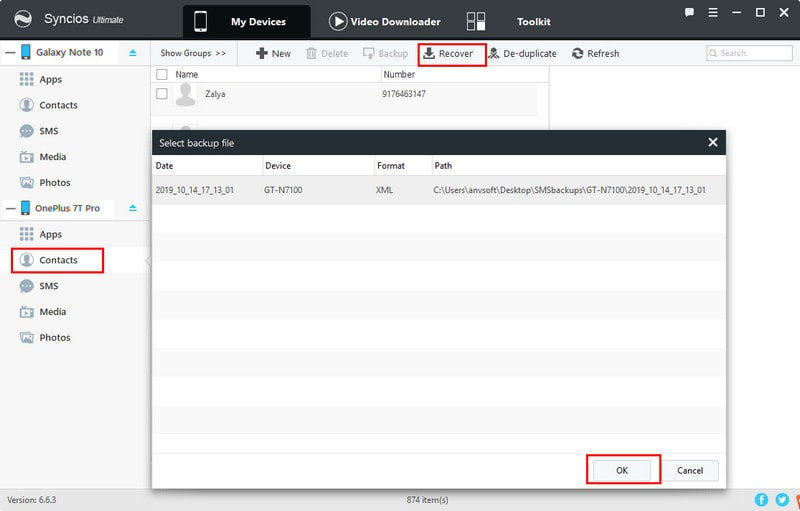 ---
Method 2. Transfer data from Samsung to OnePlus 7t/ 7t Pro by one-click
No need to firstly back up and secondly recover, Syncios OnePlus Data Transfer shows you how phone to phone transfer works in a straightforward method. You can also bring your treasured data on Samsung to OnePlus 7T/7T Pro by one-click.
Step 1Download and install Syncios OnePlus Data Transfer. This tool has a feature of 'Phone to Phone Transfer' and you can use this function to one-click transfer data from Samsung to OnePlus 7T/7T Pro seamlessly.
Download
Win Version Download
Mac Version
Step 2Respectively connect Samsung and OnePlus 7T/7T Pro to PC. Enable the debugging mode on both devices. This step is mainly for program to extract and read the data on phones. On the interface, you should place Samsung on the left position as the source and OnePlus 7T/7T Pro on the right hand as the recipient. By kicking on Flip button to make sure they're in the right place.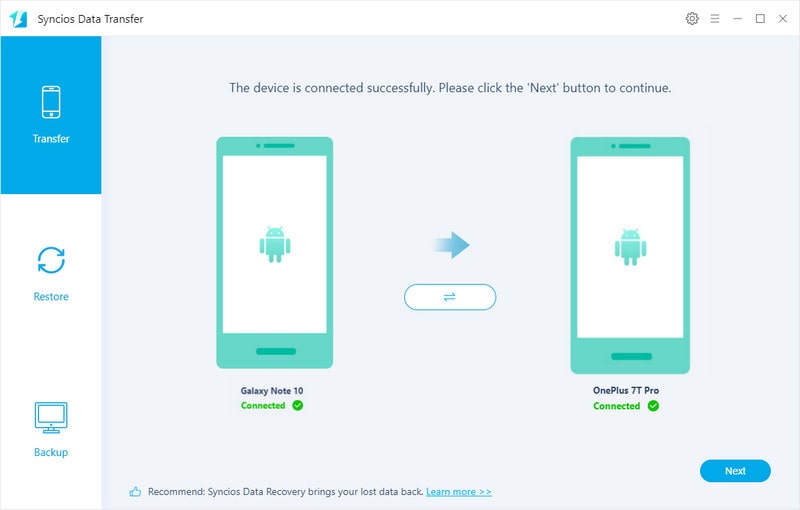 Step 3Now that the preparations are complete, click the Next button. You can enter a data content interface. Select a box for the file you want to transfer, again click Next switch, and the program will start the data transfer.
Don't you think this method is more concise and convenient? You can directly transfer contacts, messages, call logs, calendar, music, photos, videos, apps and so more to OnePlus 7T/7T Pro. Keep patient on the time waiting for the process, which depends on the size of the data package.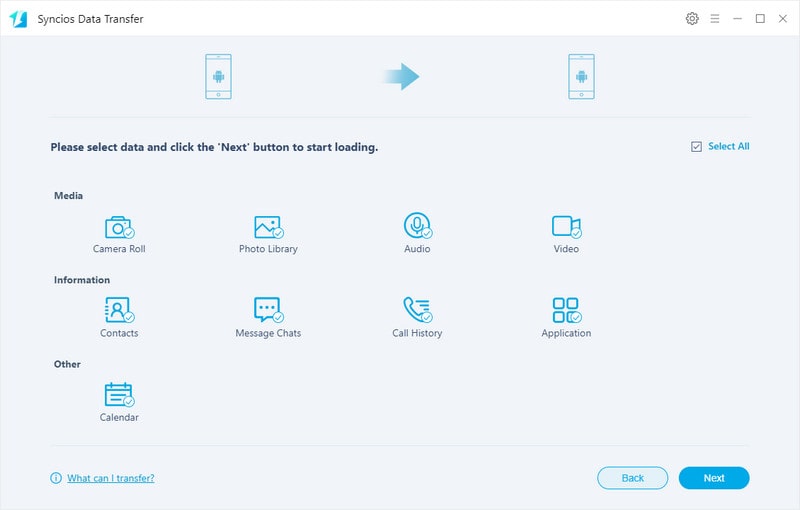 ---
Method 3. Transfer data from Samsung to OnePlus 7T/7T Pro wirelessly
It comes to Samsung Smart Switch when we talk about data transfer. Yes, so is OnePlus Switch. As it is complimented on the functionality in Google Play Store, "OnePlus Switch can quickly migrate your contacts, text messages, photos, and other data from your previous phone to a OnePlus phone. It can also help backup your data of the OnePlus phone as a compressed archive. The compressed archive can be kept and used for restoring your data." To initiate the OnePlus Switch's function, please install it on both Samsung and OnePlus on Google Play Store.
Step 1 Open OnePlus Switch app in your OnePlus 7T/7T Pro, and then choose I'm a new phone. (Only OnePlus 3 and the above models can be the receiving devices as a new phone.)
Step 2 Select your old device as Samsung. Click "CONTINUE" and you will get a Network name and Password of the hotspot for you to connect to your Samsung.
Step 3 Open OnePlus Switch app in your Samsung, Click "Connect" button. Go to "Wi-Fi", find the network name shown in OnePlus 7T/7T Pro and enter the password to connect the hotspot;
Step 4 Go back to OnePlus Switch after connecting; Select the data you want to migrate and click on 'Start'.
Tip: Before the migration, some popups will appear to let the app obtain the permission, which is required for the complete transmission of data. The whole migration process will be carried out through mobile hotspots, and the user data will not be transmitted to any server.

It makes sense to transfer data between different platforms and it is easily done. We have got some FAQ on the key settings when you try these methods provided above, which can solve your problem quickly. If you ever want to share more of your suggestion, tell us in the comment section.
---
Related Tips & Tricks