How to Transfer Photo Between Phone 11 and iPad
If you have an iPad and iPhone 11, you might want to transfer some of your important data from one to another like photos, contacts, music or messages. Not sure how to do it? Here, you will find the best useful method you can grab in our article. 5 methods with different tools helping to safely transfer photos between your iPhone 11 and iPad. You can enjoy a fully experience of iOS data backup, restore and transfer. If you are greatly instested in them, why not try right now?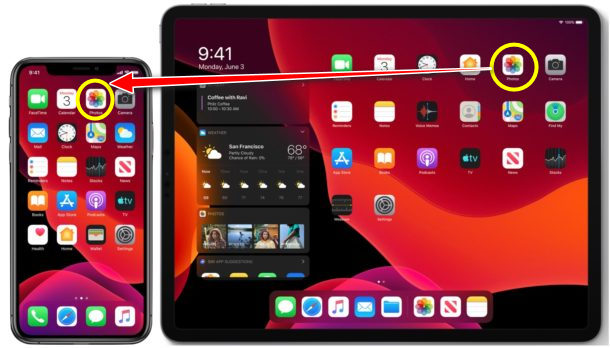 Method 1. Selectively Photo Transfer---Syncios Manager
By Syncios Mobile Manager, you can back up the photos to your PC. Anytime you need it, you can recover them to any iPad, iPod or even an Android phone. That's to say, any backups created by Syncios Manager can be easily recovered to phones as it backed up before.
Backup iPhone 11 or iPad Photos to PC:
Step 1 Connect your iPhone 11 or iPad that you want the photos to backup. When successfully connected, you can see the devices icon on the main page. (In this case, we back up iPhone 11 photos to PC.)
Download
Win Version Download
Mac Version
Step 2 Navigate to the function panel on the left where items are manageable including Music, Video, Photos, Ebooks, Apps, Contacts, Notes, Bookmarks, Call history, Messages, WhatsApp, Safari History, Voicemail. Here choose Photos option to preview and manage.
Step 3 All the photos existing on the iPhone 11 or iPad are presented and now manageable on Syncios. Tick on the box in front of the pictures and tap Export button to back them up to PC. You can follow the instructions to create a backup path on PC.
Step 4 Not a while, Syncios will sync the selected the pictures to the path you created on PC.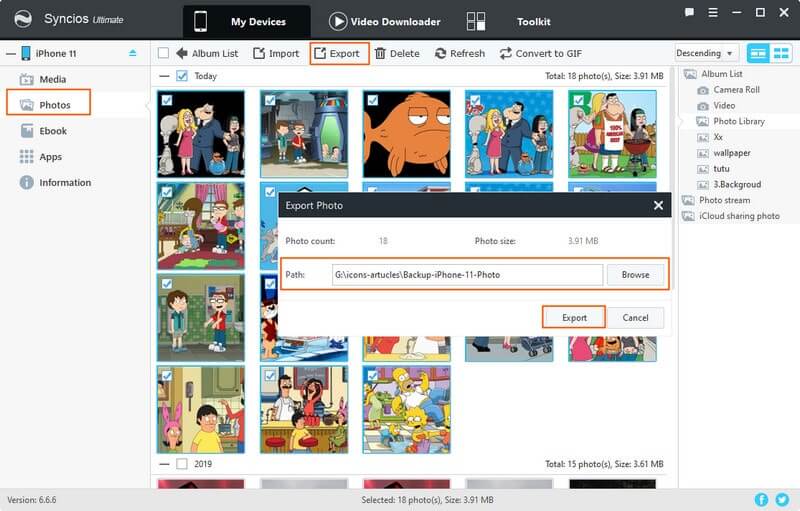 Recover Photos on PC to iPhone 11 or iPad:
Now, everything comes easier when you do a photo transfer between PC and iPhone or iPad. Still with Syncios Manager to recover the photos to any iOS or Android device. Following is the step to recover photos from PC to iOS devices.
Step 1 Initiate Syncios Manager on your PC and connect your iPhone or iPad. Keep the screen unlocked when connected. ( Connect iPad and recover photos on PC to iPad. )
Step 2 Still, jump to Photos section for management. This time, tap on Import button to reach the path of the backup. And you now are able to choose the photos to import into Syncios Manager. When the photos appear in Syncios, it means that they are also synced int oyour iPad.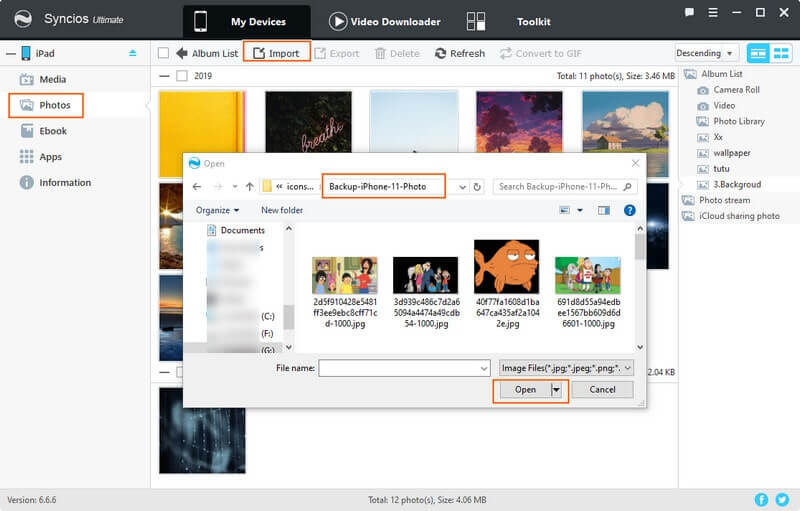 ---
Method 2. Direct Photos Transfer---Syncios Data Transfer
Alongside, I would like to show you a far more straight way to transfer photos between your iPhone 11 and iPad? In this method, we would share another tool to Syncios phone to phone transfer the photos between 2 devices. Below show you step-by-step instructions to transfer all photos between iPhone 11 and iPads.
Step 1 To get started, you are supposed to firstly have Syncios Data Transfer download and install on your PC or Mac.
Download
Win Version Download
Mac Version
Step 2 Under Transfer mode, plug your iPhone 11 and iPad into the program with standard USB. Flip button is offered to exchange the position if necessary. Keep source device on left and the target on right.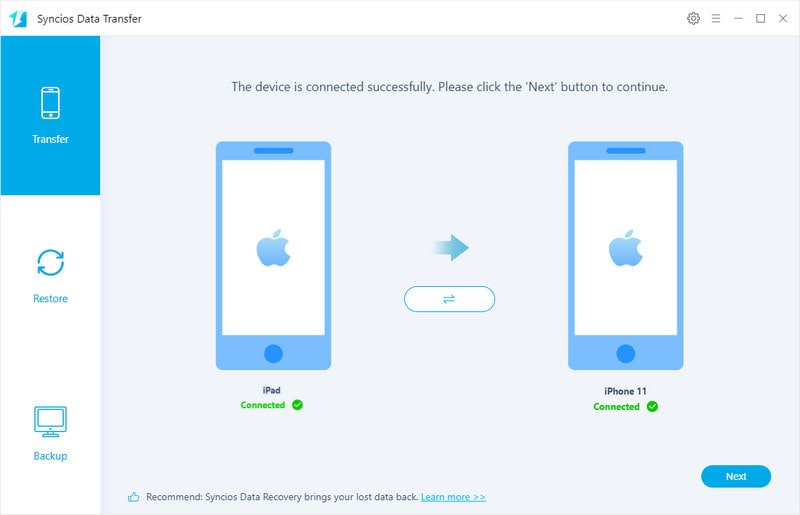 Step 3 Next is to select the items your need to transfer. Check Cameral Roll and Photos in this case.
Step 4Tap Next button to start the pictures transfer between iPhone 11 and iPad. When processing, do not disconnect the devices especially.
Step 5 When Syncios finished the transfer, you can now preview all the photos on your target device seamlessly.
---
Method 3. Use Airdrop to Transfer Photos

Airdrop is the lesser-known gems that every iPhone 11 and iPad features, and you can simply find it in the Control Center. You can use AirDrop to share and receive photos, documents, and more between iPhones or iPhone and iPad.
Step 1 Maker sure iPhone 11 and iPad are nearby and within Bluetooth and Wi-Fi range.
Step 2 Respectively enable AirDrop on iPhone 11 and iPad. Swipe up the screen to access the Control Center. Tap on the AirDrop icon and choose Everyone to send or receive files. And Wifi and Bluetooth will turn on at the same time. If you have turned Personals Hotspot on, turn it off.
Tip: You can put your AirDrop receiving setting to Contacts Only or Receiving Off at any time to control who can see your device and send you content in AirDrop.
Step 3 If you want to transfer photos from iPad to iPhone 11, then you can do: Open Photos application >>> Select photos, swipe left or right to select multiple photos. >> Tap Share or the Share button. When you'll see an image with your iPhone 11's name. >>> Tap the iPhone 11 image to transfer the selected photos.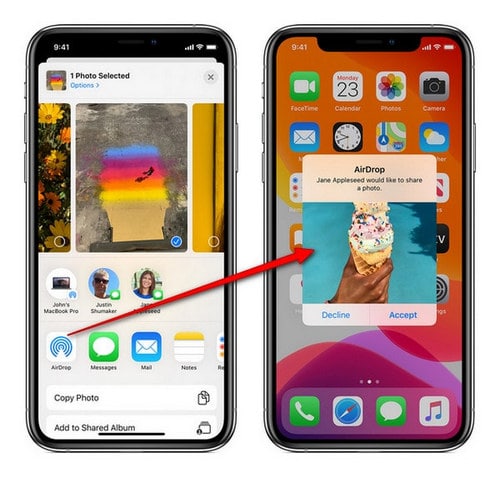 Step 4 On your iPhone 11, you can see an alert with a preview. Tap Accept and the AirDrop will come through within Photo application on iPhone 11.
Note: Tip: If your iPhone 11 and iPad are signed in with the same Apple ID, you won't see an option to Receive or Decline, it'll automatically get sent to your device.
---
Method 4. Use iCloud Photo to Transfer
If you have enabled iCloud Photos on your iPhone or iPad, you can achieve a wireless photos transfer via this way. iCloud Photo can automatically upload and safely store all your photos and videos in iCloud so you can browse, search and share from any of your devices. By turn it on for your iPhone and iPad, your most photos will appear in the All Photos section of the Photo App.
Steps On your iPhone, iPad, or iPod Touch, go to Settings > [your name] > iCloud >Photos, then turn on iCloud Photos Library.
While photos uploaded to iCloud do occupy the limited iCloud storage, you can turn on the Optimization option to reduce the amount of the storage or upgrade your storage plan.
Note: Changes to your photos on any one device are synced to all devices. Even if you delete photos and videos on one device, those photos and videos will be deleted on all the devices where you use iCloud Photos. And, if you want to recover them, you can recover from Recently Deleted albums within 30 days.
---
Method 5. Use My Photo Steam to Transfer Photos
My Photos Steam is a feature included in iCloud Photo. It is a free way for users to sync their last 1000 photos wirelessly between their iPhone, iPad, Mac, and Apple TV. The same by signing in to all devices with the same Apple ID. My Photos Steam will upload your last 30 days of new photos and view them on your other devices using my Photo Stream. Photos from other devices can be views in My Photo Stream album. But are not automatically saved to your library, and you can manually save them into your photo gallery.
While it technically precedes iCloud Photo Library, My Photo Stream lives alongside the photo storage service as a quick way for you to access your most recently taken and uploaded photos. But When you turn on iCloud Photos, you won't see a separate My Photo Stream album.
To enable My Photo Stream on iPhone and iPad, you can go to: Settings > [your name] > iCloud >Photos, then switch on My Photo Stream.

And Pictures stored in Photo Stream can only be saved for 30 days of pictures (up to 1000) but does have a few limits: You can only upload images (no video), and heavy shooters may run out of free sync space quickly. And the good thing is that it also doesn't take up any of your precious iCloud storage space — giving you more room for backups and app data.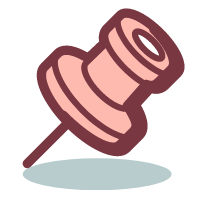 Summary: Awesome! You now can be easy to achieve photo transfer between your iPhone 11 or iPad. Far more, every method mentioned above has been fully supported with more than one file type. Like Syncios Manager and Syncios Data Transfer letting you seamless transfer Music, Video, Photos, Ebooks, Apps, Contacts, Notes, Bookmarks, Call history, Messages, WhatsApp, Safari History, Voicemail between the devices. And Airdrop is available in file document and photo transfer. Simply to have Syncios to meet your more needs.
---
Related Tips & Tricks