How to Transfer Everything from Old to New Android Phone
If you have finally been convinced to a nicer design Android phone, that's wonderful to start a different experience of the new Android. But now all your photos, video, music and messages are still on your old Android phone. How can it be possible to change the phone but to keep the data and file. Here is the fast way to transfer data from old Android to new Android phone.
Method 1. One-Click Transfer All Data via Syncios Data Transfer
Every time you did an all-in transfer, all the stuff on your old Android can be safely move to another Android phone. Unlike Syncios Manager's data backup and recovery between Android and PC, Syncios Data Transfer has a straightforward way to transfer data from phone to phone. This process will transfer contacts, messages chat, photos, videos, bookmarks as well as downloaded apps from Android 3 to 8. And follow the step-by-step guidance below:
Step 1
Download Syncios Data Transfer on computer. Complete the installation and run the program into Transfer (Phone to Phone Transfer) mode. Then plug the phones until the program recognizes them respectively. It is required to enable USB debugging on your new Android for its first time to work with Syncios.
Download
Win Version Download
Mac Version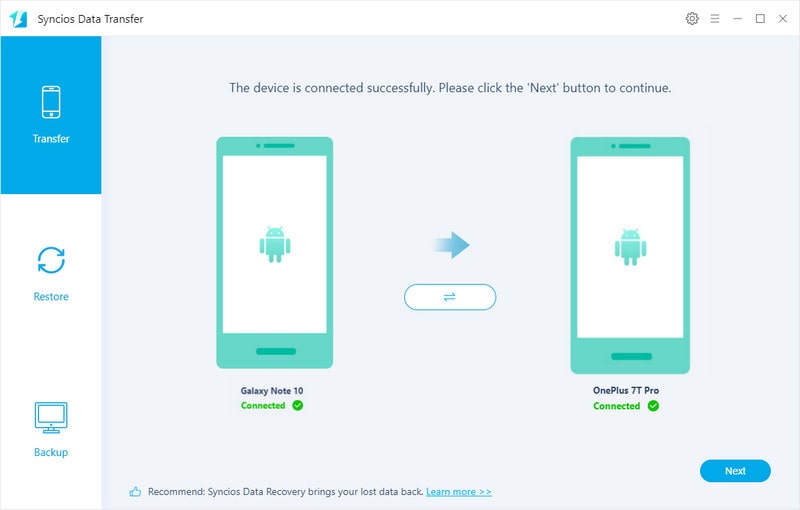 Step 2
Click on "Next" button then you land on the window of selecting items to transfer. You can just select the contents that you wish to move to your new Android. Or by a Select All button to transfer everything to the target phone.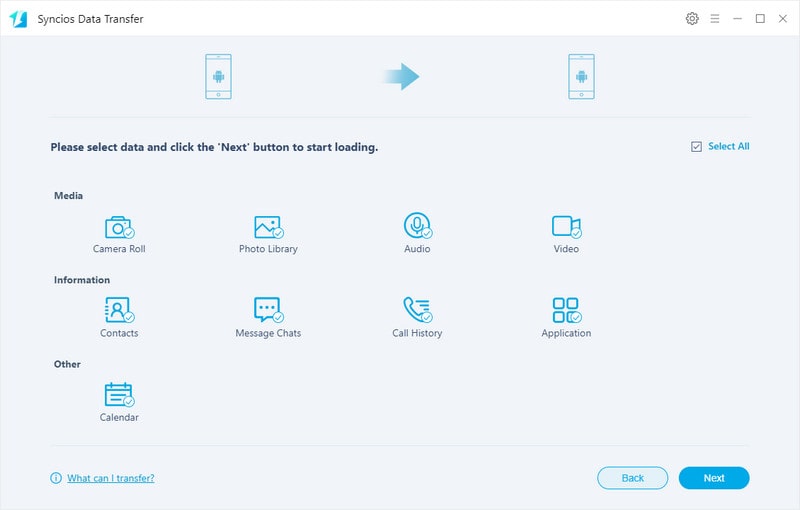 Step 3
One more a tap on "Next" button to start transfer and the it takes a while to complete. When all is set up, you can go back to the home page to proceed other operations.
---
Method 2. Selectively Backup Certain Data via Syncios Android Manager
Conversely, one-click transfer brings possibility that all your stuff on your old Android phone will be transferred to the new one including those you may not use in short term. So as to offer more choices, you can selectively back up certain data to your new Android. That is to say, if you only want to transfer some of your data from the old Android instead of moving all data to the new phone at once, you can choose a tool to manage your data before a data migration. Here that's why Syncios Android Manager serves as your 100% option. It makes possible to preview and manage your data on PC before you.
Step 1Free download and install Syncios Android Manager on your PC or Mac.
Download
Win Version Download
Mac Version
Step 2Plug your old Android to computer and follow the prompts on PC window as well as complete the screen instructions (Syncios Apk installed ) on your Android phone.
Step 3Now, you are able to preview certain type of data on PC like the photos, messages, contacts, apps or the media section with your music and videos.
Backing up one Android phone to PC: Connect the phone >>> Enter one of the file types that you want to backup, like Contacts/Messages/Photos >>> choose specific items by checking the box >>> Click on Export/Backup button to sync them to PC.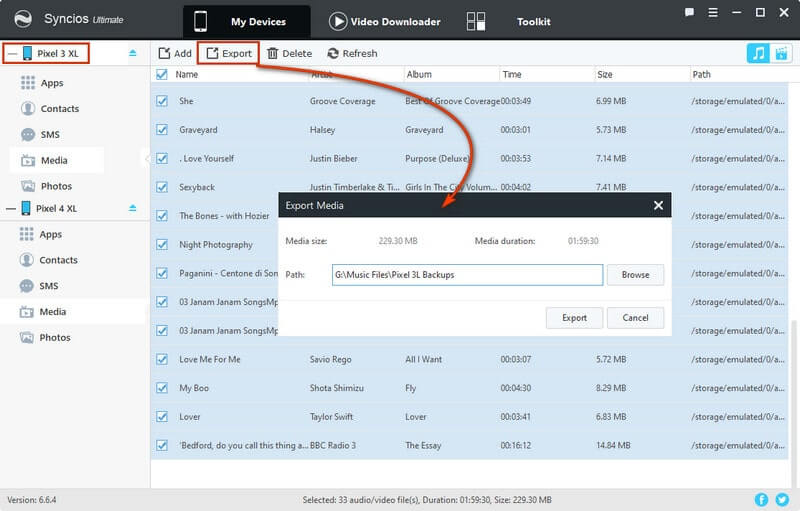 Recover to Another Android phone: Connect your phone >>> Enter one of the file management >>> Click on Import/Recover button >>> Follow the guides to extract the backups and sync them to your phone.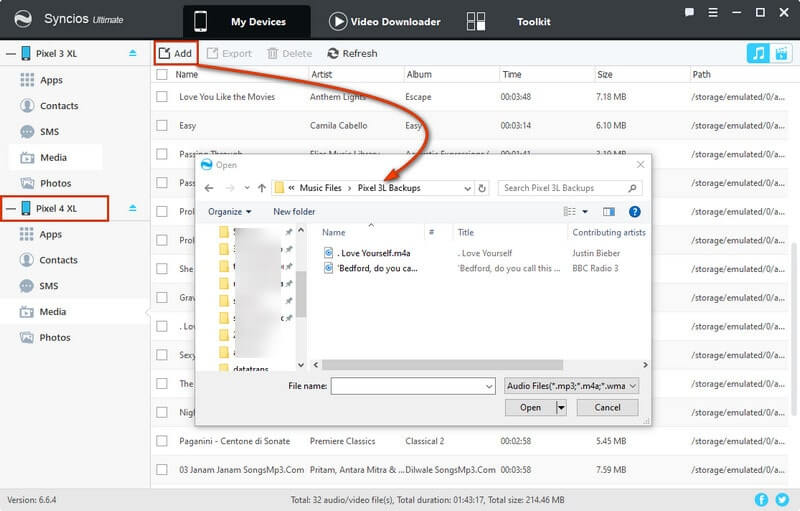 ---
Method 3. Data Migration via Smart Switch
Last, if you are heavily invested in the phone itself, there is still one choice on your phone to complete a transfer process. Android brand mobile manufacturers make their own smart switch app to work for data and files migration between phone and phone. Hopefully, this helps move data from your old Android to new Android effortlessly and wirelessly.
Based on the popularity, we list some Android smart switchs allowing you to connect wirelessly and without using network.

Samsung Smart Switch seamlessly transfers contacts, photos, music, videos, messages, notes, calendars and more to virtually any Samsung Galaxy device.
OnePlus Switch can quickly migrate your contacts, text messages, photos, and other data from your previous phone to a OnePlus phone. It can also help backup your data of the OnePlus phone as a compressed archive. The compressed archive can be kept and used for restoring your data.

Phone Clone(provided by HUAWEI): You can transfer the contacts, SMS,call logs, notes,recordings,calender, photos, music, videos, documents and applications of your old phones to new Huawei smartphone.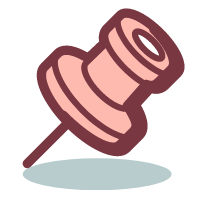 Summary: Above all, we have introduce you 3 different ways to transfer everything on the old Android to the new one. You will never be limited to cost of switching phones. You can use Syncios Android Manager to easily access the files and data stored in your old and new Android phone. You can as well take good advantage of Syncios Data Transfer to achieve a multi-files transfer in a phone to phone way. Plus, use smart switch app to help you out in some cases.
---
Related Tips & Tricks