Three Ways to Transfer Data from Samsung to Huawei Honor 20
Question: I have been a Samsung loyalist for many years but I recently switched to another smart phone brand, Huawei. And now the phone I possess is Huawei Honor 20 that's quicker and more reliable than the majority of Samsung. However, I stored much data on the old phone and now I am confronted with the situation that how to transfer the data on Samsung to my Huawei Honor 20 with 128G.
Answer: Luckily, these 2 devices are both Android devices so that data transfer between your devices would be easier in some degree. Tutorial related your puzzle is following, just go and see the detailed instructions. Please follow this article to choose your preferable solution to transfer Samsung data to Huawei.
1-Click Backup and 1-Click Restore by Syncios Android Manager
Why Syncios Android Manager? Syncios Android Manager gives you the freedom to move your Music, Video, Photo, Apps, Contacts, Messages and more on Android devices to PC for a backup or to your new OS belongings. Plus, Syncios Android Manager helps you to download videos from YouTube sites to device.
Before we start to experience the magical parts of Syncios Android Manager, well-prepared download and installation are required.
Part 1: 1-Click Backup Samsung data to PC
Step 1 Connect the Samsung phone to Syncios Android Manager and selectively manage the files on the program. You can easily manage your Music, Video, Photo, Apps, Contacts, Messages on the program.
Step 2 Go to 'Toolkit' and click on the '1-Click Backup'.
Step 3 Select all the files having been loaded by Syncios Android Manager and set up a easily-found path on PC, which can facilitate your location of the Samsung backup data.
Step 4 'Start Backup' when it costs seconds or minutes to complete the process depending on the size of the data.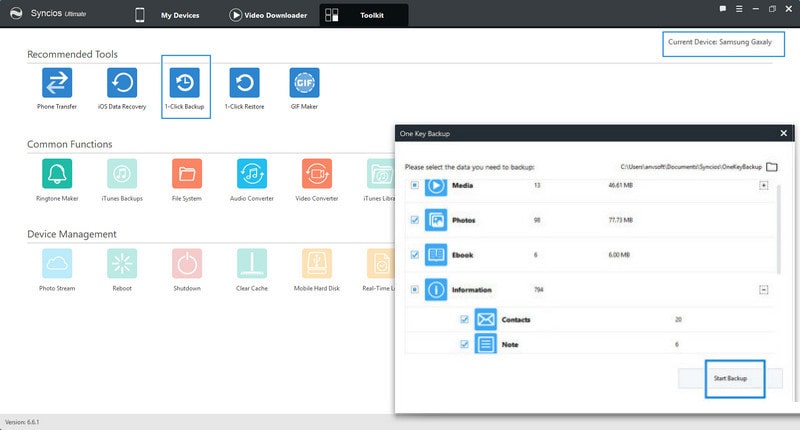 Part 2: 1-Click Restore Huawei Honor 20
Step 1 'Connect' Huawei Honor 20 to Syncios Android Manager. New phone for the first time to connect Syncios may be supposed to download Apk on phone and solve it by this page. Quick solutions to click on How to Fix the Android Device Detection Problem.
Step 2 Go to 'Toolkit' and click on the '1-Click Restore'.
Step 3 Choose the data you need to restore. If there list no backup of the Samsung files you have backed up in Part 1, you can click on 'Other Backup' to reach the path of the backup files you want to choose.
Step 4 'Next' to select the default items to deliver to your Huawei Honor 20.
Step 5 'Start Recover' to proceed.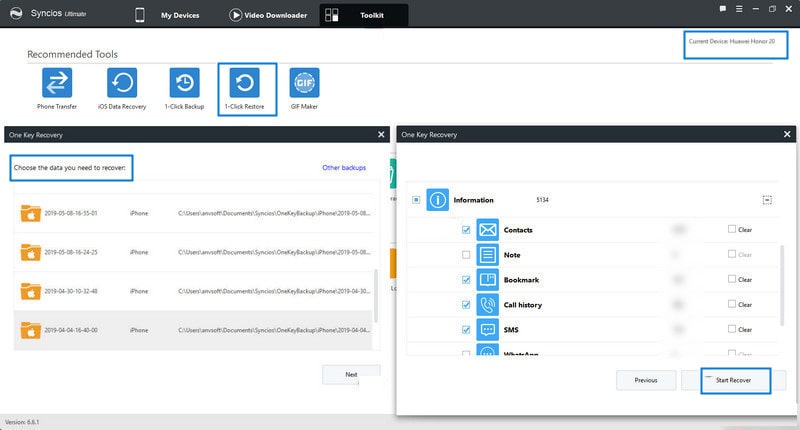 ---
Phone to Phone Transfer by Syncios Data Transfer
Transfer contents include contacts, messages, call logs, WhatsApp, music, photos, videos, apps, safari history, bookmark, Notes, ebooks and more.
Backup phone data and restore in lossless quality.
Recover iTunes/iCloud backup to Android devices.
Sync contents from iTunes Library to Android devices.
Multiple OS supported: multiple phones run Android.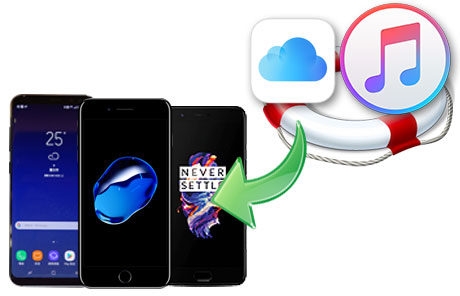 Step 1 Download and install Syncios Data Transfer.
Download
Win Version Download
Mac Version
Step 2 Transfer mode to 'connect' the Samsung and Huawei.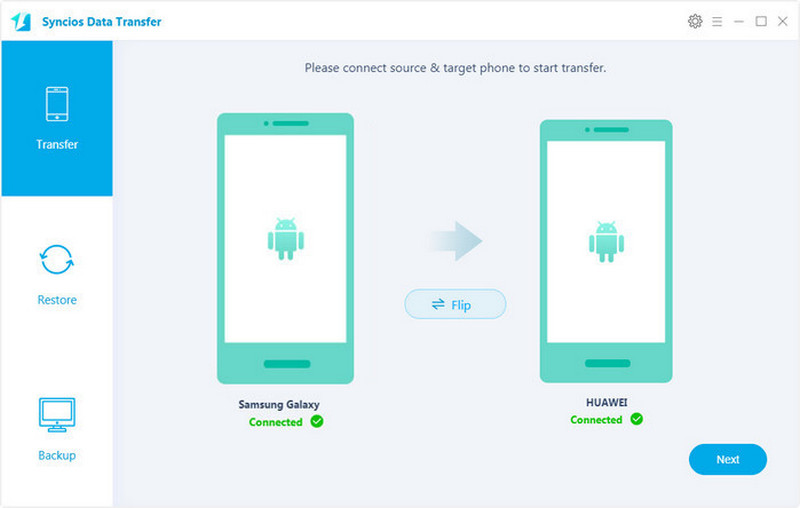 Step 3 Next to select the items supported to transfer between Android devices. Items contain Contacts, Message Chats, Video, Camera Roll, Photo Library, Audio, and Call History. Syncios Data Transfer only supports to backup or transfer apps on iOS 5 - 8 devices or Android devices.
Items supported to transfer between devices vary according to the OS system and platform. If you want a specific information on that, you can visit the official website to figure out.
TIPS: this handy transfer tool also supports to Transfer the iPhone Messages to Huawei Honor 20
Step 4 Next is the last step to work the transfer out.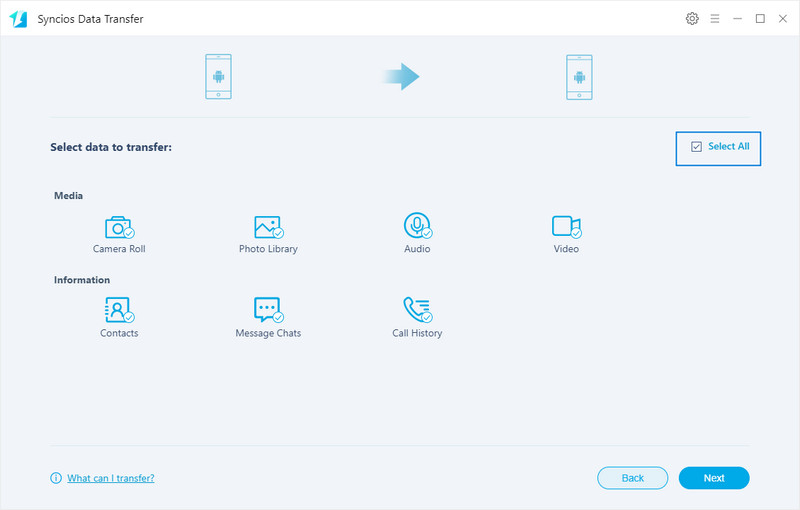 ---
Android Phone Assistant: Samsung Smart Switch
Samsung Smart Switch seamlessly transfers contacts, photos, music, videos, messages, notes, calendars and more to virtually any Samsung Galaxy device.
Step 1 Respectively download Samsung Smart Switch on Samsung phone and Huawei Honor 20 from Google Store.
Step 2 Launch Samsung Smart Switch on your Samsung device, and the follow the application notices 'What should this phone do?' >>> 'Send data'.
Step 3 'How do you want to connect?' >>> 'Cable' instead of wireless, for the former promises a more stable connection.
Step 4 Use a 'USB connector' and cable to connect the devices. Plug the USB connector into Huawei Honor 20.
Step 5 Choose the contents to send and on the way of Huawei Honor 20 to correspondingly receive the data from the Samsung.
---
FAQ
+

Is this Syncios Mobile Manager a freeware?
+

If I have another phone, how could I know whether it is supported by Syncios?
+

What to do if my devices are not detected by Syncios?
+

Why some options are not able to be selected?
+

What are the differences between free version and paid version of Syncios Data Transfer?
Related Tips & Tricks