Ways to Transfer Data from Huawei/Samsung/iPhone/iPad to Xiaomi Mi 9
Xiaomi already gathers an affordable price tag which highlights the favorite personalities of Mi fans. If you have a new Xiaomi phone on your hand and it actually is the latest released Xiaomi Mi 9, the first thing you may face with is to transfer the data on your older device to this new possession. If you just switch your old smartphone from Android to a new Android, you may be more familiar with the data transfer between Android devices . Nevertheless, what about iPhone to Xiaomi Mi 9? Take your time! Here we will introduce you a tutorial to simply migrate data to Xiaomi Mi 9, whether it be Android or iOS devices.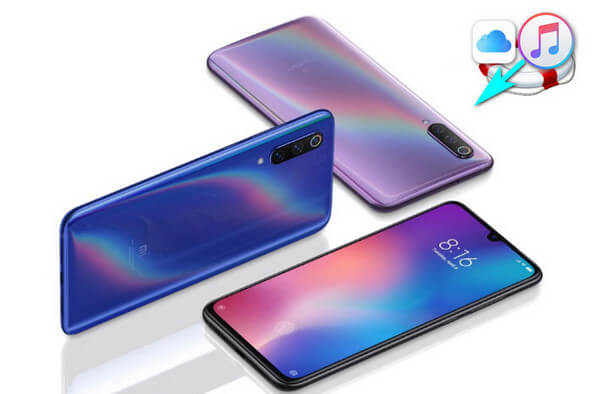 Before we start, we have to work with a smart program that can 100% meet your need to the data and files migration on Xiaomi Mi 9. Here Syncios Android Data Transfer remains a superior choice.
Download
Win Version Download
Mac Version
Transfer Data from Android Devices to Xiaomi Mi 9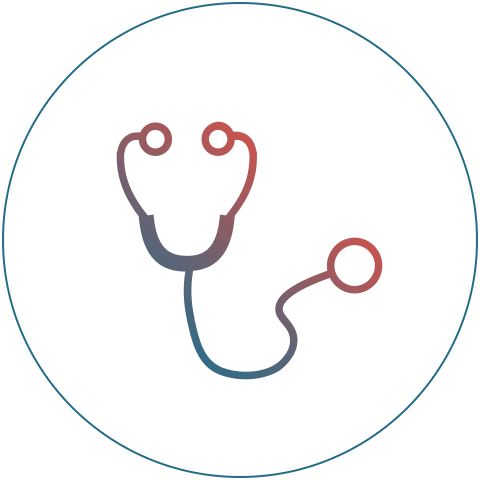 If you have been loyal to Android phones, you are inclined to get more tricks on Android devices including the data migration. While here we are going to address the solution more efficiently. And when you doing the transfer, Syncios Data Transfer isn't liquidating anything you already own, but it will always magically reorganize where the files live as long as you connect it.
Step 1
Connect your Android phone to Syncios Data Transfer. Come to 'Transfer' modes, connect your old Android phone (Take Samsung Galaxy S10 for example) and your new Xiaomi Mi 9 to Syncios Data Transfer.
Step 2
Locate Samsung on the left and Xiaomi Mi 9 on the right. Click on the button 'Flip' to switch the position.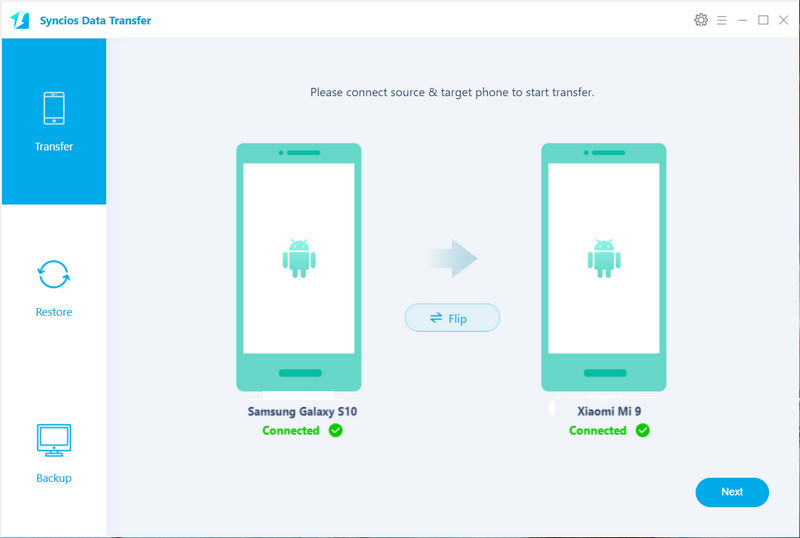 Step 3
Click on 'Next' to select the files supported to transfer. For Android to Android, items allowing to directly transfer include Contacts, Messages, Video, DCIM, Photos, Audio, and Call logs. By clicking on 'Select All' to do a full data transfer. Or you can selectively choose the items you need.
Step 4
Tag 'Next' to start the transfer. It is not safe to disconnect the devices until the process complete.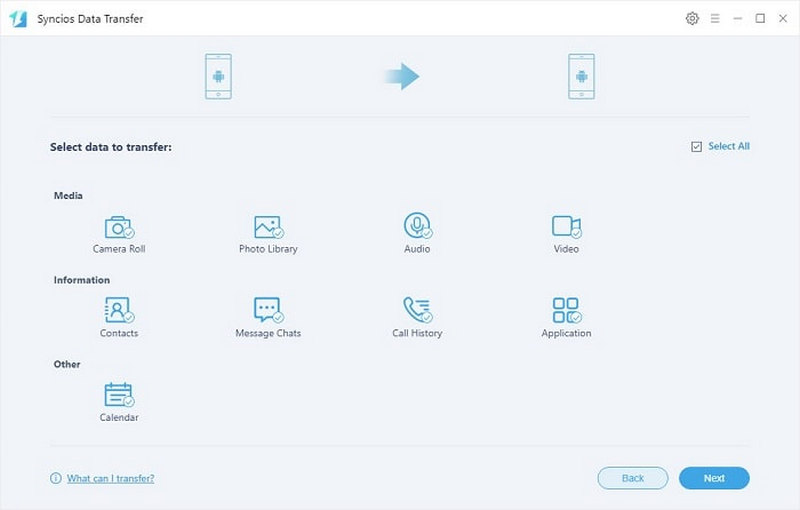 ---
Transfer Data from iOS devices to Xiaomi Mi 9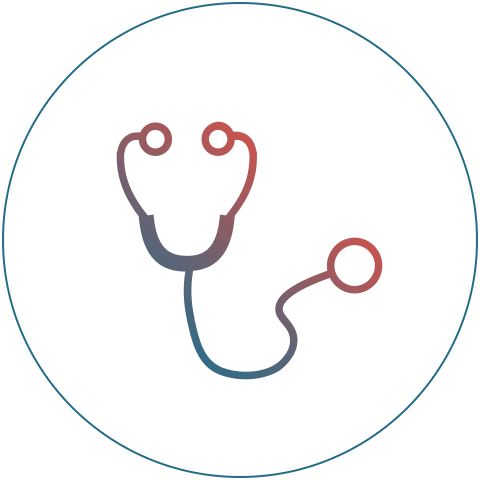 Possibility is if you are a new comer of Android phone like Xiaomi Mi 9. When your old device is actually iOS phone, you will not be greeted with much enthusiasm from Android users because you have to get used to more extra capabilities. You are not counting on apps built for Android phones but a comprehensive tool to be fully compatible with iOS and Android. Phone to Phone feature in Syncios Data Transfer perfectly works on it.
Step 1
Similarly, go to 'Transfer' mode and connect the iOS device (Take iPhone for example) and Xiaomi Mi 9 the program.
Step 2
Place your iPhone on the left for the source of the data, and Xiaomi Mi 9 on the right for the target device to receive the data. Button 'Flip' to switch the position in need.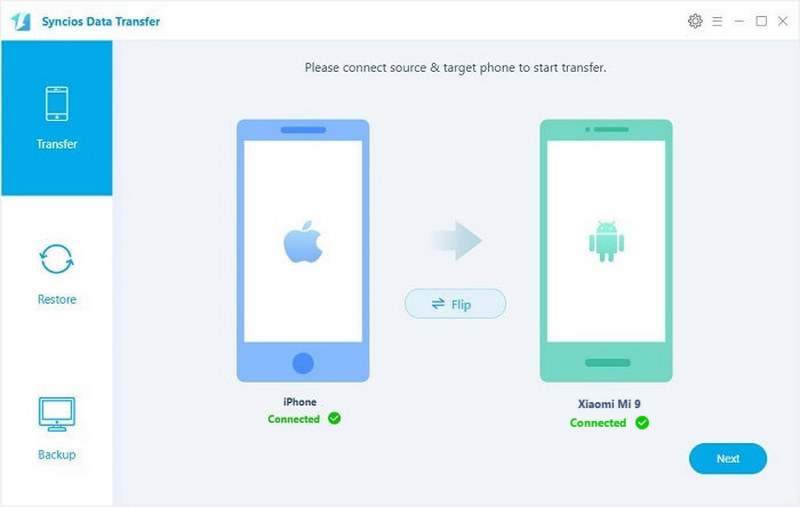 Step 3
Click on 'Next' to enter the choice of the items. Files and data allowed to transfer between iOS and Android devices are Contacts, Messages, Video, DCIM, Photos, Audio, Call logs and Bookmark.
Step 4
Choose 'Select All' to transfer all the data. Kick on the specific ones to selectively migrate data you need.
Step 5
Click on 'Next' to proceed. Stable connection promises a faster transfer.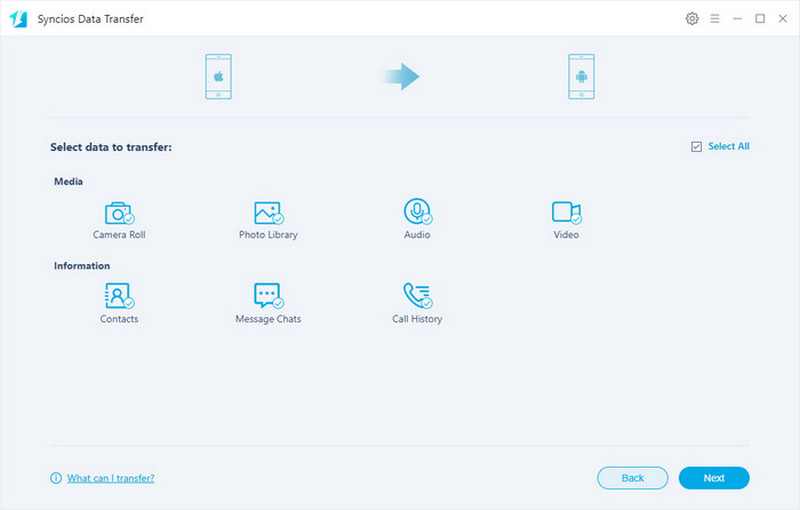 ---
Now you have learnt that Phone to Phone Transfer feature built in Syncios Data Transfer has such a powerful magic. Moreover, Restore and Backup mode , these two capabilities existing in Syncios Data Transfer help back up your new Xiaomi Mi 9, restore and sync your Xiaomi Mi 9 settings. So why not have a Free Trial on your PC to learn more new skills?
Why Choose Syncios Data Transfer for Android Data Transfer?
One Click Phone to Phone Transfer
Transfer almost all files, including contacts, video, SMS, photos, call logs, music, Ebook and apps between phone to phone!
Comprehensive contact copy, including job title, email addresses, company name, etc.
Transfer important files between Android and iOS.
Selectively transfer data between any two of them without data loss.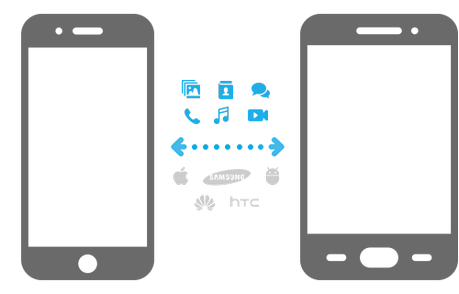 ---
Related Tips & Tricks