How to Transfer iPhone Contacts to Huawei Honor 20
2019 has been a transformative year for Honor, Huawei's junior brand with the introduction of the excellent Honor 20. Huawei Honor 20 has launched globally in June and July. With the attention competition among smart phone, Huawei has outperformed iPhone for its breakthrough especially at 5G revolution. More and more carriers are turning on their 5G networks, even if the coverage is still limited.
Further, people in life or at work would be intent to switch his or her phone from iPhone to Huawei. Here Syncios will introduce you some tricks that how to transfer your iPhone contacts to Huawei Honor 20 if you fit into this trend. No matter you have safely stored the iPhone contacts in iTunes or iCloud, you can just simply transfer the iPhone contacts to your new Huawei Honor 20 and other Huawei phone series.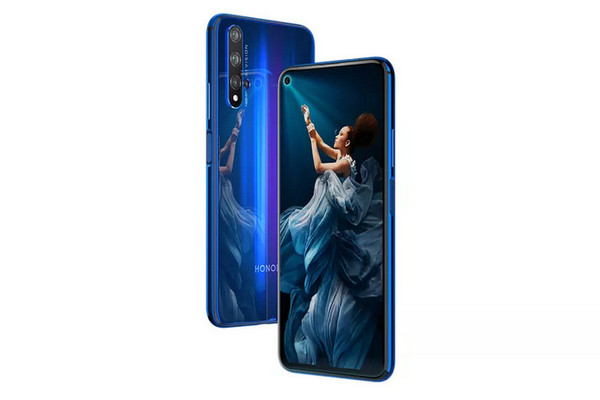 ---
1. Syncios Manager Free: Selectively transfer iPhone Contacts to Huawei Honor 20
Free Syncios Mobile Manager acts as a useful mobile management tool for you. With various functions, it allows users to back up mobile phone data by transferring all of the files, such as SMS, contacts, photos, videos, music, apps and etc to PC. On the other way, Syncios Mobile Manager is 100% devoted to restoring data on pc to the devices. So this is the reason that it can be champinoned among the mobile phone utilities.
Step 1 Download and install
Download and install the latest version of Syncios Manager on PC. iOS and Android devices are fully compatible with.
Step 2 Connect the devices and program
Respectively connect the iPhone and Huawei Honor 20 to Syncios Manager through necessary cable. Upon successfully connecting the mobile phone devices to the program, functional options are listed on the left panel of the program. Options are accordingly Media, Photos, Ebook, Apps, Information under iPhone device and Apps, Contacts, SMS, Media and Photos under Huawei Honor 20.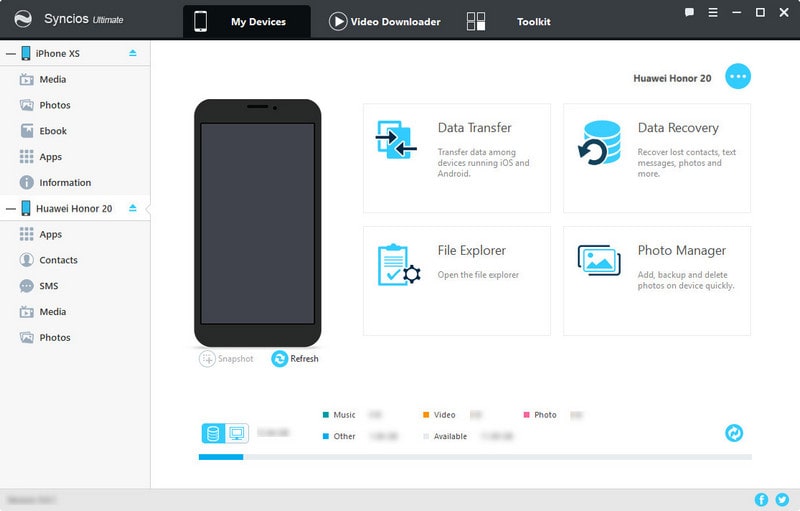 Step 3 iPhone >>> Information >>> Contacts >>>Backup >>> OK
To reach the iPhone contacts management, users are supposed to click on 'Information' under the mode iPhone which further to unfold a menu bar with Contacts, Notes, Bookmarks, Call history, Messages, WhatsApp and Safari History. These are common files that people are usually intent to manage for their phone. Aimed to back up the iPhone contacts, users need to click on 'Contacts' and then selectively choose the iPhone contacts usable for the Huawei Honor 20. Final click on 'Backup' to proceed.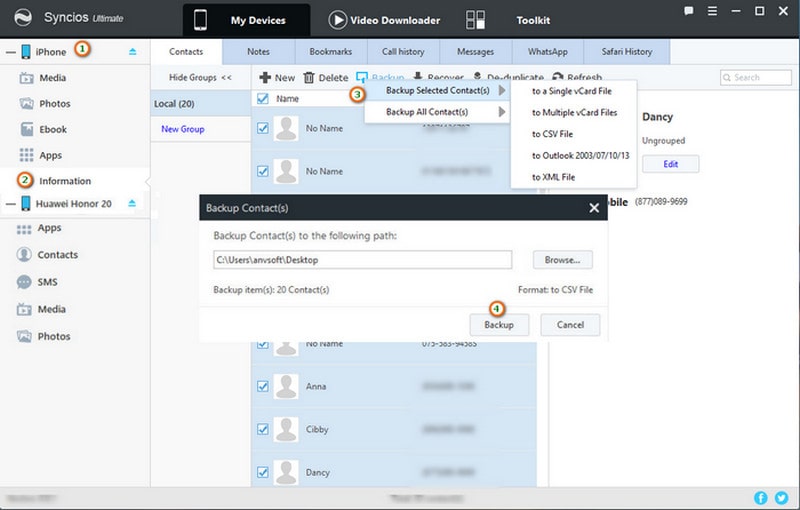 Step 4 Huawei Honor 20 >>> Contacts >>> Recover
Turn to manage Huawei Honor 20, users are the same entering the 'Contacts' block and then click on 'Recover' for the purpose to import data outside the phone when here is to choose the backup files done in the previous step. Next to kick on the 'OK' to sync the data to Huawei Honor 20.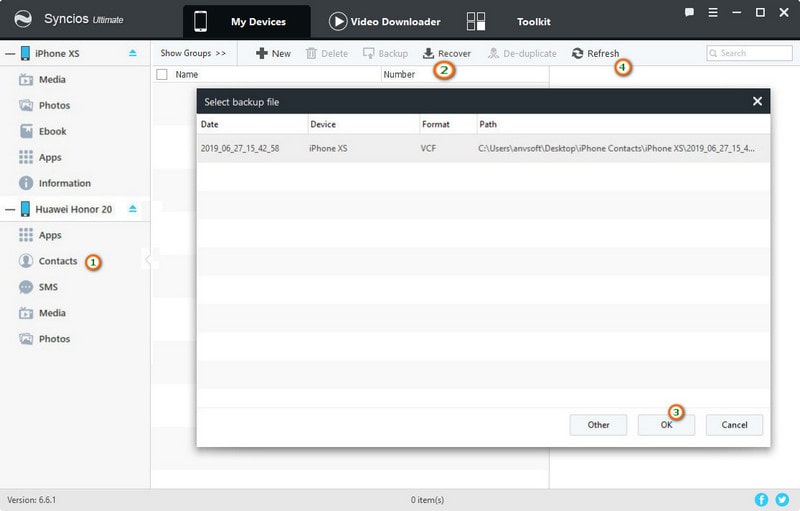 Step 5 When the whole process is finished, you can also click on 'Refresh' to get a newest contact list or you can as well click on 'De-duplicate' to kick off the repeated linkers.
---
2. Syncios Ultimate: 1-Click backup iPhone Contacts and 1-Click Restore to Huawei Honor 20
For users who have upgraded Syncios Manager to Ultimate version, there are many a trick for users to learn about. If you want a faster method to backup and restore the iPhone contacts to Huawei, toolkit 1-Click Backup and 1-Click Restore may be neglected by some users. To seamlessly back up the original data and to recover the backup data to another device, these 2 buttons can save your time a lot.
Step 1 Toolkit >>> 1-Click Backup >>>Information >>> Contacts
Keep your 'iPhone' instead of Huawei Honor 20 locked in 'My devices' and then come to 'Toolkit' when you can notice Current device: iPhone XS. Now you can directly kick on '1-Click Backup' and then Syncios Manager guides you to select the data you need to backup. Please move to the last one folder 'Information' and hit on the icon plus + when contacts are loaded and tag on it as the target item to start backup. During the process, disconnection of the devices should be avoided.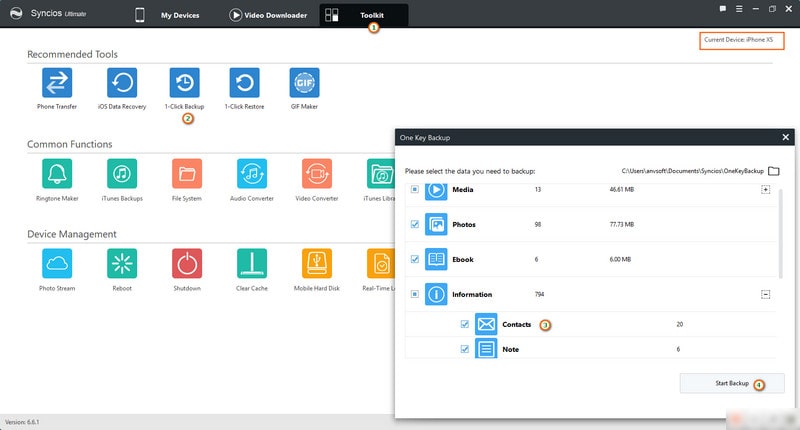 Step 2 Toolkit >>> 1-Click Restore >>>>Backup of iPhone contacts
Get the iPhone contacts completely backed up to PC, and now move to 'My Devices' to kick Huawei Honor 20 on the left panel of homepage. This time is to do the management of Huawei Honor 20. Similarly, now go to 'Toolkit' and to arrive at '1-Click Restore'. Click on it and enter to select the folder which Syncios Manager has smartly loaded the 'Backup of iPhone contacts' for this option and users can straightly kick on that. One more time to choose contacts as the target to recover from.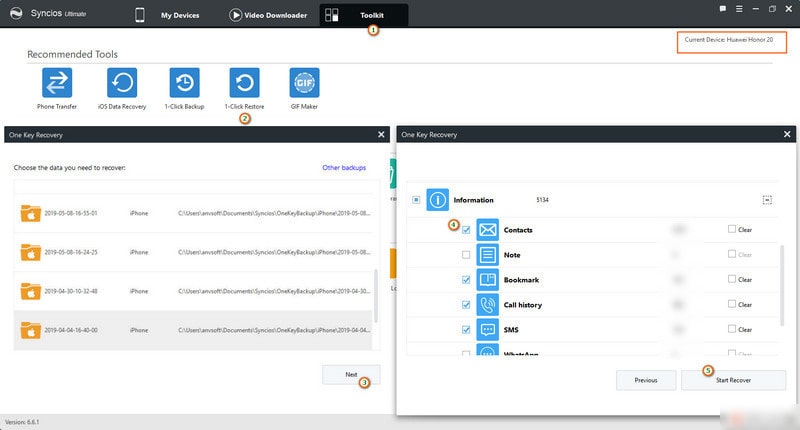 ---
3. Sycios Data Transfer: Direct data from iPhone to Huawei Honor 20
Syncios Data Transfer works as a mobile phone utility whose performance is significantly growing. Whether you are desired for one tool capable of data migration from phone to phone or backup and data recovery from your handy device, Syncios Data Transfer perfectly works as your mobile phone data processing expert. So for migrating the iPhone contacts to Huawei Honor 20, Syncios Data Transfer can seamlessly fix it out.
Step 1 Download and install the Syncios Data Transfer on the computer. Regular product upgrades further enhance the functionality of the product, and it is recommended to use it frequently and update to the latest version to enjoy a better experience.
Download
Win Version Download
Mac Version
Step 2 Start from the module Transfer, and firstly to connect the iPhone and Huawei Honor 20 to the program. Make sure that iPhone locates on the left and Huawei Honor 20 places on the right. For these are two different OS system, iPhone connection problem can reach iOS Device Detection and solution of Android Device Detection to Android.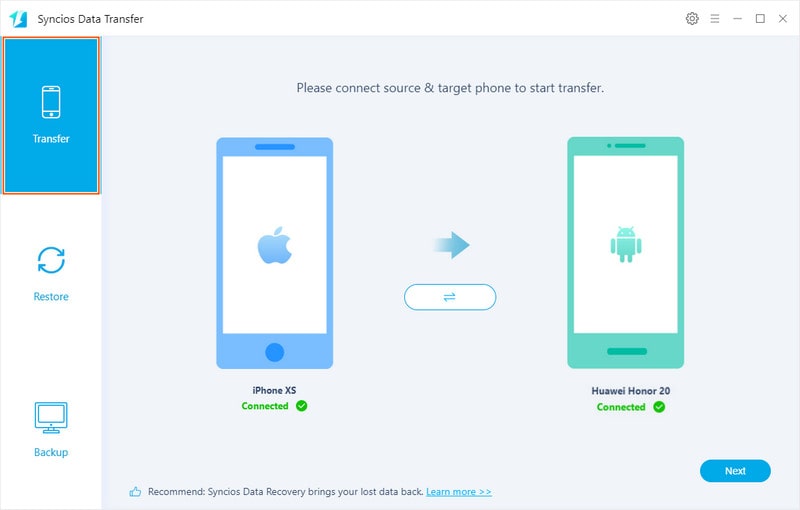 Step 3 Click on Next to look through the items supported to transfer. Among them, please click on Contacts.
Step 4 Again Next to start the transfer item to Huawei Honor 20.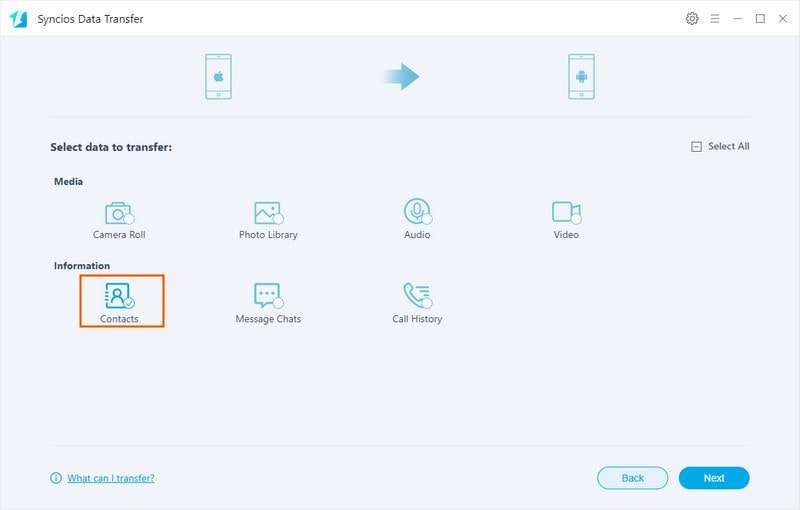 ---
4. Sycios Data Transfer: Transfer Contacts in iTunes Backup to Huawei Honor 20
If the contacts from iPhone has been backed up in iTunes, module Restore can easily help to get iTunes contacts to your Huawei Honor 20.
Step 1 Come to mode 'Restore' where on the left are 4 blocks of backup from different sources that can be restored. They are Syncios Backup, iTunes Bakcup, iCloud Backup and iTunes Library. On the right of the panel is the phone selected to be the targeted device, please choose Huawei Honor 20. And good connection remains as the premise of the next step.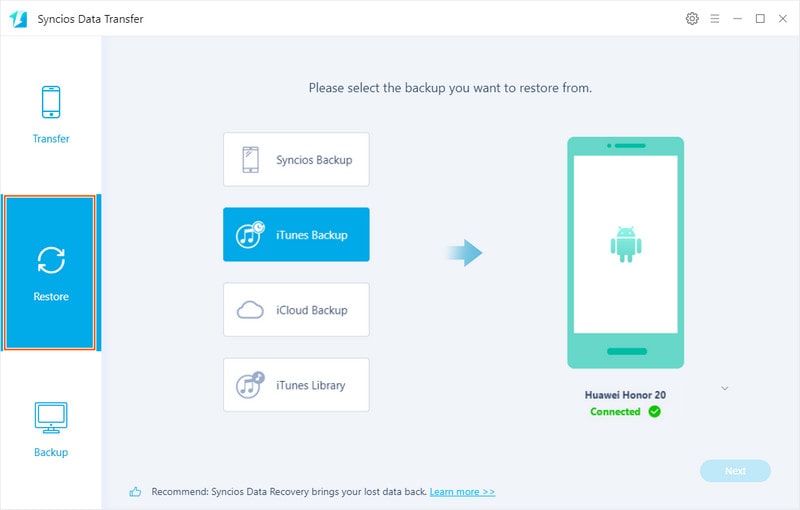 Step 2 Click on 'iTunes Backup' when Select an iTunes backup file below to transfer pops up and you can review the iTunes from different devices and select one of them as the source file and hit on OK.
Step 3 'Next' to select detailed items that you are going to restore from iTunes Backup. Here to click on 'Contacts'.
Step 4 'Next' to start to transfer and do not disconnect your devices until it complete the transfer.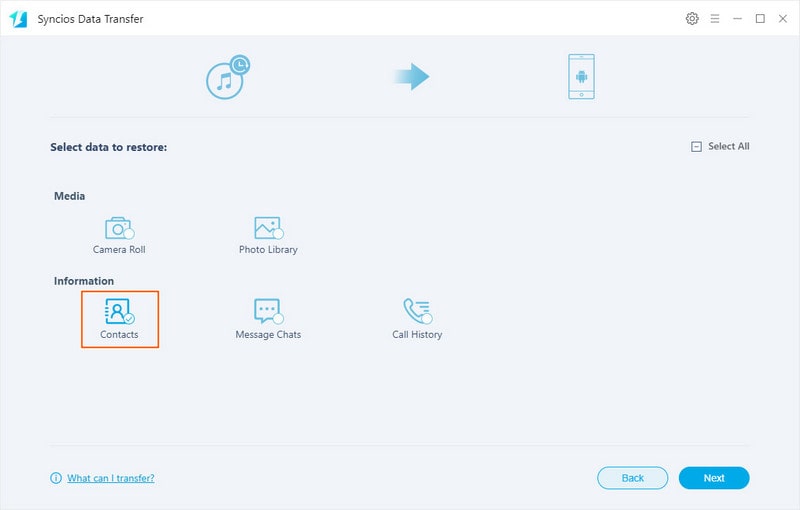 ---
5. Sycios Data Transfer: Transfer Contacts in iCloud Backup to Huawei Honor 20
Similary, now you have smoothly finished transferring the iPhone contacts in iTunes Backup to Huawei Honor 20. It is more familiar for you to complete the iPhone contacts in iCloud Backup.
Step 1 Still under 'Restore' mode and Click on 'iCloud Backup'.
Step 2 If this is your first time to log in iCloud on Syncios Data Transfer, please follow the tips and sign in.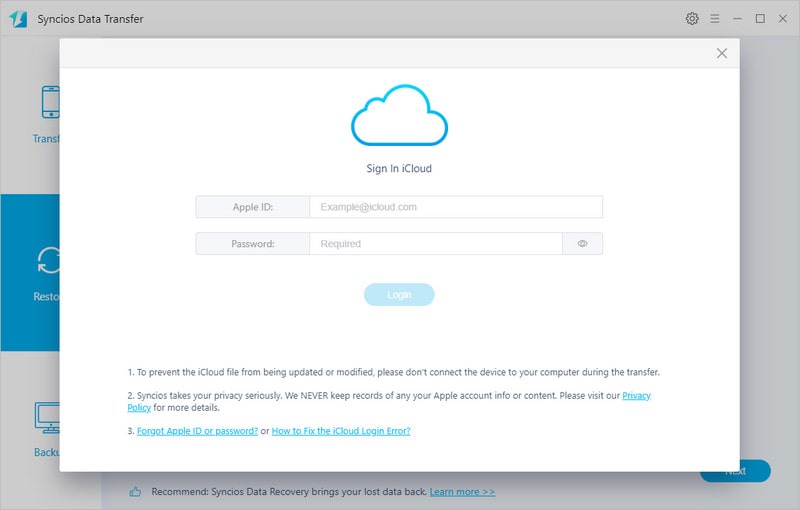 Step 3 Select an iCloud backup file below to download. This is a process that the program sync the data on iCloud. Once finished, click on 'OK' and unfold back to the homepage.
Step 4 'Next' to select 'Contacts' to restore.
Step 5'Next' to start the transfer the contacts to Huawei Honor 20.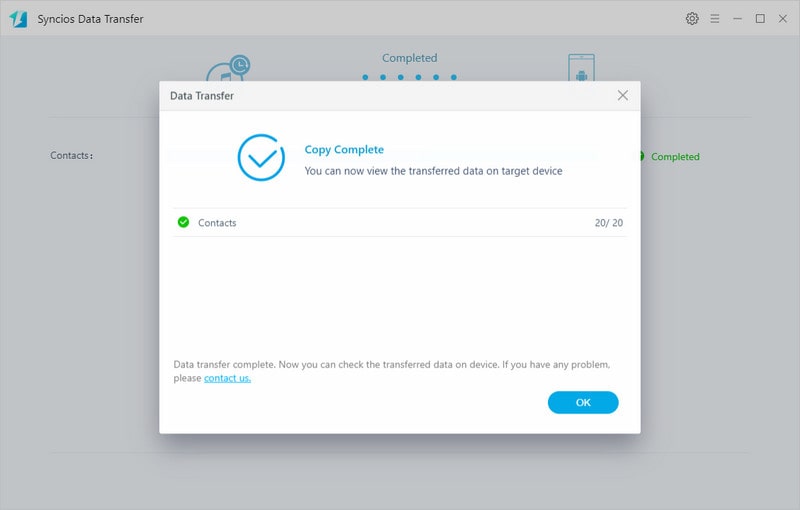 Supported OS: Android 3.0 - Android 9.0
Supported Huawei Devices: Huawei Honor 20, Huawei P30/P30 Pro,Huawei P20/P20 Pro,f Huawei P10/P9/P8, Huawei Honor 7/8/9, Huawei 6P, Huawei Mate 20/10/Huawei Mate 9/Huawei Mate 8/Huawei Mate 7, Huawei Ascend G6, Huawei Ascend P6, Huawei Ascend Y200/Y300/P1/P2/Mate/D1/D2/G300/G600, Ascend X, Honor, Vision, Sonic, Boulder, IDEOS X3/X5, and all Android devices.
---
Related Articles: