How to Backup and Restore Huawei Mate 30 Pro
The slick Huawei Mate 30 Pro is a powerhouse phone with a stellar camera. With the striking appearance of a futuristic slab of aluminum and glass, the Mate 30 Pro is an exceptional piece of hardware. Its quad-camera setup shoots outstanding photos, a dazzling 6.53-inch waterfall display is the centerpiece of an inspired design, and its 4,500-mAh battery goes and goes and goes. Since Android 10 itself is open-source, the Mate 30 Pro still runs Google's most recent operating system fine. Then same need-to-do thing is to back up your important data on Huawei Mate 30 Pro to PC for your privacy safety. So we here to tell you some useful tips to get your data safety arrive to your PC.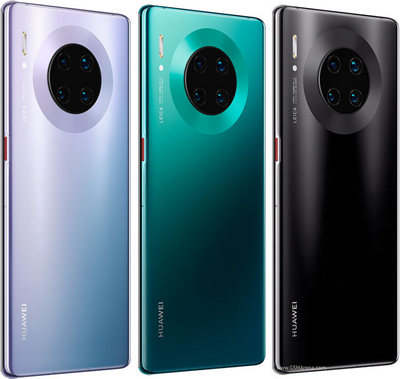 Method 1: One-Click backup Mate 30 to Windows PC
Backing up smartphone data to a Window computer can be a fairly straightforward process, but if you are planning to reorganize data on your Mate 30 Pro on PC before carrying out a backup, it is a good idea to have mobile phone manager to get through all these steps. If you are looking for a magic button to back up all your data on Huawei Mate 30 to your Windows PC at once, Syncios Manager is what exactly you need.
Tool required: Syncios Manager for Window
Syncios Huawei Manager is a cell phone data manager helping to back up, restore and transfer Huawei phone data. Contents supported by Syncios Huawei Manager include Music, Video, Photo, Apps, Contacts, messages. In most cases, you have to learn some useful methods to back up your mobile phone. Among them, backing up phone data to PC will be a priority. Let's go to see how Syncios Manager perfectly back up your Huawei Mate 30 to PC.
Step 1 On your Windows PC, download and install Syncios Manager on the tablet. Run it and connect your new Huawei Mate 30 Pro into PC via appropriate USB cable.
Step 2 On your Huawei Mate 30 Pro side, please enable the USB debugging Mode on the settings, which is a routine step for any 3-party application to access your mobile phone data. Syncios Manager then is able to read the phone data and display the data and files on PC for you to preview.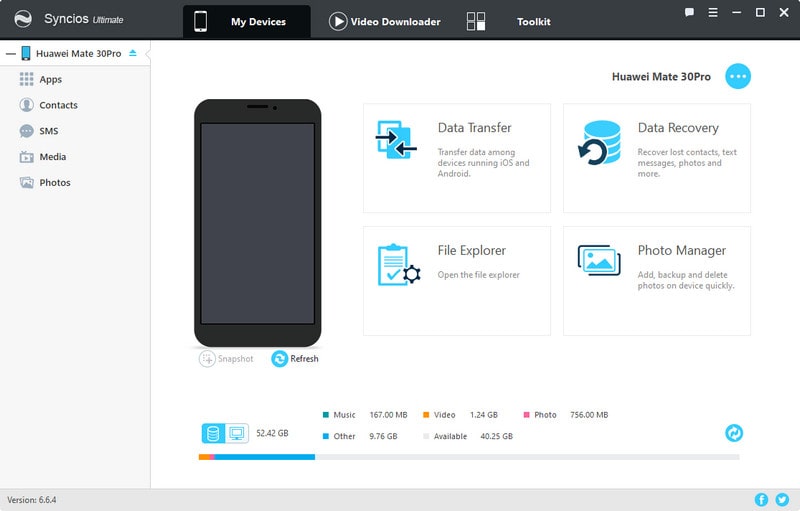 Step 3 If you want a direct backup to move your important data to PC, you can skip this step. Navigate to the management menu with several file sections like Photo, Media, Apps, Contacts, SMS. You can enter one of them like Photo part where you can further preview, export, import and delete the files. In Contacts section, you can as well edit detailed information to the caller. Unlike how you manage data on your phone, you can manage these data in a convenient way with Syncios Manager on PC.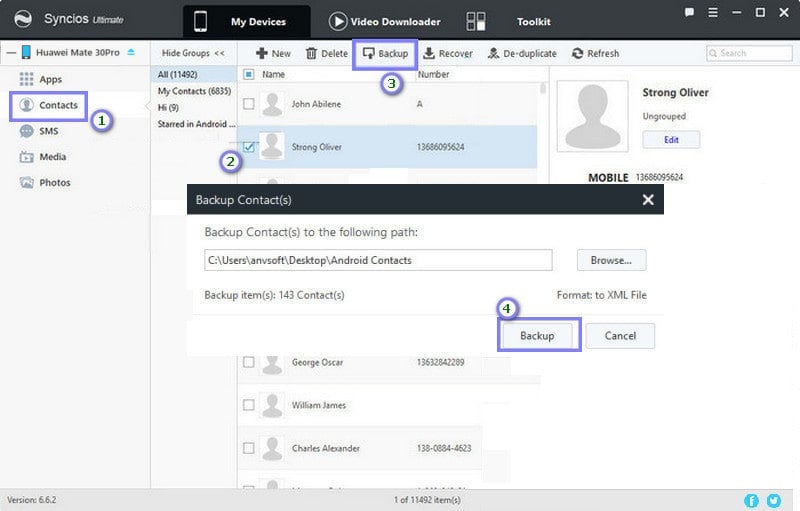 Step 4 Jump to the top panel with a function named Toolkit and then you can further to see 2 functional buttons--- 1-Click Backup and 1-Click Restore. Tap into 1-Click Backup switch and then Syncios will read and load all available data existing on the phone. The contents are Music, Video, Photo, Apps, Contacts, Messages and More. When all the data is completely loaded, keep tap on Next to start the backup process. Keep patient to wait until all get done if you have large data to back up to PC.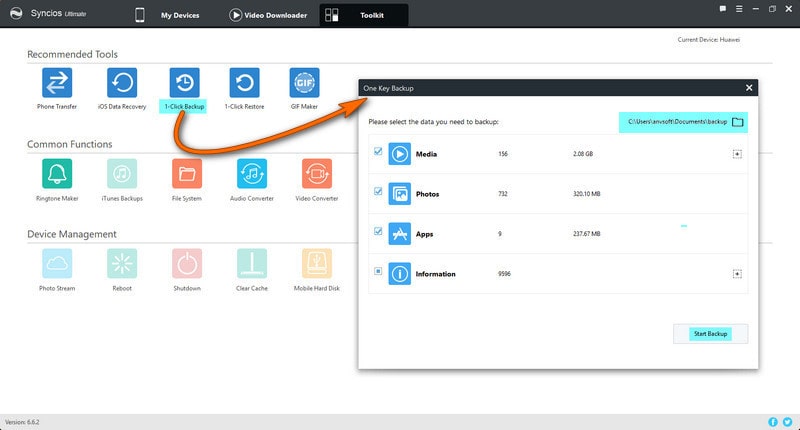 ---
Method 2: Backup Certain Data and Files to Mac
Tool required: Syncios Manager for Mac
What if you happen to be a Mac computer user and also want to back up your Huawei Mate 30 Pro to your computer? Take it easier, Syncios Manager as well offers Mac version to help you backup and restore data on your Mac computer. Whatever your mobile phone is iPhone or Android, Syncios Manager for Mac is 100% supported to your devices. With Syncios Manager on your Mac, you can be free to backup certain data and files to your PC. That is to say you can selectively migrate your photos, contacts, music, text messages to PC. Now let's get through the steps:
Step 1Below is Mac version of Syncios Manager, you can kick and download it on your Mac.
Step 2Connect your Huawei Mate 30 Pro to the Mac port until it is successfully connected to Syncios. If meeting any connection issue, you can refer to this tutorial to sort it out.
Step 3Enter to the options on the top panel, and tap into Music for example. You then are able to preview, edit and deleted the phones. When you reorganize the music playlists from your phone, you then can kick on the Export button to back up the selected songs to your PC. And for other files like photos, messages, apps and contacts, you just do as you do to your music. The whole process is so easy to learnt and it helps to optimize the space on your Huawei Mate 30 Pro.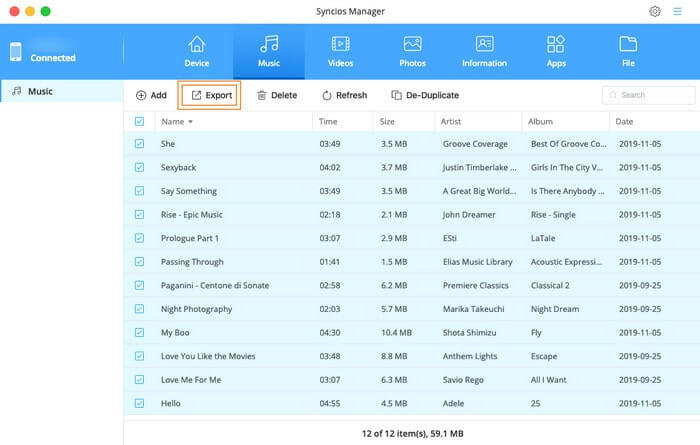 ---
Method 3: Restore Backups on Windows/ Mac to Huawei Mate 30
Tool required: Syncios Data Transfer
To backup is to restore. By backing up the important data to PC, you will never worry about data loss even though sometimes misfortune falls on your phone like factory reset or an accidental deletion. Moreover, we wil further to tell you steps to recover the backups (created by Syncios on your Window or Mac) to your Huawei Mate 30.
Of course, Syncios Manager offers Restore functions for you to recover the backup on PC to your Huawei Mate 30/30 Pro. But today, we would still introduce you one more another tool to let you easily restore data and files to your Huawei Mate 30. And if you previously backed up data to iTunes or iCloud, you can also use this tool to recover the data to your Huawei Mate 30. Syncios Data Transfer is a upper version when you meet any issues in mobile phone data migration. It restores backups created by iPhone/Android to PC Transfer, extract lost data from your iTunes backups and recover mobile contents from your iCloud backups. Syncios Data Transfer enables you to transfer iTunes library contents into your iPhone and computer as well.
Step 1Below is both Windows and Mac version of Syncios Data Transfer offering to download. You can directly download the one you need. When completing the program download and installation, connect your Huawei Mate 30 into your PC.
Download
Win Version Download
Mac Version
Step 2 Navigate to Restore mode where you can clearly restore backups from Syncios local path on PC, iTunes, iCloud and iTunes Library. Obviously, we would like to restore Syncios Backups to Huawei Mate 30 Pro. You then kick on Syncios Backups option.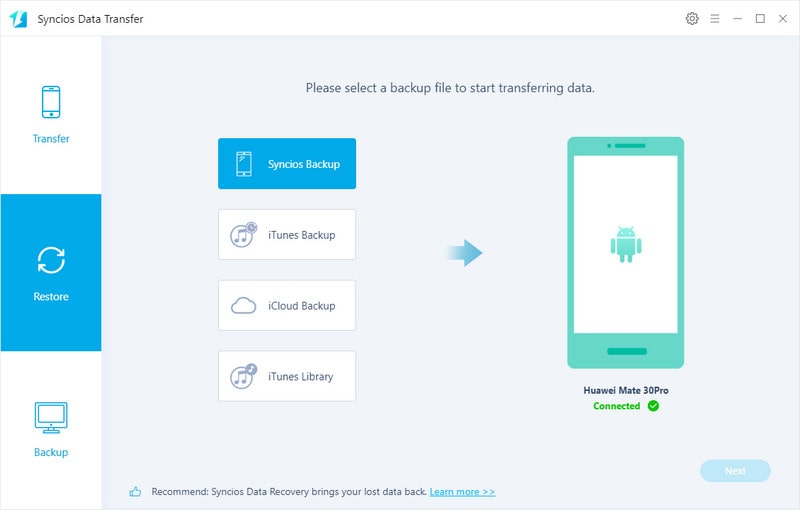 Step 3Following the steps to select specific data that you want to recover form. You can kick Select All button to restore all the data in the backups folder. Backups created by Syncios on PC can be seamlessy recover to the any iOS 5-13 device and Android 3-10 phone.
Step 4Start the recovery process by kicking on the Next button to progress. When it all get done, Syncios smartly de-duplicate the data. It in some degree brings users much convenience.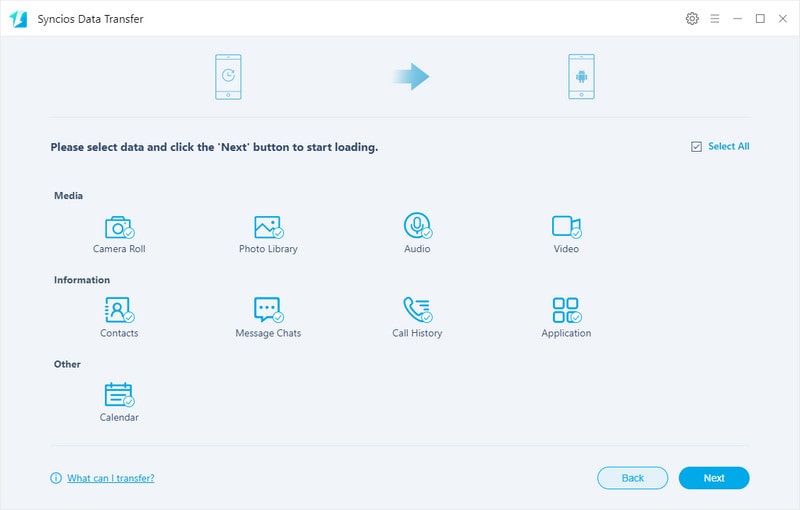 Never stop to give it a shot of any Syncios tool. Syncios Data Transfer and Syncios Manager are good helpers on mobile phone data backup, restore and transfer. Whats's more, the licensed service offers users continuous support when you meet any mobile phone data issue. Share your mobile phone ideas with us and make progess with us.
---
Related Articles: