How to Transfer Data from Huawei P30/Mate 30 to Huawei Mate Xs
Huawei announced the Mate Xs at the end of February and if you have pre-ordered, you now are enjoying a totally different experience of this foldable phone. And on most phone switching process, data is treated mostly as a before thought. Therefore, if you are worried about the old data on your previous Huawei P30 or Huawei Mate 30, this article is showing you tips to transfer data from Huawei P30/ Mate 30 to Huawei Mate Xs. Let's go through it together.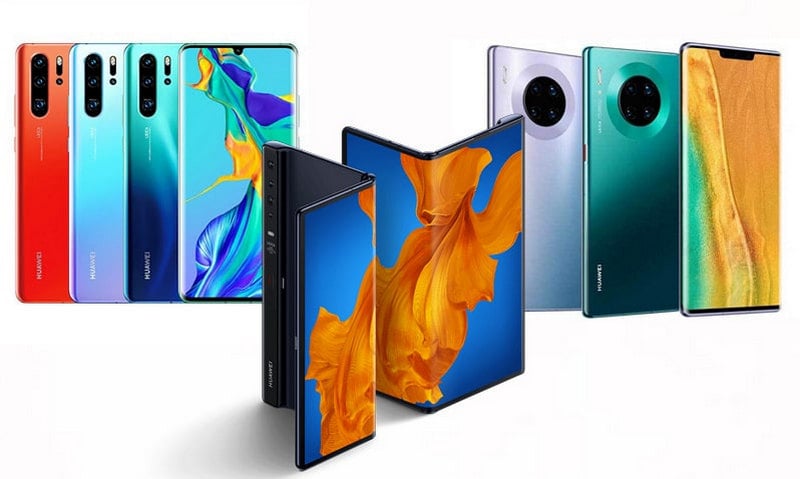 ---
Certain Item Data Transfer ---Huawei Phone Clone
Phone Clone is developed by Huawei brand. This is a phone application. You can directly download it on the Huawei App store. It features in migrating phone data between 2 Huawei phones. So if you are likely to switch to the newest Huawei phone, you can have a Huawei phone cloner to simplify the data migration problem. Here show you how to run it on 2 phones to easy transfer data from Huawei P30/Huawei Mate 30 to Huawei Mate Xs.
Step 1Directly download Phone Clone on your both 2 phones from official website. And then run it respectively. Select Huawei P30/Mate 30 as the old phone and Huawei Mate Xs as the new.
Step 2 To establish a connection of these 2 phones, use old phone to scan the QR code on new phone. So you can scan the QR code appeared on Huawei Mate Xs or connect a local hotpot of Huawei Mate Xs.
Step 3 Select the data to be cloned on Huawei P30/Mate 30,(Transferrable contents: photos, videos, contacts, call log, calendar. ) and tap Send Data to ready for the real transfer.
Step 4 Wait patiently until the transfer completed.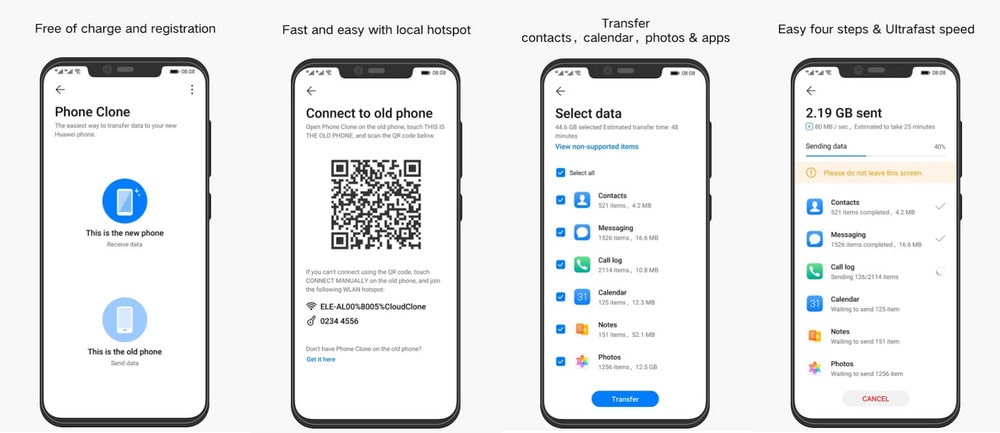 Note: Due to some reasons, Google's apps and services are not available for preload or sideload on new Huawei devices. So if you are eager to fix the data transfer issue quicker, you can refer to the second method.
---
This is a professional tool on iOS to Android, Android to Android, Android to iOS, iOS to iOS phone data transfer. By a Transfer mode, you can phone to phone transfer items between Huawei P30/Huawei Mate 30 and Huawei Mate Xs. You can transfer these data at a time, such as contacts, messages, music, photos, videos, apps, bookmark, notes and more. With this tool, you don't have to back up the data, you just easily transfer them to another one.
Step 1 On your PC, download Syncios Data Transfer on PC then run it into Transfer mode.
Download
Win Version Download
Mac Version
Step 2 Connect 2 Huawei phones to Syncios Data Transfer via USB cable. Never forget to debug the USB mode on phone and install Syncios Apk to smoothly transfer files. Tap the Flip button to change the order. Old phone on the left and Huawei Mate Xs places on the right.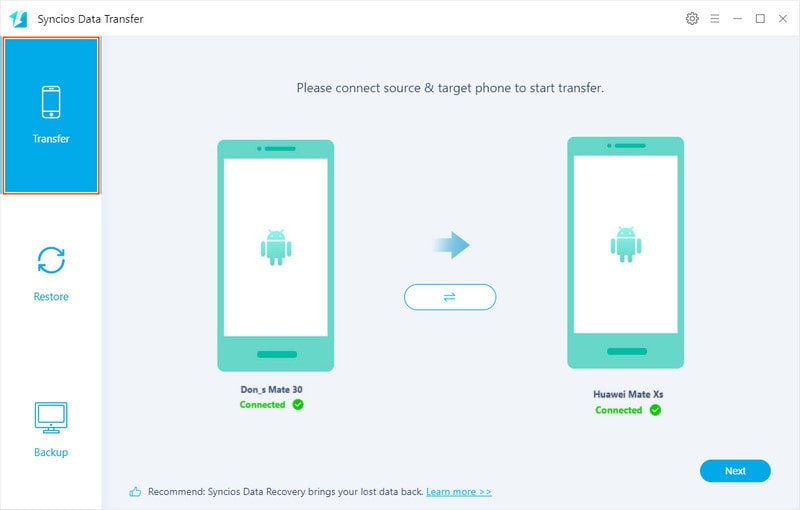 Step 3 Next to select the data to transfer. Select All button is offered to transfer these data to your Huawei Mate Xs at once. All the selected data will be transferred to Huawei Mate Xs in one click.
Step 4 Patiently wait until Syncios prompting a completed notification.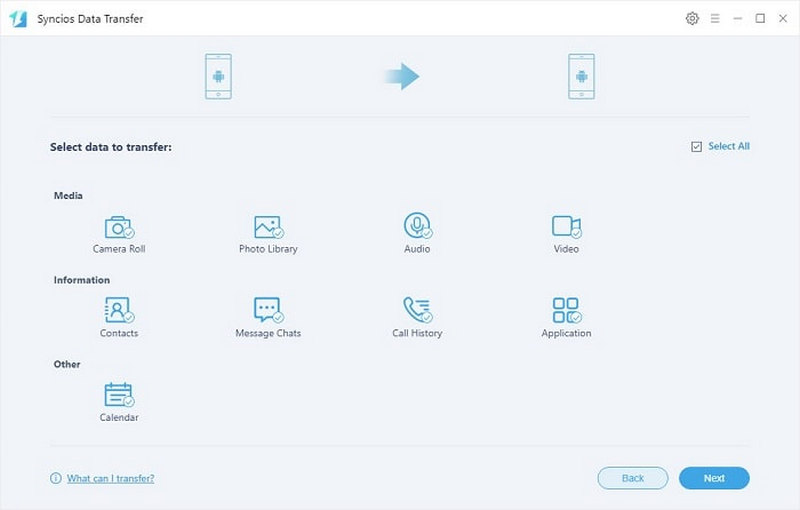 Summary: Things become easier with a reliable helper. Never hesitate to practice the method above. And we have tested both methods. Especially Syncios Data Transfer worths a try. You can as well use this tool to restore data created by iPhone, iTunes and iCloud. Plus, the Backup feature built in Syncios Data Transfer lets you simply synchronize iPhone and Android files to PC and restore any time.
---
Related Tips & Tricks