How to Transfer Old WhatsApp Messages to iPhone 11/ 11 Pro
What is your first reason to use WhatsApp? For work or for chats with your friends? Perhaps WhatsApp is a straightforward way to keep touch with people. Either way, you probably have some crucial WhatsApp messages and media in there, and it'd be a pity if it all suddenly disappeared. And when you switch to a new iPhone 11(Pro), you would manage to transfer the old whatsApp chat history to the new iPhone. That's why it's a great idea to back up your whatsApp messages regularly. And you can easily recover WhatsApp messages to your devices when in need. Here's how to do that!
The top 3 methods are supported to transfer WhatsApp messages between iPhones. The fourth one of Google Drive is available between android and iPhone.

Now, we are going to discuss these four solutions about transferring WhatsApp messages to iPhone11/11 Pro. Let's check all methods one by one.
Method 1. Transfer WhatsApp messages from PC to iPhone 11(Pro)
If you have manually backed up your old messages to PC, it is a wise action that you do to protect your data. And how to transfer the old WhatsApp messages from your computer to a new iPhone 11(Pro)? It does come to a puzzle. Syncios Mobile Manager is a professional mobile phone data manager, helping to backup and restore data between iPhone 11 (Pro) and PC. With it, you can easily solve this issue.
Step 1 Run Syncios Manager and connect your iPhone 11(Pro) to the program. If your computer is a MacOS, choose the Syncios Manager for Mac version at first.
Download
Win Version Download
Mac Version
Step 2 Enter the Information management on the left panel, where you can backup and restore data files including contacts, notes, bookmarks, messages, safari history, voicemails and WhatsApp.
Step 3 In this case, tap WhatsApp and then kick on Recover button when you would be guided to the path of your old WhatsApp backup files on PC. And then easily retrieve them back to your iPhone 11.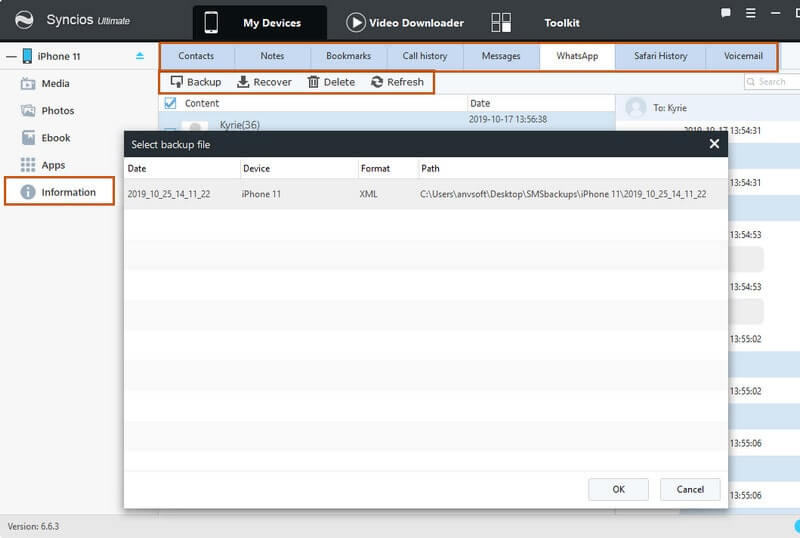 ---
Method 2. Transfer WhatsApp messages from iPhone to iPhone 11 (Pro)
But for the WhatsApp messages stored in your old iPhone, is there a far more straight way to transfer WhatsApp messages by phone to phone? Yes, there is. In this method, we would share another tool to Syncios phone to phone transfer the WhatsApp messages to iPhone 11(Pro).
Step 1 Download and install Syncios Data Transfer on your Windows computer or Mac laptop.
Download
Win Version Download
Mac Version
Step 2 Run Syncios Data Transfer into Transfer mode where you are supposed to connect your old iPhone and iPhone 11(Pro) to the program respectively.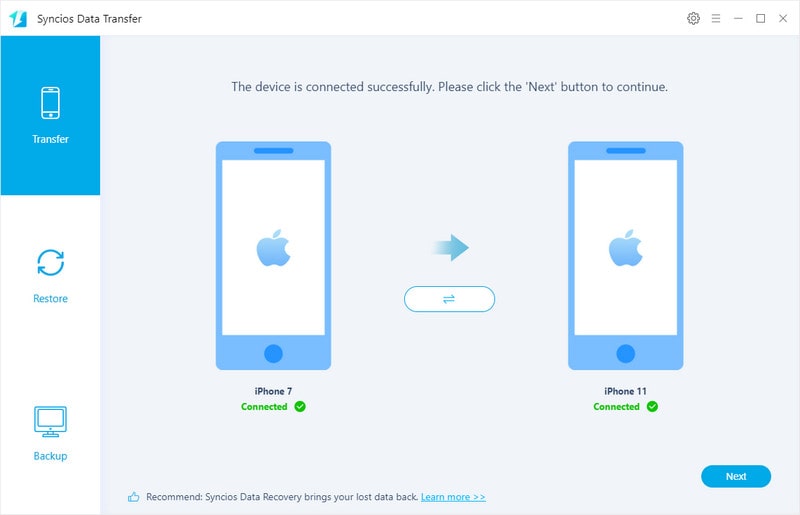 Step 3 Next to select the WhatsApp as the targeted item to transfer to your iPhone 11(Pro). As the first time to transfer would take a while, depending on the sizes of your chats.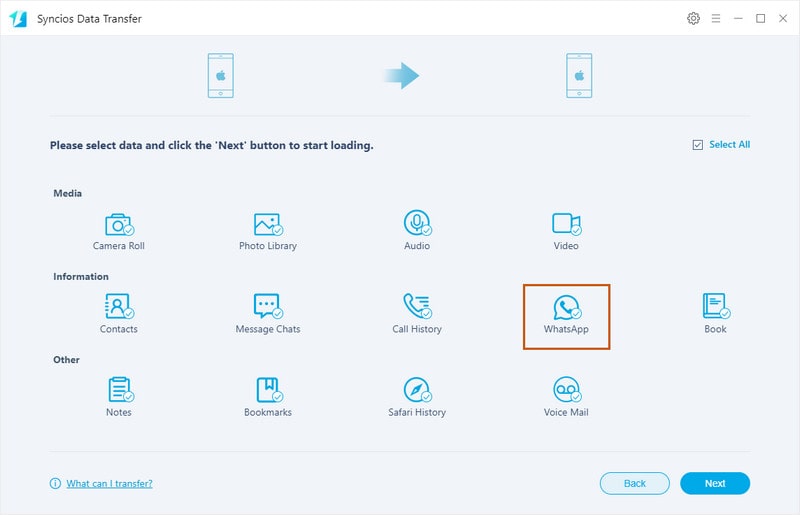 ---
Method 3. Transfer WhatsApp messages from iTunes to iPhone 11(Pro)
What about WhatsApp messages previously stored in iTunes? Still, we have solution to it. Syncios Data Recovery highlights this feature in the process.
Step 1 On your computer, please previously download and install Syncios Data Recovery. Following is to connect your iPhone 11(Pro) to the program and keep it connected in the whole process.
Download
Win Version Download
Mac Version
Step 2 Look into the interface, you can see 3 sources to recover from, which are iOS devices (iPhone & iPad), iTunes Backup and iCloud Backup. To transfer old whatsApp messges from iTunes to iPhone 11(Pro), let's jump to the middle feature---Recover from iTunes Backup files and then choose the valuable WhatsApp option to scan and load.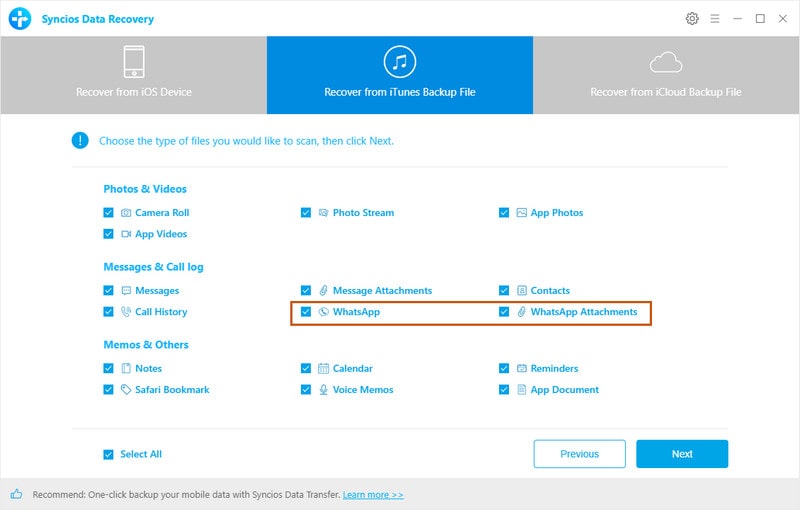 Step 3 Scan and download the data on iTunes backups. You can selectively choose which items to scan and download. Here you can pick up WhatsApp and WhatsApp attachment only.
Step 4 After the process of reading the data from iTunes, you can now recover the respondingly WhatsApp attachment and conversation to iPhone 11(Pro) or to PC now.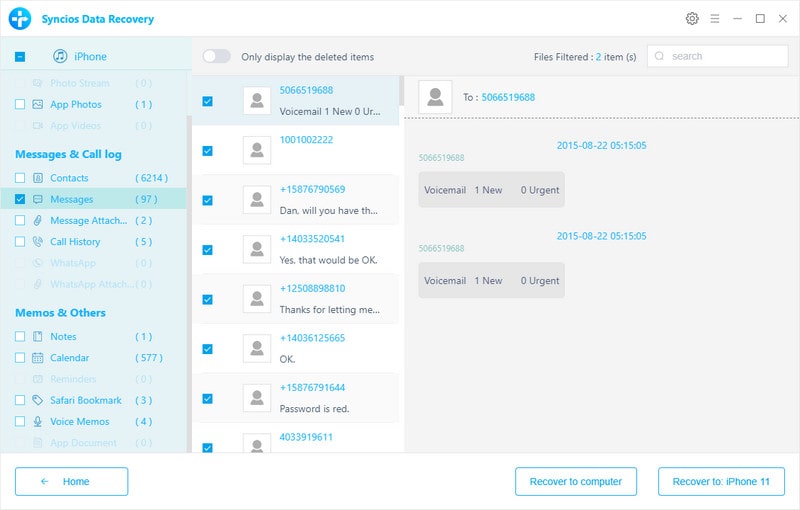 Note: By this method, you can actually recover those lost or deleted WhatsApp to your iPhone11/11 Pro. Even though you might without your old iPhone at hand, Syncios Data Recovery can help to get those lost but important WhatsApp messages to your iPhone 11(Pro).
---
Method 4. Transfer WhatsApp messages from Android to iPhone 11
The traditional way is to proceed via Google Drive. While in this way, you can both transfer the WhatsApp messages both from iPhone and android to your iPhone 11(Pro). In WhatsApp, you can manually back up the chats to Google Drives backups, which make the whole process easier than ever before.
Step 1 Open the WhatsApp application on your older phone. Android or iPhone is ok. Then you simply tap the trio of dots at the top left of the screen and go to Settings > Chats > Chat backup.> Back up to Google Drive.
Step 2 One your iPhone11(Pro), install WhatsApp and then launch it. Follow the instructional tips to verify your phone number to sync the bakups.
Step 3 Tap Continue > Restore >Enter your name. >Tap Next. Now you can access your WhatsApp chats on iPhone 11(Pro) that has WhatsApp installed.
Note: Note that whenever you back up to Google Drive, WhatsApp also backs up to your phone's internal memory as well, which means it'll take up some space.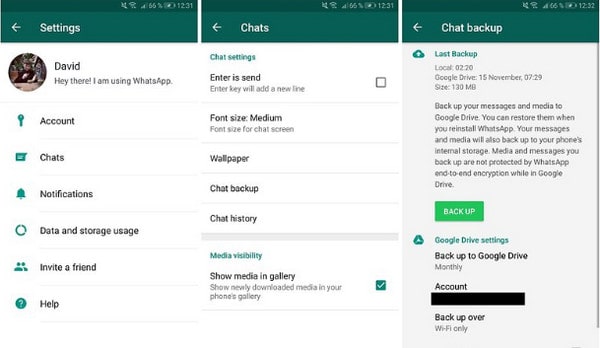 ---
Ultimate: Transfer WhatsApp on Window/Mac/iOS/Android/iTunes to iPhone 11
Alright, we are updating to you an adavanced way to completely transfer WhatsApp to iPhone 11. Mulitiple sources are accessible including Window, Mac, iPhone, iPad, iTunes backup and Android phone. Syncios WhatsApp Transfer combines all sources into one perfect program that you will have no need to try different way to work on transferring WhatsApp to iPhone 11.

Syncios WhatsApp Transfer
Syncios WhatsApp Transfer makes the backup of your WhatsApp history much easier than ever. It allows you backup and restore the iPhone/iPad/Android WhatsApp data in just one click.
Backup all WhatsApp contents to computer in 1 Click, including messages, photos, video and attachments.
Backup and restore iOS/Android WhatsApp data.
Restore WhatsApp backup to device without wiping current data.
Individual backups, the newest one will not overwrite the old one.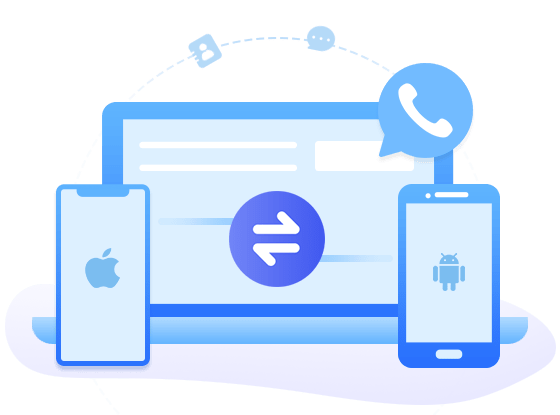 Part 1. Transfer WhatsApp between Window/Mac and iPhone 11 (Pro)
Step 1 Donwload and run Syncios WhatsApp transfer on your computer. On Syncios Toolkit, tap "WhatsApp Transfer" to initiate the program. If you are using MacBook, then choose the Syncios WhatsApp Transfer Mac version instead. After that, directly connect iPhone 11 to computer with USB cable.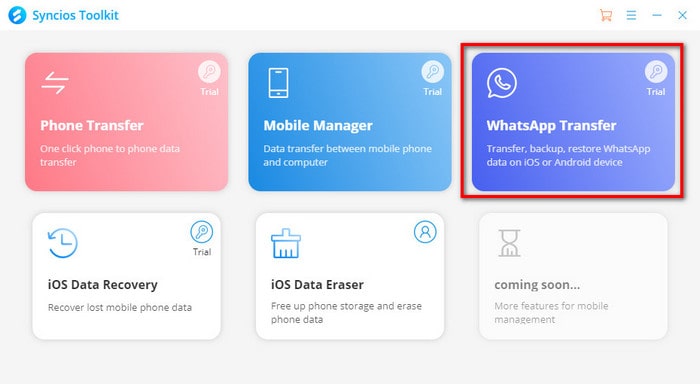 Step 2 Click into 'Backup WhatsApp' mode and program starts to backup your WhatsApp contents as long as it successfully detected to your iPhone 11. Just wait patiently until backup completed. If there are large data, then time taking to finish will be longer respondingly.
Step 3 All backup done by Syncios WhatsApp Transfer will save to your computer locally. To restore them to your iPhone 11, enter in 'Restore WhatsApp from local backup' module. And you will be able to view them and restore to your phone as original.
By the way, if you are to export WhatsApp to computer and print them out, you can go with this aritcle 'Print WhatsApp Messages'.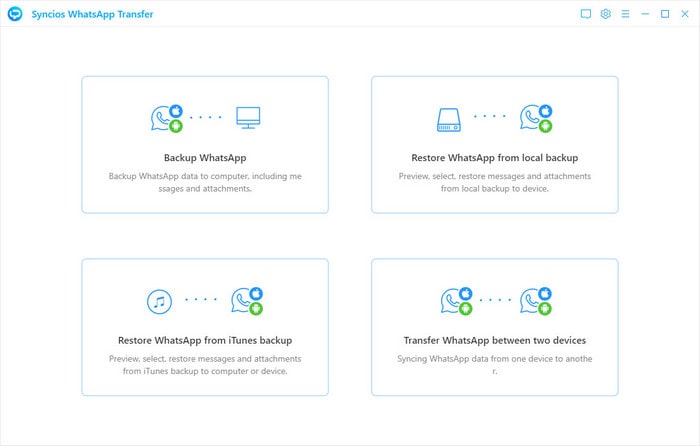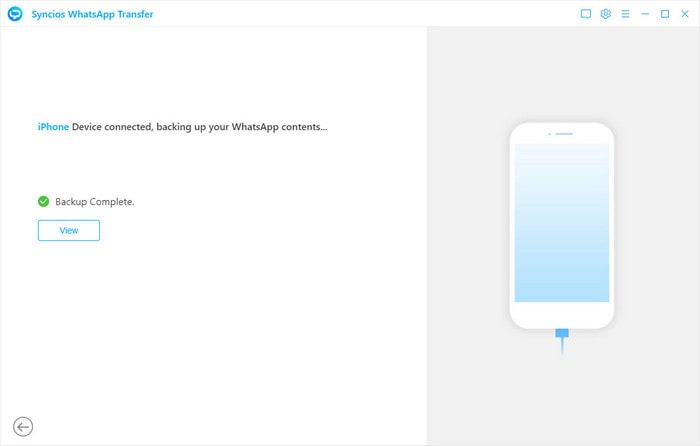 Part 2. Transfer WhatsApp from iTunes Backup to iPhone 11 (Pro)
Step 1 Please keep iPhone 11 well connected to program. Click into 'Restore WhatsApp from iTunes Backup' on Syncios WhatsApp Transfer's homepage.
Step 2 Come to next is a list of backup files, which are exactly coming from your iTunes backup. Choose one of them and tap 'Browse' to view them in details.
Step 3 Selectively tick off the box in front of the contact along with WhatsApp chats. If you want to restore WhatsApp media files like document, photos, video or audio, tap 'WhatsApp Attachment' on the leftside bar. After selection, click 'Recover to device'>>'Recover' to simply copy WhatsApp data to iPhone 11.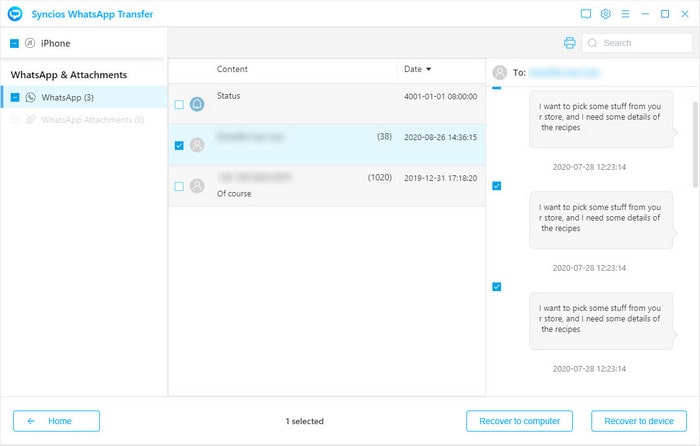 Part 3. Transfer WhatsApp between Android/iOS and Phone 11 (Pro)
Step 1 Respectively connect the source phone and iPhone 11 (target) to Syncios. And run Syncios WhatsApp Transfer into 'Transfer WhatsApp between two devices' module. Further, 3 sub-steps on how to achieve WhatsApp transfer between devices are showed.
Note: WhatsApp backed up to computer (Part 1: Transfer WhatsApp between Window/Mac and iPhone 11 ) can be a source data to restore or transfer to another phone.
Obviously, If you have backed up your Android or iPhone to computer you can start with 'Select Backup' step to restore the backup to your iPhone 11. If you are not, then refer to part 1 to backup source phone at first with 'Backup Device' button.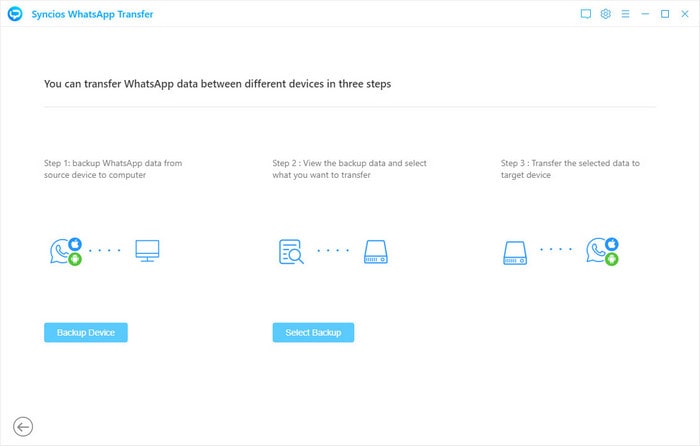 Step 2 Tap into 'Select Backup' and choose one of the local backup to restore from. To keep going, tap 'Browse' after the backup list you want for.
Step 3 Similarly, selectively choose the WhatsApp chats by contacts as well as WhatsApp attachment files. Finally tap 'Recover to device' >>> 'Recover' to get it well done!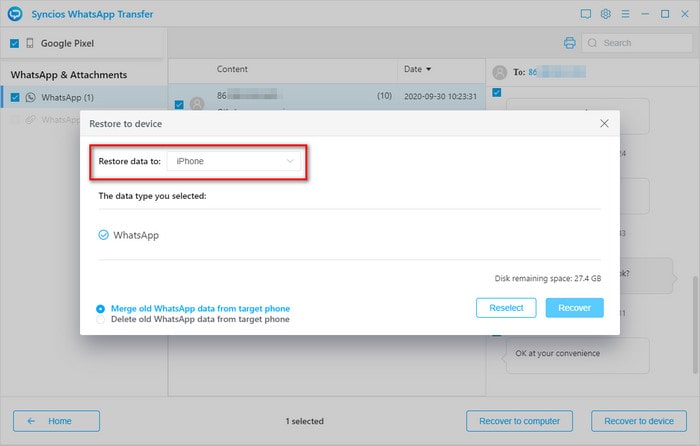 ---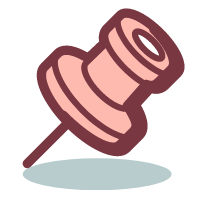 You may notice that, the third method of Syncios Data Recovery can track back your WhatsApp messages and other valuable data when you are unlucky to lose or break your iPhone. Syncios are capable of recovering the WhatsApp messages in iTunes or in iCloud to iPhone 11/11 Pro. If you have lost the iTunes password, click Encrypt your iTunes backups to reset a new one. If you have more data backup or need a phone to phone transfer tool, Syncios Data Transfer and Syncios WhatsApp Transfer stand by for your top choice. Check out our website and to get more updates!
---
Related Tips & Tricks