How to Transfer WhatsApp Data from Android to iPhone 12
WhatsApp is a frequently used messaging app all around the world. People like to use WhatsApp to chat, to share news and send files sometimes. If you're planning on switching from an Android phone or tablet to iPhone 12 and want to take the previous WhatsApp chat history (including media attached) with you, which might be something tough to make it. The backup process is different on Android versus iOS even though they seem the same to have the phone connected to a cloud service.
Android WhatsApp backup is working with Google Drive while iPhone 12 (iOS) WhatsApp is backed up via iCloud instead. Even if you have the iOS Google Drive app, you still won't be able to restore your Android WhatsApp files this way. The iPhone 12 WhatsApp will only communicate with iCloud. But if you think this is unachievable at all, you are wrongly mistakenly. That being said, there are some third-party apps you could use.
---
💫Video Tutorial: Transfer Samsung WhatsApp to iPhone 12
---
Transfer WhatsApp Chats and Attachment from Android to iPhone 12
Syncios WhatsApp Transfer is developed after demanding feedback from people with Android and iOS phone. Syncios WhatsApp Transfer makes the backup of your WhatsApp history much easier than ever. It brings a far simpler way on WhatsApp transfer from Android to iPhone 12. No need for Google Driver iCloud to login or logout to completed a WhatsApp migration. All you need to do is an easy backup WhatsApp on Android phone to computer and restore to iPhone 12. To iPhone 12 user, they are also able to restore WhatsApp data from iTunes backup if in need.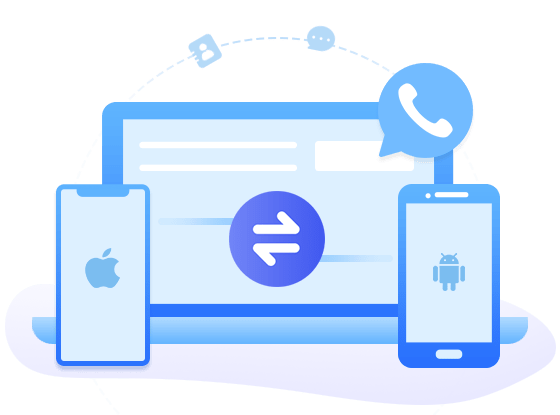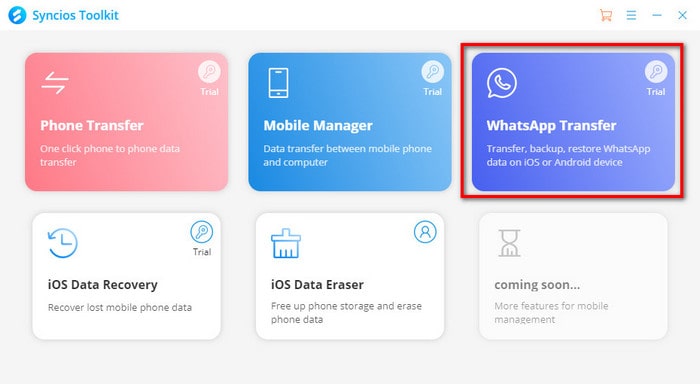 Step 1 Download and install Syncios WhatsApp Transfer on your computer. Syncios WhatsApp Data for Mac is as well provided for Apple computer user. After that, run into Synciso Toolkit and pick 'WhatsApp Transfer'program to go start. On the main interface, you can see 4 modules provided to backup, restore and transfer WhatsApp. They are 'Backup WhatsApp (to PC)', 'Restore WhatsApp from local path', 'Restore WhatsApp from iTunes Backup' and the last 'Transfer WhatsApp between 2 devices'. Here let' go to enter the fourth module 'Transfer WhatsApp between 2 device'.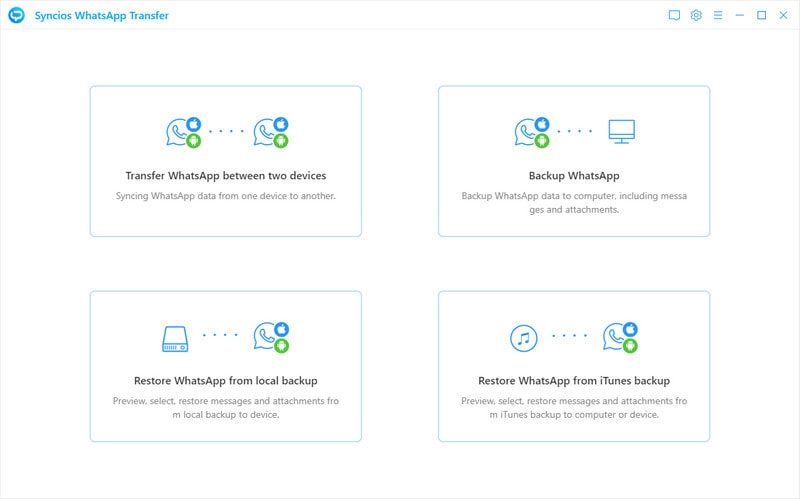 Step 2 Following, there are 3 steps demonstrating on how to complete a WhatsApp Transfer from one phone to another. Please click 'Backup Device' to get started.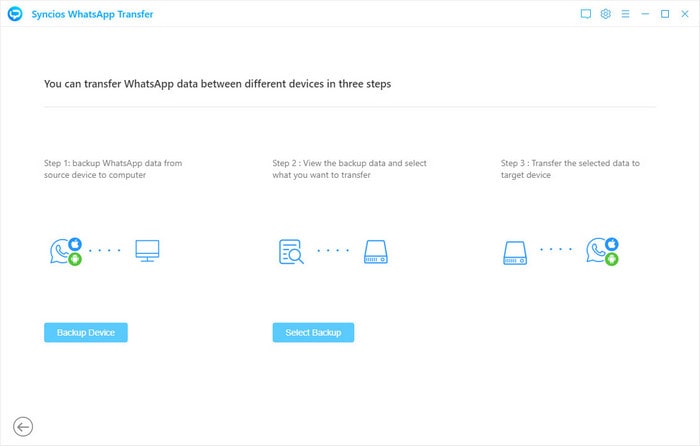 Step 3 Respectively connect your Android and iPhone 12 to Syncios WhatsApp Transfer. For Android phone, USB debugging mode is required, kindly tap here for reference. When both phones are successfully detected, choose to backup Android phone.
Step 4 Wait until your Android WhatsApp backup completed and then tap 'View' (button), pick up the Android backup file to 'Browse' (button) the WhatsApp messages contents in details.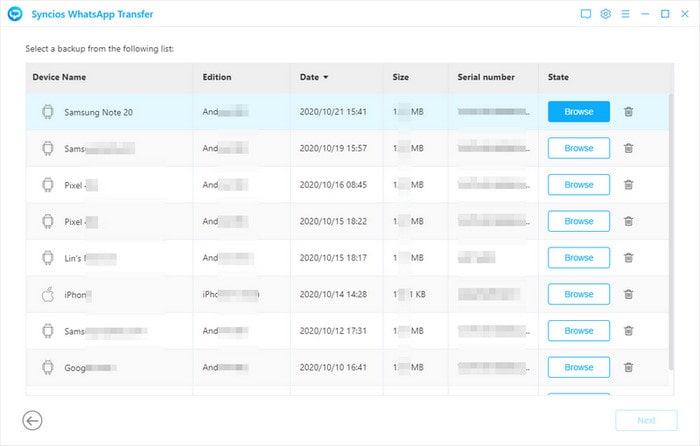 Step 5 As you can see in the program, all your Android WhatsApp is now presented clearly as on your phone. And the WhatsApp contents become easier manageable within Syncios WhatsApp Transfer program. To keep going, select the conversation group by taping the box in front of the contact. By the way, if you need for document, photos, audio, video or others attached in WhatsApp chats, do selections by WhatsApp Attachment tab on the left side menu.
Step 6 Tap 'Restore to Device' button and select to restore data to iPhone 12. (Making sure your iPhone 12 is well connected at this moment). You might be noticed to merge the old and new WhatsApp data. Choose this option we make a full transfer. And wait until the transfer completed.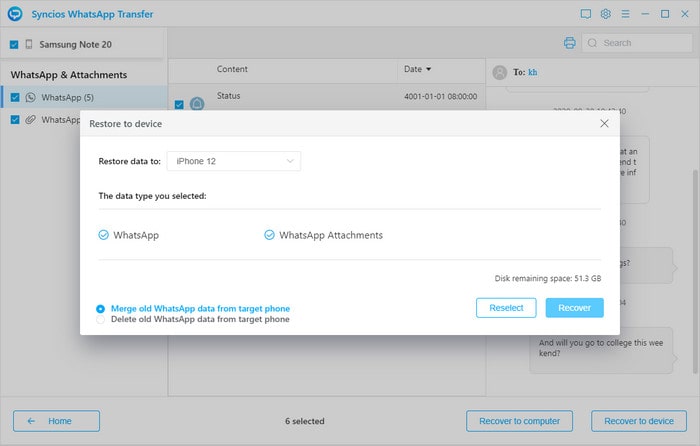 Note By the way, some people ask for printing need. Syncios WhatsApp Transfer offers to print out your WhatsApp individual or group chats after you export them to computer as a HTML or CSV file. Just tap 'Restore to Computer' after selecting your wanted WhatsApp data, it will pop up a window like this: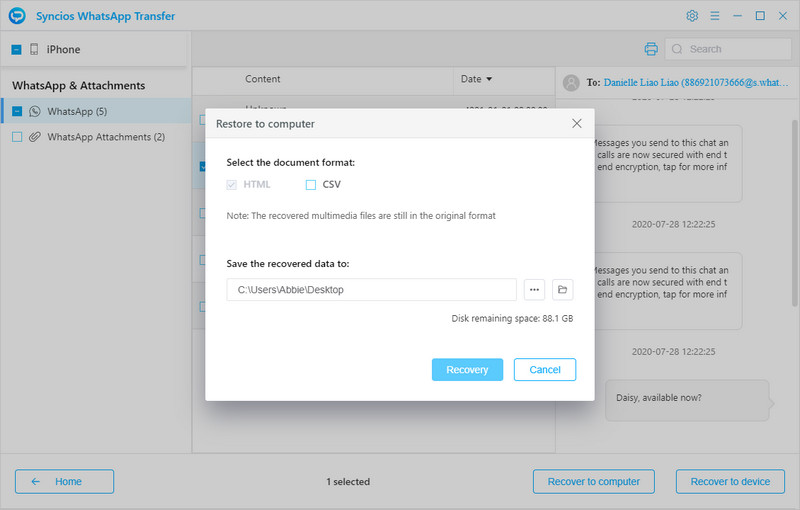 ---
Summary: Thanks to WhatsApp, friends get closer even though both in far distance. And thanks to technical help, Syncios WhatsApp Transfer always stands by for your need. WhatsApp history can simply transfer from Android to iPhone 12, never lose a message again! If you want more practical ways on WhatsApp transfer, leave us a message and we thank you very much for the sharing.
Download
Win Version Download
Mac Version
---
Related Tips & Tricks