How to Transfer WhatsApp Messages from iPhone to iPhone SE 2020
Compared with Samsung Galaxy S20 series which was previously criticized for its crazy expensive price, iPhone SE 2020 starts off at just $399. This really makes sense for you to switch an Android to today's iPhone SE 2020. But if have heavily invested in iOS devices before, iPhone SE 2020 is still a worthy choice. You can get a familiar design with all-new 2.66GHz A13 Bionic processor like in iPhone 11. It is really a compact form backed by an outstanding handware at a low cost. Moreover, it is provided with guaranteed updates at least four years.
After changing to an iPhone SE 2020, you are more likely to sync the old iPhone files and data to your new phone. WhatsApp is one of the important files to get synced and transferred. And if you are looking for a complete guide to migrate the WhatsApp between different iPhones, you are in the right place. Here, we will introduce you several ways to safely transfer the WhatsApp messages and attachment from any of your old iPhone to iPhone SE 2020. You can further learn to transfer different types of data between two iPhones. So, let's get started.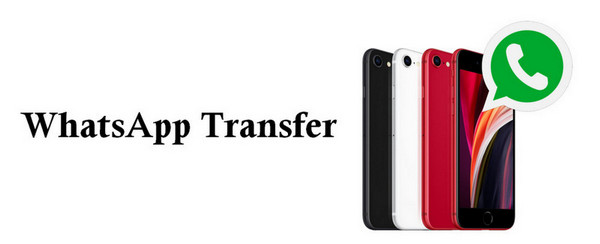 Method 1: Backup and Restore WhatsApp Messages to iPhone SE 2020
WhatsApp application gives people option to back up their WhatsApp chats to its own iCloud service. Just enable the iCloud backup function inside WhatsApp, people can simply back up the WhatsApp messages as well the videos to the air storage. Backup in one iPhone and restore it to another iPhone, you can do by this way to sync the WhatsApp from iPhone to iPhone SE 2020. By logging into the same account on iPhone SE 2020, you can easily access to and restore the backup at any time. So let's see how it works.
Step 1 Run WhatsApp application on your old iPhone, tap Settings > Chat Settings > Chat Backup >> Back Up Now. And all the WhatsApp conversations will be uploaded to the WhatsApp iCloud storage. If you want to back up with the WhatsApp videos, do toggle the Include Video switch before you start a backup.
Step 2 Turn to iPhone SE 2020, run and log in the same WhatsApp number to your old iPhone. Then you will gain access to the previous WhatsApp iCloud storage. And you just follow the guides to restore the WhatsApp backup to your iPhone SE 2020.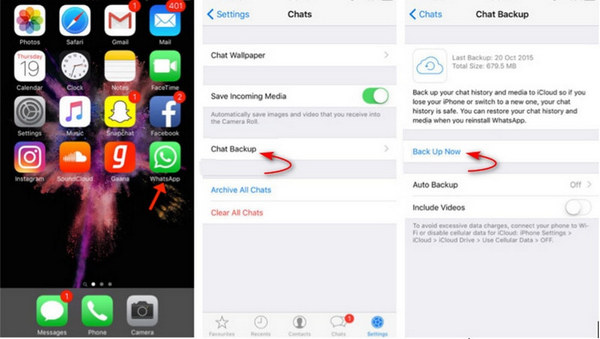 ---
Method 2: Direct Transfer WhatsApp Data from Any iPhone to iPhone SE 2020
The best and effecient way to transfer WhatsApp messages is to build a direct connection between 2 iPhones. So they can easily share the files and transfer whatever you want. Syncios Data Transfer is exactly a tool on transferring mobile file and data, whether it be iOS (iOS 5-13) or Android (Android 3-10) phone. In the case of iPhone to iPhone SE 2020 transfer, Syncios Data Transfer helps very to transfer data including Contacts, Messages, Call Logs, WhatsApp, Music, Photos, Videos, Apps, Safari History, Bookmark, Notes, Ebooks and more. The data from the old iPhone and files already existing in iPhone SE 2020 will safely merge and save without overwriting. To learn how Syncios program transfers the WhatsApp, follow the steps: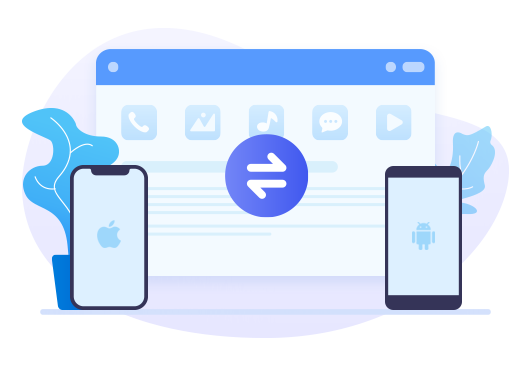 Step 1 On a Windows PC or Mac computer, download and install Syncios Data Transfer on your computer.
Step 2 Locate in "Transfer" mode,which means to a straightforward phone-to-phone files transfer. And individually connect any old iPhone and the iPhone SE 2020 to your computer. Before moving forward, make sure the old iPhone and iPhone SE 2020 are in place. Always, source device is on left and destination phone on right. If not, tap the "Flip" button to adjust the position.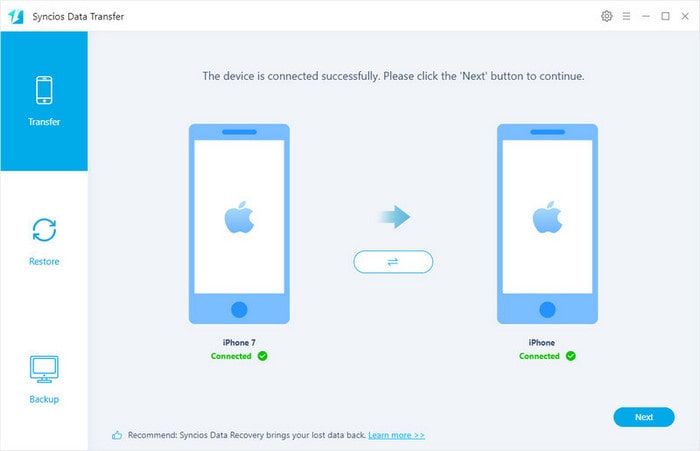 Step 3 Next is to enter a window of selecting the files to transfer. Here we are targeted to transfer WhatsApp. So check on the box of the "WhatsApp" option. But if you like an entire data and files transfer, you can tap all the listed options. And the larger size of the files are, the longer time is taken to transfer.
Step 4 Press the "Next" button to instruct WhatsApp data loading from the old iPhone. And then further transfer the files to iPhone SE 2020. Do confirm you have installed WhatsApp application on your iPhone SE 2020, so it will update the files after completing the transfer. After the transfer, it will reboot your iPhone SE 2020, please keep patient with it.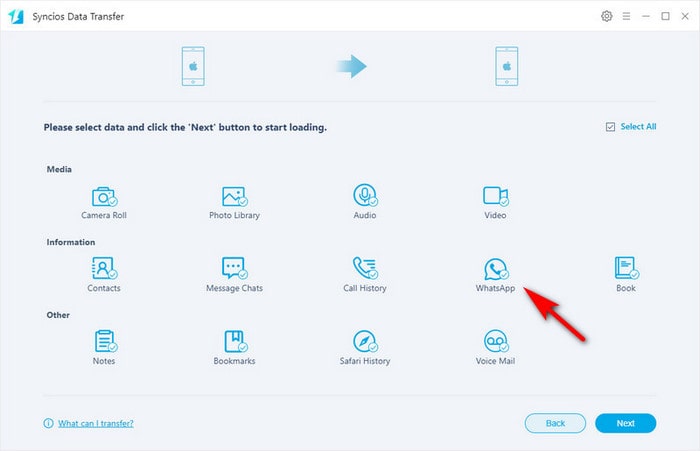 ---
Method 3: Recover WhatsApp Data from A Lost iPhone to iPhone SE 2020 (including WhatsApp Attachment)
If you are unlucky to miss your old iPhone and want to reuse the old WhatsApp files on iPhone SE 2020, you can still find them out by iTunes or iCloud way. This way is for whom having backed up their WhatsApp to iTunes or iCloud. So to recover the deleted and lost WhatsApp messages, you can easily work out with Syncios iOS Data Recovery. This powerful tool is designed to recover iOS data that is accidentally lost or wrongly deleted by phone broken, phone lost, system crash, jailbreaking failure, water damaged, etc. Recoverable data covers photos, videos, contacts, messages, notes, call logs, safari history, calendar as well as app data like WhatsApp chats, iPhoto, Instagram, etc.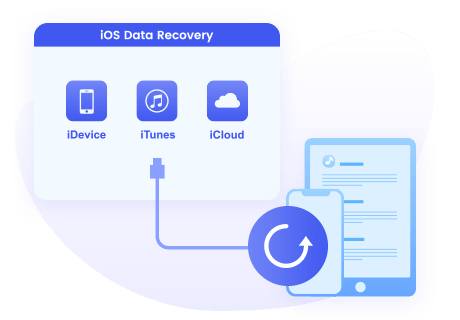 Step 1 Having installed Syncios iOS Data Recovery on your computer, connect iPhone SE 2020 to computer port. Tap "Trust" on the phone screen if this is your first time to connect iPhone SE 2020 to Syncios program.
Step 2 Above the menu is the 3 sources to restore the data from. They are "iDevice", "iTunes Backup" and "iTunes Backup". Since we decide to restore the deleted files on iTunes, thus click on "Recover from iTunes Backup File".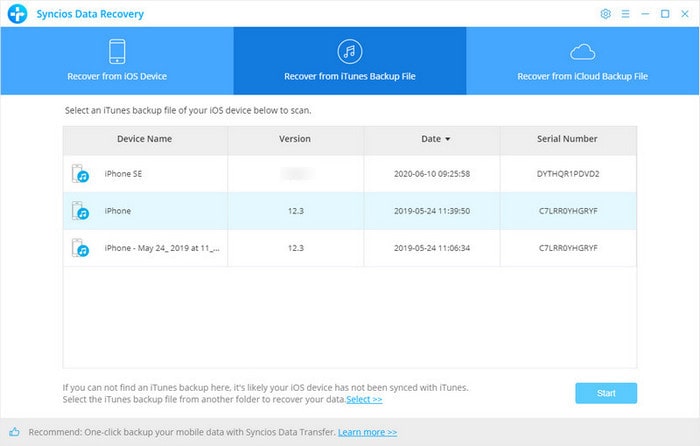 Step 3 Following, you are supposed to select an iTunes Backup to scan >> Choose the types of the files you would like to scan from this backup >>> Choose option"WhatsApp" and "WhatsApp Attachment" > Tap "Next". And then wait for a while to scan and it will show you result of the selected files.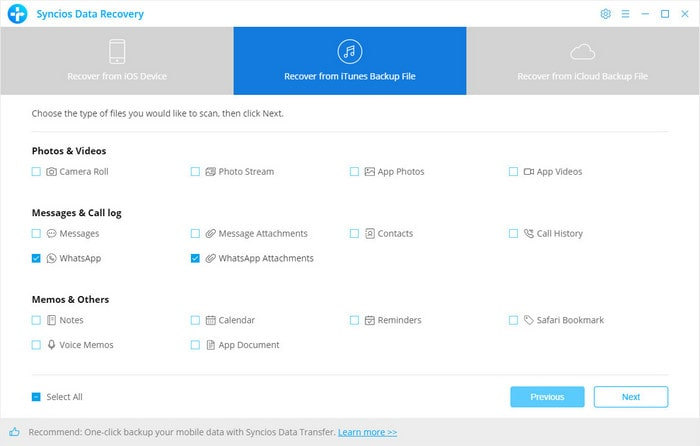 Step 4 The result after scanning shows you all the WhatsApp messages and WhatsApp attachment. By reaching out to the optional box, you can view the files by Deleted Data or Existing Data. Tap "Show only Deleted Files" and then selectively choose the real WhatsApp messages you need >> Click "Recover to Device (iPhone SE 2020)", and it will then easily restore the deleted WhatsApp messages to your iPhone SE 2020.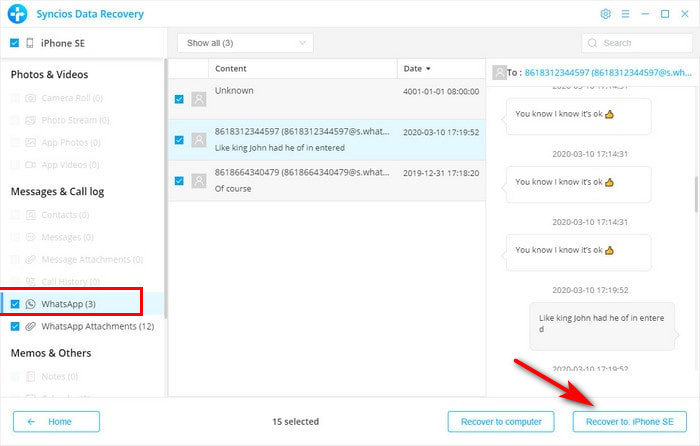 And then for the recovery of WhatsApp attachment, just do as you do to recover the deleted WhatsApp messages to your iPhone SE 2020. For the WhatsApp attachment, you just choose the files (Photos, Videos and Documents) you want and click on "Recover to Device (iPhone SE 2020)". You will as well get the WhatsApp attachment back easily.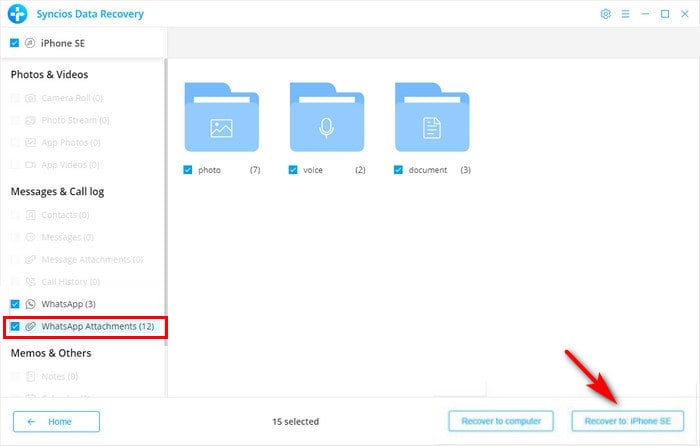 ---
Backup, Restore and Transfer iPhone/iPad/Android WhatsApp Messages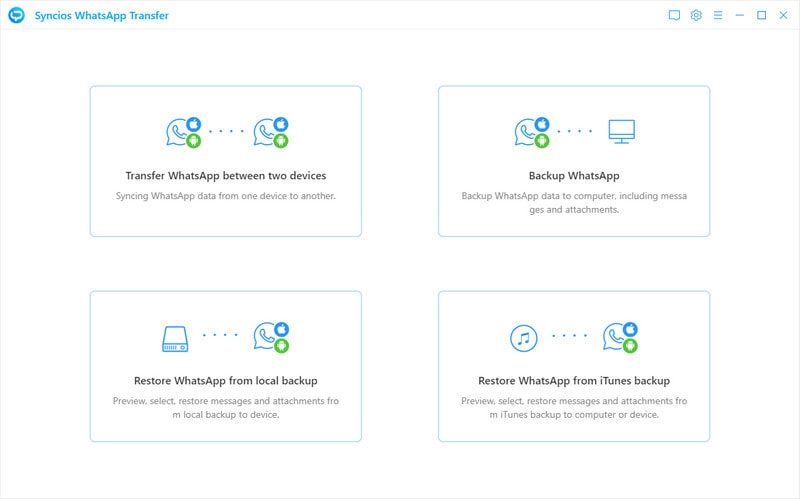 Finally, we want to share with you wonder way to better manage the iPhone WhatsApp messages. That is Syncios WhatsApp Transfer, which is a comprehensive tool on WhatsApp backup, restore and transfer between devices simply. Its features include:
Backup and Restore WhatsApp chats and attachment to computer.
Transfer WhatsApp data between Android and iOS device.
Restore WhatsApp data in iTunes backup to iOS/Android device.
Export to HTML file and print WhatsApp chats.
Cultivate a habit to back up and restore the data regularly, so you will never suffer from a loss of WhatsApp data. By a "Recover" functionality, you can easily recover the computer backup to your iPhone SE. This free tool is always available when you want to faster create a WhatsApp backup and restore to use at any time.
---
Summary:
This is a totally complete guide to show you how to transfer WhatsApp messages from any iPhone to an iPhone SE 2020. By Syncios iPhone Data Transfer, you can easily achieve a WhatsApp messages migration from the old iPhone to your new iPhone SE 2020. By Syncios iOS Data Recovery, you gain a practical method to recover the missed or deleted WhatsApp messages and WhatsApp attachment to your iPhone SE 2020. Keep WhatsApp safe when transferring is really needed. These methods undeniably help you avoid potential data overwritten.
Want more up-to-date tutorials like iOS to Android or Android to iOS Transfer? Let us know which phone you are using now. And we are glad to share more down-to-earth ways on data safety and usage. You can email Syncios staff at support@syncios.com. And if you benefit from some other how-tos tutorials, just share with us in the comment part. It is highly appreciated for your valuable suggestion.
---
Related Articles: