How to Recover Deleted or Lost WhatsApp to iPhone 12 Mini/Pro/Pro Max
WhatsApp is the widest used messaging app in the world that many people love to chat with their friends and families. But have you ever suffered a misery that WhatsApp messages are disappearing messages on the app. There are some cases that we might delete our WhatsApp by accident. It could also be an unknown deletion or a sudden iPhone broken without any backup is ready. Then you will have to deal with these situations alone. Never mind. So here we today, are going to talk about how to get back deleted WhatsApp messages and WhatsApp attachment to iPhone 12. Let's go to see in details.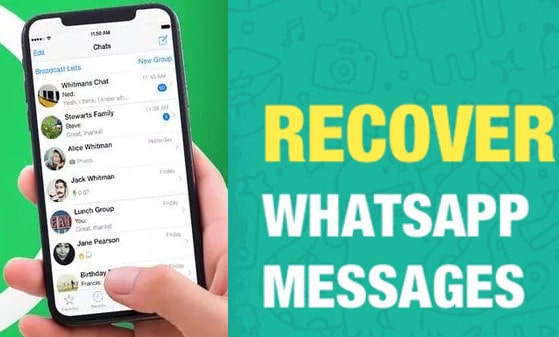 Method 1: Recover Deleted WhatsApp to iPhone 12 without Backup
A lack of backup should cause huge loss if you WhatsApp messages involve in confidential details or attachment. You will have to try your best to find them out. Syncios iOS Data Recovery is a brilliant tool to fix this puzzle out. It is devoted to retrieving the lost or deleted data on iPhone or iPad, even though you didn't backup your iPhone WhatsApp data before. And it is worth mentioning that you can recover the deleted media files from the WhatsApp chats by Syncios Data Recovery. Surely, if you have no backup to restore from, then you can find your deleted WhatsApp messages easily with this way.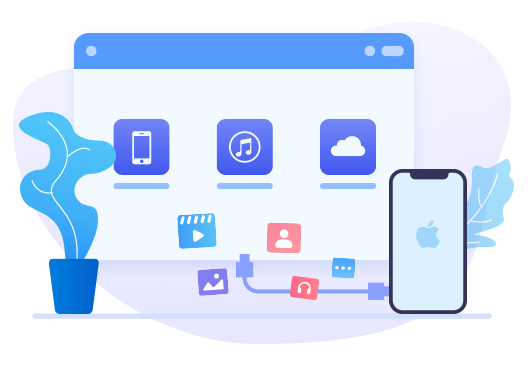 Step 1 Download and install Syncios Data Recovery on your computer. Then run it into the homepage and you can see 3 modes provided by Recover from iOS Device, Recover from iTunes Backup Files and Recover from iCloud Backup File. Pick in the first and default one—Recover from iOS Device.
Step 2 Following, connect iPhone 12 to computer with a USB cable. As long as your iPhone is recognized, the Start button is initiated and hit on it.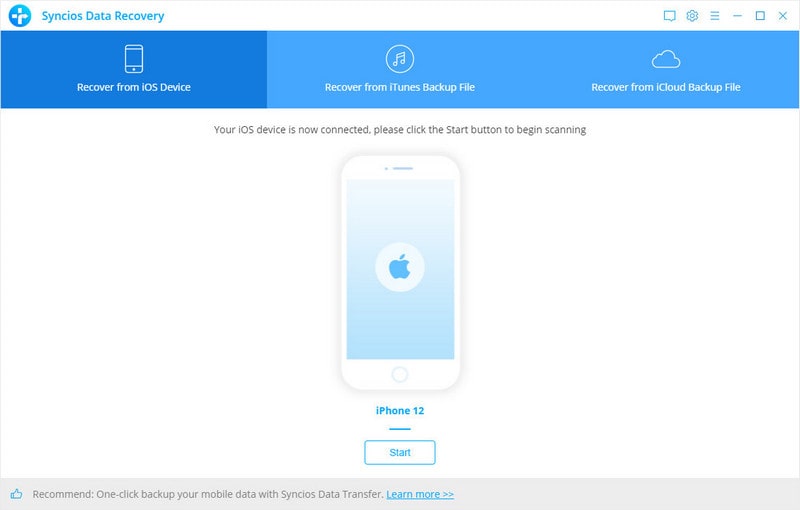 Step 3 Ahead, you are to firstly do a scan process of your iPhone. You can choose to scan certain files like WhatsApp or do a whole scan by selecting all the files on your iPhone 12. More than 13 types of files are supported to restore, covering photos, videos, contacts, messages, notes, call logs, safari history, calendar, WhatsApp, Kik, Viber, iPhoto, etc. You then just tick off the WhatsApp options under the Deleted categories. After that, click on the Ok.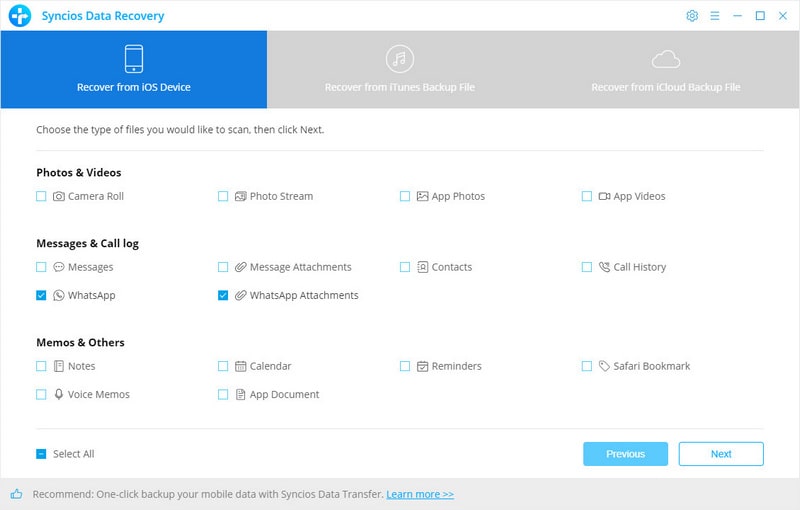 Note There is a search box helping us to drill down to any relevant contents. If you have hundreds of recipients on your WhatsApp chats, then you could type the key contents into the search box and locate to your needed messages, saving keystrokes on find them out.
Step 5 Tap Recover to Computer to retrieve the deleted data computer for a backup. Or a tap on Recover to iPhone, then the messages will be recovered to your iPhone 12 so easily!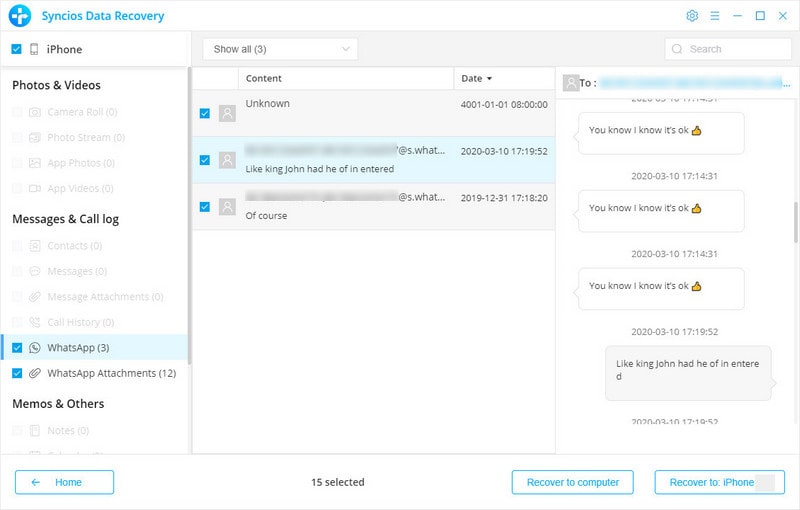 ---
Method 2: Recover Deleted WhatsApp to iPhone 12 from iCloud Backup
We know that WhatsApp provides 4 backup frequencies: Daily, Weekly, Monthly and Never. Or your iPhone, if you had set up automatic backup, then WhatsApp chat history will be synced to iCloud. By having daily auto backups, you'll be able to easily recover messages soon after deleting them. On the other hand, weekly auto backups will allow you to go further back in time to recover deleted WhatsApp messages, at the expense of losing recent chat messages. Which is also why cloud and PC backups are vital.
Anyway, if you have backed up your WhatsApp on your iPhone 12, then you can go with a uninstall-and-reinstall way to bring back the deleted WhatsApp chats from your iCloud backup.
Step 1: Uninstall the WhatsApp app on your iPhone 12 and re-download it from App Store.
Step 2: Open WhatsApp, verify your phone number and you will be asked to restore chat history. Please make sure you have switch on WhatsApp on the phone iCloud settings.
Step 3: Click on the "Restore Chat History" option to gain your WhatsApp messages from the iCloud backup.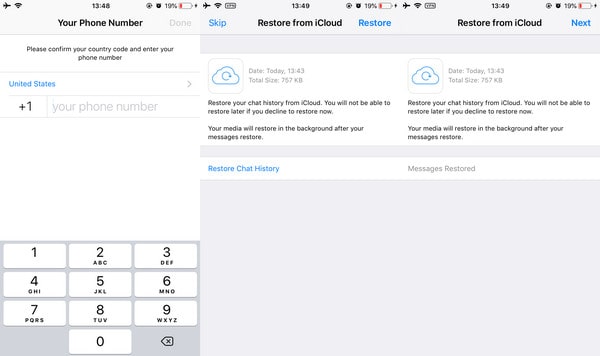 This way seems perfect and simple, but it has to be within your selected auto-backup frequency. If it is selected Never backup , turn to other ways in this article. Neither you can count on it to completely restore the messages intact, sometimes the deleted media files are impossible way to get back.
---
Method 3: Recover Deleted WhatsApp to iPhone 12 from iTunes Backup
As you practice with Syncios iOS Data Recovery in Method 1, you can learn that you do own another option to get back lost WhatsApp to your iPhone 12. That is to recover deleted WhatsApp messages from iTunes Backup. This method is also applicable for those who lost their iPhones and while they want to retrieve their precious WhatsApp chats history. Go this way with Syncios Data Recovery, you don't have to run iTunes but simply achieve with several steps to restore WhatsApp relevant information to your iPhone 12.
Step 1 Initiate Syncios Data Recovery on computer and connect iPhone 12 to Syncios as usual.
Download
Win Version Download
Mac Version
Step 2 On the top, choose Recover from iTunes Backup File plate. Program will offers you several options which come from your latest iTunes backups on your iPhone. You just pick up the exact one that you want to recover from. And go next step.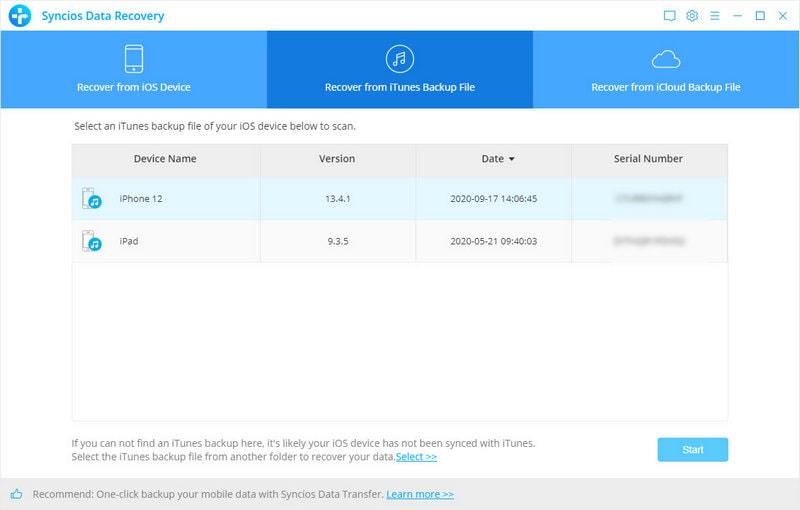 Step 3 Similarly, you can singly restore your desired files types iPhone 12, then uncheck the Select All function. Files are divided into 2 types: Existing and Deleted. And tick off the box in front of WhatsApp and WhatsApp Attachment and you will be able to merge the exiting and the deleted data together to your iPhone 12. Based on your choice, Syncios will operate to extract the WhatsApp-related files from iTunes backup.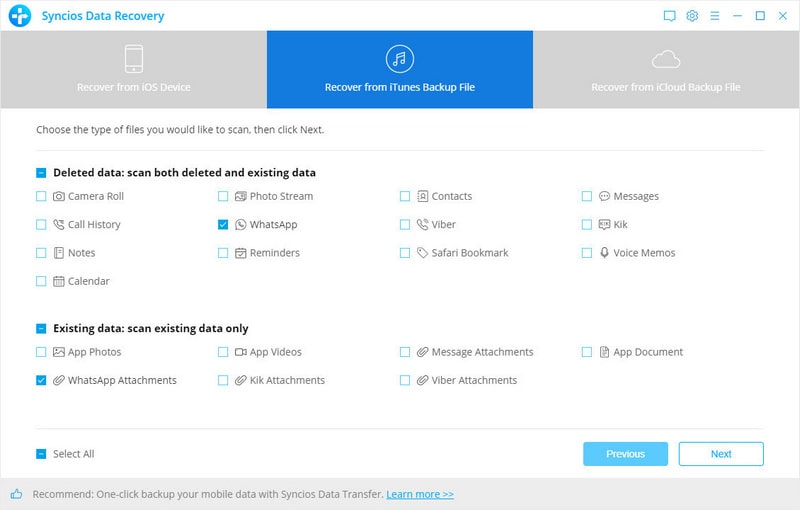 Step 4 Next, you can preview the WhatsApp information before recovery. In the same way, pick up your wanted files and tap Recover to iPhone 12.
Note: Make sure you have logged in your WhatsApp on iPhone 12 and restart your iPhone 12 after you complete a WhatsApp recovery.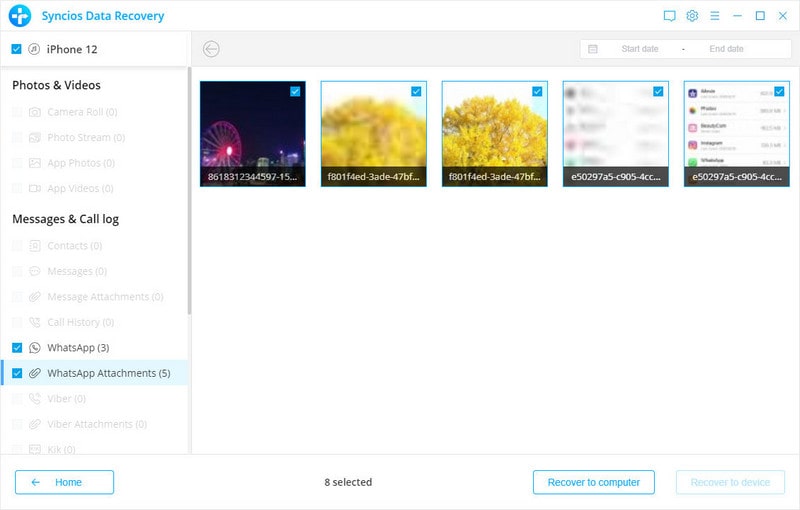 ---
Method 4: Recover Deleted WhatsApp to iPhone 12 from PC Backup
Considered unknown defective software issues, mal-prone crash on iPhone, some people backed up all iPhone stuff like WhatsApp messages to computer. Computer creates a sufficient free space for all your WhatsApp backup on mobile phone. And WhatsApp backup files are stored in owner's computer and available to easily preview and fast print into paper. So if you have backed up WhatsApp messages to computer before you deleted WhatsApp messages by mistakes, you can easily move the backup to iPhone 12 and find the deleted WhatsApp messages back for use. In this way, we use a free assistant Syncios Mobile Manager Free.
Step 1 Starting up Syncios Manager Free on your computer and then connect iPhone 12 to Syncios via USB cable.
Step 2 Navigate to the optional tabs on the left, tap into Information >>> WhatsApp. Here are to freely manage your iPhone 12 files including Contacts, Message, Note, Bookmarks, Call history, WhatsApp, Safari history and Voice Memos.
Step 3 Tap on the Recover function when it prompts up a window of the backup files, which are exactly you did before. Choose it and click OK to confirm, and wait it sync them back to your iPhone 12.
If you have no idea of backing up WhatsApp to PC before, right now simply go with Syncios Manager Free to one-click back up WhatsApp and other important things on iPhone 12.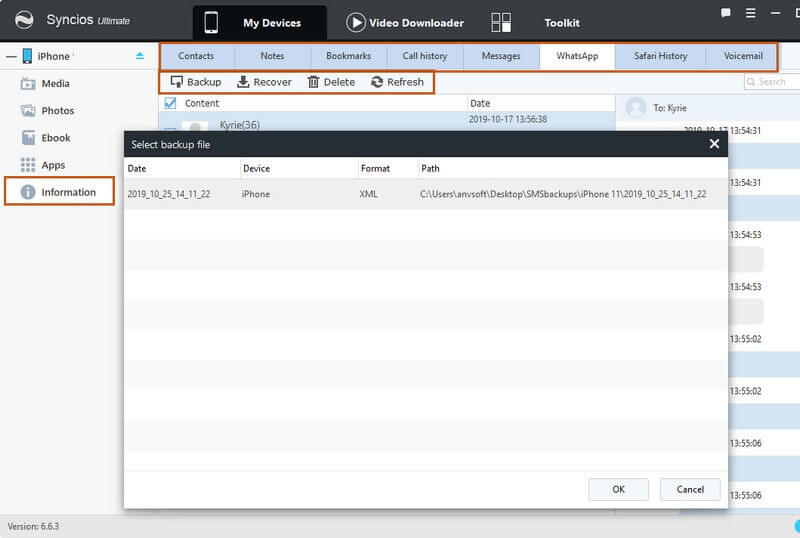 ---
Extra Tip: Simpler Manage, Export, Backup WhatsApp on iPhone 12 Mini/Pro/Pro Max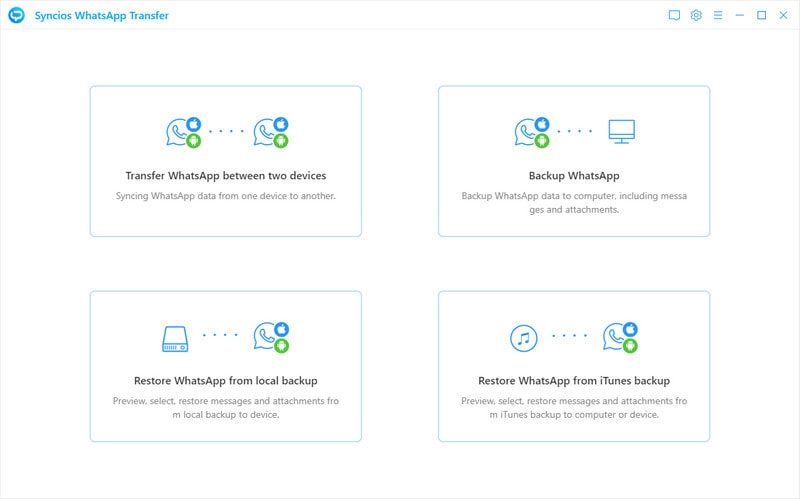 Backup and Restore WhatsApp chats to computer.
Transfer WhatsApp data between Android and iOS device.
Export to HTML file and print WhatsApp chats.
Export WhatsApp media including photos, videos, and audio
Restore WhatsApp backup files to iPhone or iPad at ease.
If you attach importance on WhatsApp, then a regular backup of WhatsApp is necessary. Syncios WhatsApp Transfer enables you to backup WhatsApp on iPhone 12 Mini/Pro/Pro Max to computer easily. It also meets all your needs👆👆:
---
Summary: WhatsApp loss and overwritten is a tough fight absolutely. But solutions are always ready to fix in accordance with. In this article, we show you 4 ways to find and recover deleted WhatsApp messages and WhatsApp attachment to iPhone 12. Deleted or lost WhatsApp might be found out in your iTunes backup, iCloud backup (local backup in WhatsApp app) and computer backup. Especially for those regretting no WhatsApp backup before, try with Syncios Data Recovery to get back deleted WhatsApp simply. At last, you could equip yourself a Syncios WhatsApp Transfer to regularly make a copy of iPhone 12 WhatsApp for free!
---
Related Tips & Tricks