How to Transfer Data from iPhone7/8/9/X/XR/11 to iPhone 12?
God! We finally get iPhone 12 ready! And what is your new discovery after using iPhone 12? Will you highlight or complain its overstatement on breakthrough? Anyway, you are now on the way to iPhone 12 and you will make some comparison with iPhone 12's foregoer. However, data preparation should be under way for you to a quick and smoothly using iPhone 12. Thanks to iTunes and iCloud, iPhone users can easily back up key data to the service and restore them when they set up a new iPhone 12. And we also give ways to transfer data from iPhone7/8/9/X/XR/11 to iPhone 12 series for you if restoring from backup isn't possible.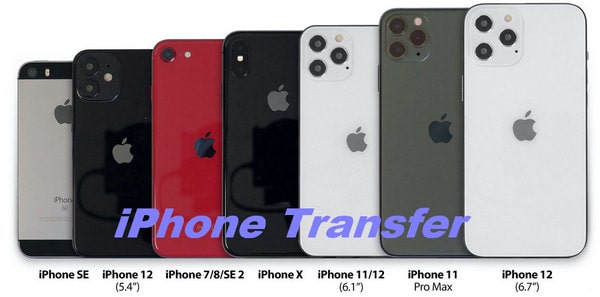 ---
Part 1: Direct Transfer iPhone to iPhone 12 Transfer
The easiest and straightforward way is to get iPhone transfer directly. So this is what Syncios Data Transfer is designed for. To transfer data from any old iPhone 7/8/9/X/XR/11 to iPhone 12, or a data-transfer between 2 iPhones, this tool can perfectly make it.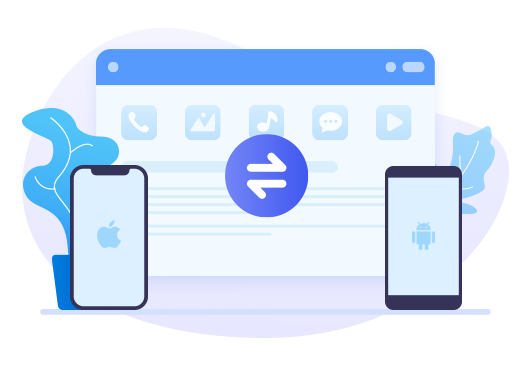 Step 1 Download Syncios Data Transfer on your computer and launch it after installation completed. Windows and Mac version are offered and easily to take as you need.
Step 2 Run Syncios Data Transfer into the Transfer module one the left sidebar when you can see 2 phone icons on the homepage. Please respectively connect your old iPhone and iPhone 12 into it with USB cable. Syncios will detect them as long as you plug the USB cable to computer.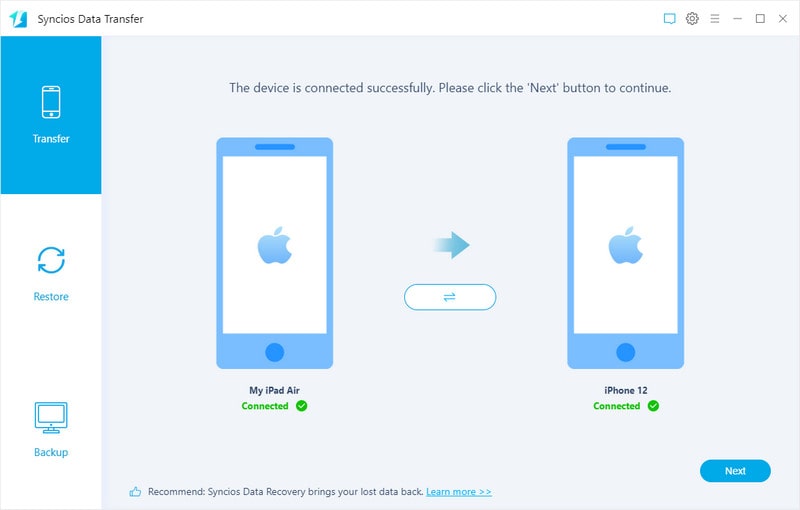 Step 3 Following, move on by taping the "Next" button in the bottom right corner. As you now can see, more than 13 types of key files are listed and supported to transfer from your old iPhone7/8/9/X/XR/11 to iPhone 12. Tick off the box to select the items that you want to transfer. Or a directly "Select All" function to choose the whole batch.
Step 4 After the selection, click on "Next" to load the data from the old iPhone. Then one more a click on "Next" button when Syncios shall be operated to transfer the data from source phone to iPhone 12. You just wait patiently until it completed the process.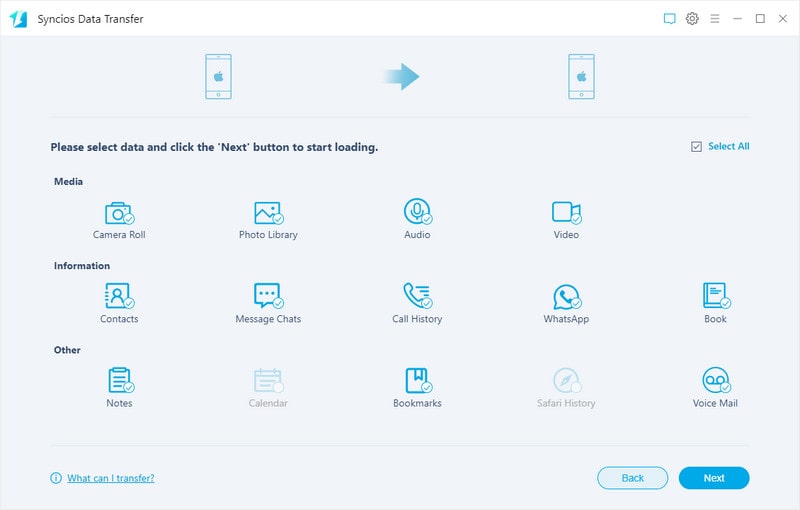 ---
Part 2: Quick Start Transfer from Current iPhone to iPhone 12
If you are to set up your iPhone 12 from a new start, you can use with your current iPhone 7/8/9/X/XR/11 to achieve a device to device transfer. Quick Start way offers the option of using device-to-device migration. This allows you to transfer all of your data wirelessly from your current device to your new one. Here make sure your old iPhone is on iOS 12.4 or later. It is worth noting that Move to iOS way easily leads to transfer collapse or data overwritten once weak connection occurs.
Step 1 Unlock your previous iPhone and iPhone 12 and put both devices close enough when Quick Start screen will appear on the old iPhone and offers the option of using your Apple ID to set up iPhone 12 (New device).
Step 2 Wait for an animation to appear on your new device. Hold your current device over the new device, then centre the animation in the viewfinder. Wait for a message that says Finish on iPhone 12. If you can't use your current camera, tap Authenticate manually, then follow the steps that appear.
Step 3 If there prompts to authorize permission, then enter your current passcode on iPhone 12. And then follow the instructions to set up Face ID or Touch ID on iPhone 12.
Step 4 Tap Transfer from iPhone to begin transferring your data from your old iPhone to your iPhone 12. You can also choose whether to transfer some settings, such as Apple Pay and Siri, from your current device to iPhone 12.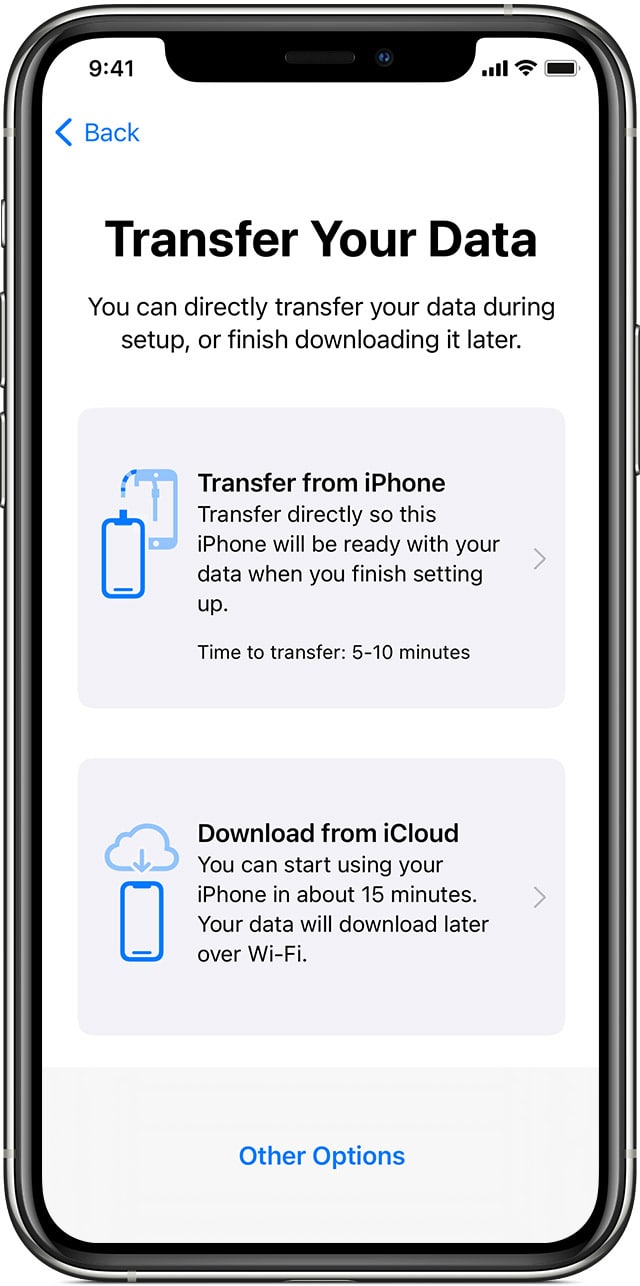 Note: Keep your devices near each other and ensure they are plugged into a power source until the iPhone data migration process has been completed. Transfer times can vary based on factors such as the connection type you're using, network conditions and the amount of data being transferred.
---
Part 3: Recover iTunes Backup from iPhone7/8/9/X/XR/11 to iPhone 12
If you have been used iTunes to stored iPhone data, then extract data from iTunes Backup is needed when you switch from old iPhone to iPhone 12. But you will find it extraordinarily complex to restore data from iTunes Backup. Thus we here share with you an alternative way to directly restore iTunes backup from iPhone7/8/9/X/XR/11 to iPhone 12.
Step 1 Run Syncios Data Transfer into Restore mode. Then you can see 3 backup sources are prepared for you to directly restore from. They are PC local backup, iTunes Library and iTunes Backup. As usual, firstly connect iPhone 12 to Syncios Data Transfer.
Download
Win Version Download
Mac Version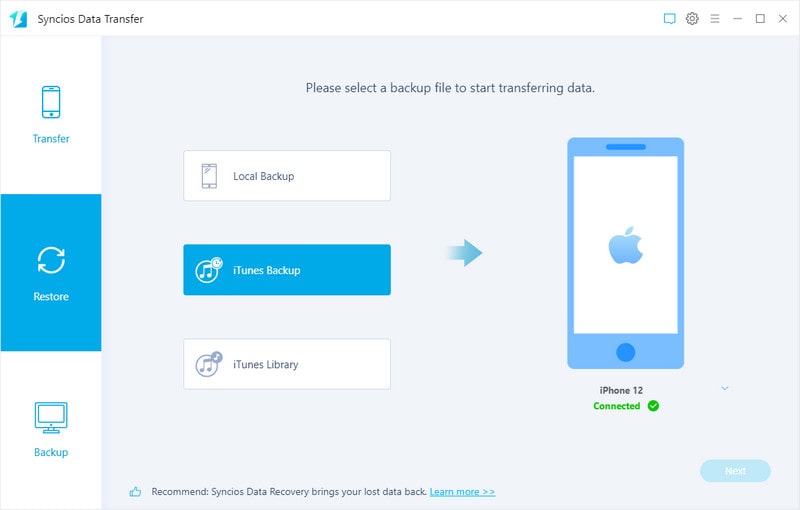 Step 2 Click into iTunes Backup and you will be offered options of iTunes backup from the pop-up window, which are the latest backup that you recently made by iTunes. Based on the creation date and iOS version, you then just choose the one that you want to restore from. After that, click "OK" to fold the window.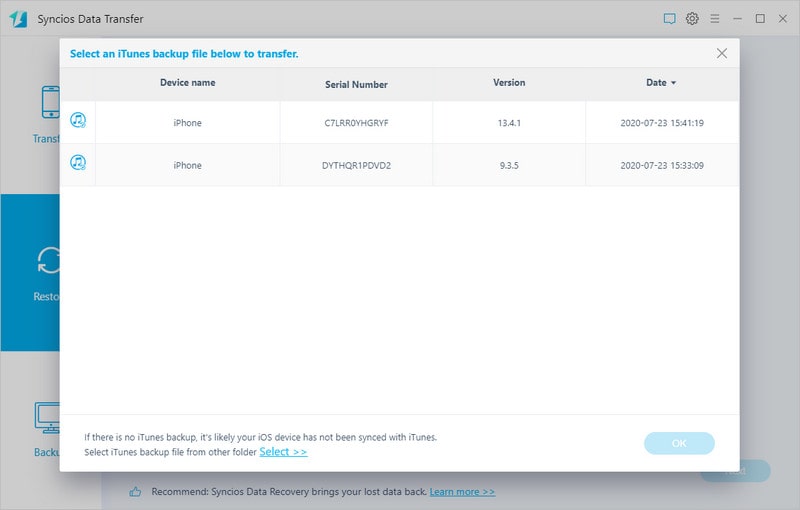 Step 3 Alright, just select the files you want and follow the instructions to recover and transfer.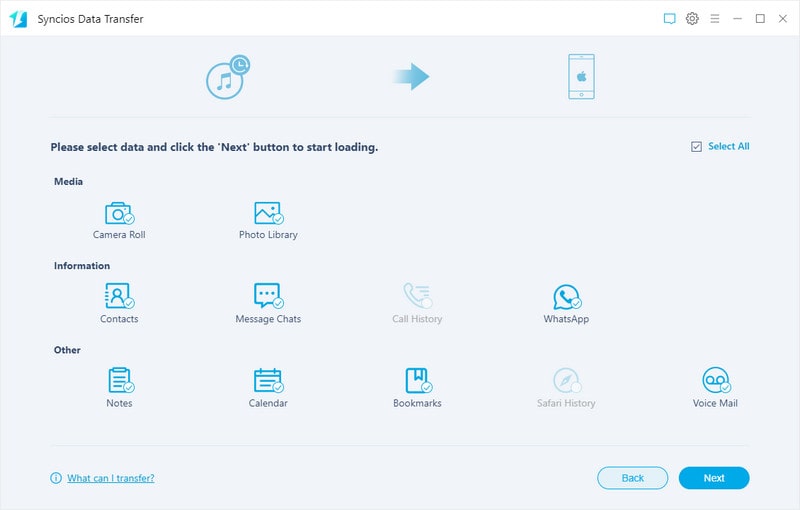 ---
Part 4: Make a Copy of iTunes Library from iPhone7/8/9/X/XR/11 to iPhone 12
Oh, don't leave out your iTunes Library! Music and Video do not store to your iTunes backup, but the media files will be manually backed up to iTunes Library. So when you switch to iPhone 12 and after you restored iTunes backup to iPhone 12, bear in mind that make a copy of iTunes Library to your iPhone 12 as well.
Download
Win Version Download
Mac Version
Step 1 In the same way, run Syncios Data Transfer into Restore module and connect your iPhone 12 into computer.
Step 2 Click iTunes Library this time when you can the music and playlists from iTunes are shown as the figure below. You can singly click the song you want and choose them to transfer. When all settle down, click on OK.
Step 3 Subsequently, tap the "Next" button to start the transfer. Syncios will then make a copy of files from iTunes Library to iPhone 12.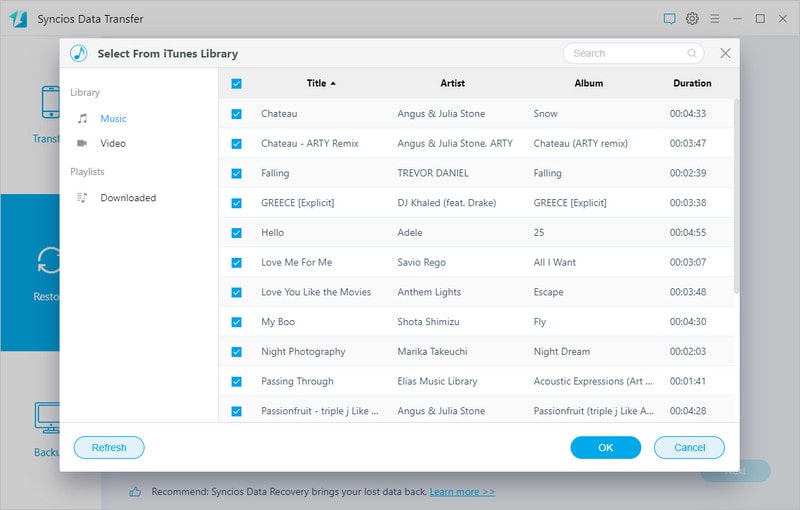 ---
Summary: In this article, we show you how to completely transfer the data from your previous iPhone or iPad to your new iPhone 12. Syncios iPhone to iPhone Transfer always stands by for your need whenever you switch to another iPhone or need to restore backups to iPhone. Also let us know what do you think an ideal way it is to transfer data to iPhone 12. We will be very glad to the technical contents sharing from you!
---
Related Tips & Tricks