How to Print WhatsApp Messages as Evidence for Legal Matters
Nowadays, instant messages made conversations and deals manageable and efficient. The use of WhatsApp is safe from scrutiny as the primary communication tool. The issue of WhatsApp can be used as evidence in court has recently arisen, instigating businesses to consider archiving WhatsApp conversations of their employees in case they get involved in a workplace lawsuit. The general principle is that WhatsApp messages can be admissible as evidence. A record of these chats/messages is called in legal parlance an 'electronic record'. This electronic record may be required to be used in legal cases as evidence. And you might have some WhatsApp chats to print out and keep on paper, and use this either as evidence in court, or simply in your personal archive.
To help out, we detail below ways to print a record of WhatsApp messages into paper. And you can as well learn how to make a copy of the WhatsApp attachment like video, photos, voice memos in need.

---
🎬 Backup iPhone WhatsApp Chats and Photos Attached to Computer and Print Out
---
Part 1: Print WhatsApp Messages and Attachment from iPhone/iPad
If you want to print WhatsApp chats on your iPhone or iPad, then Syncios WhatsApp Transfer can make it. With it, you can export the WhatsApp chats in a HTML and then print them out for use. Syncios WhatsApp Transfer have all features that you need for a print, like management, backup, restore and transfer. Below are the main features of Syncios WhatsApp Tranfer owns.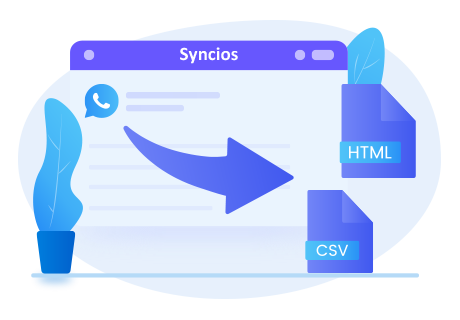 Step 1 Enter "WhatsApp Transfer" mode as long as you run Syncios Toolkit on your computer. Following, you will initate the Syncios WhatsApp Transfer program to start. If you have neither of them , tap the download button above according to your computer version---Windows or Mac.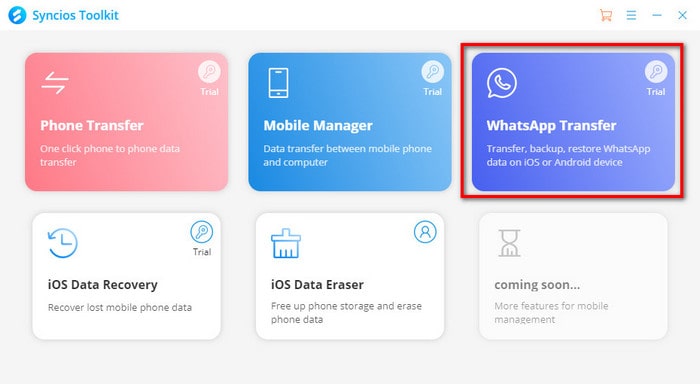 Step 2 Come to the homepage, you can see 4 modes provided to manage and transfer WhatsApp. They are respectively Backup WhatsApp (Export WhatsApp to Computer), Restore WhatsApp from Local Backup,Restore WhatsApp from iTunes Backup and Transfer WhatsApp between devices (iOS & Android compatible). Here we are aimed to directly export the WhatsApp for a print, so pick up the first mode.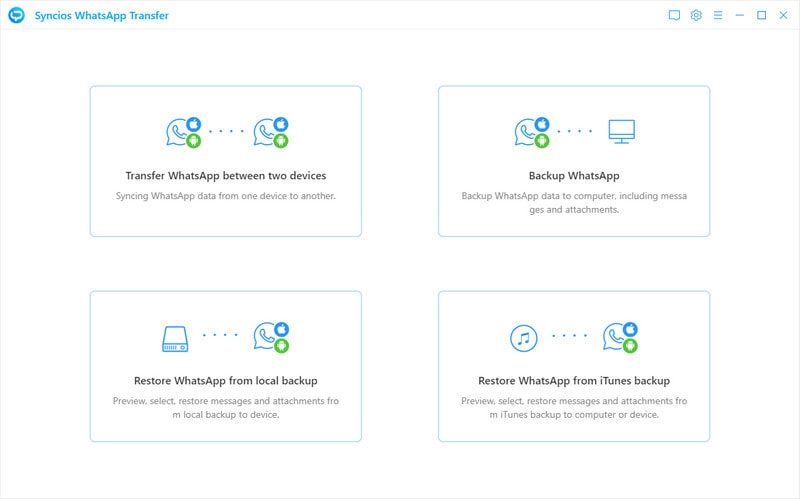 Step 3 Connect your iPhone to computer when Syncios Transfer will start to make a WhatsApp backup to a temp path on computer as long as your iPhone is successfully detected.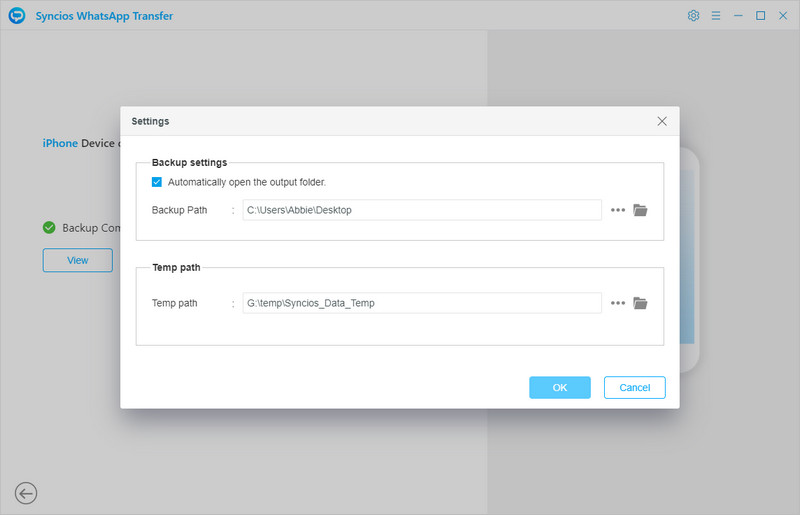 Step 4 Tap on the contact to preview the conversation accordingly. And to export the WhatsApp chats for a print, you can individually click on the box in front of the chats and tap on Recover to Computer.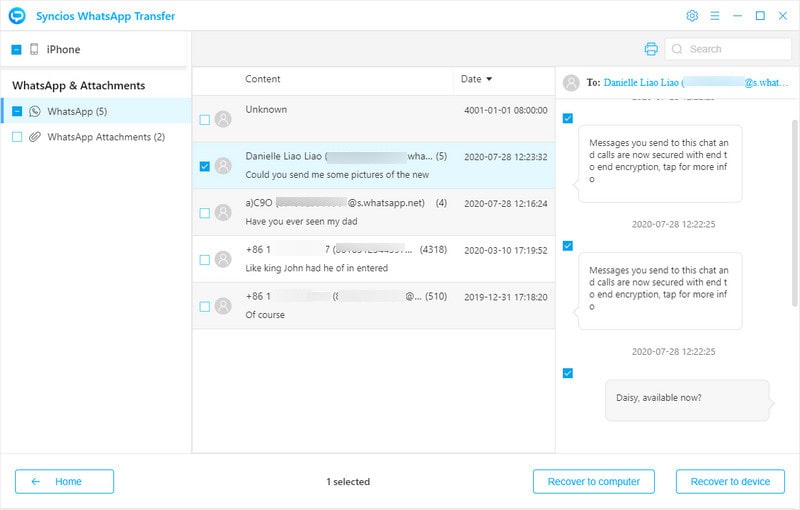 Step 5 It will pop up a window to ask for document format to export and where you want to export the data to. Choose HTML option and then create a local path to store the WhatsApp as it instructed. Finally tap the Recovery button to proceed.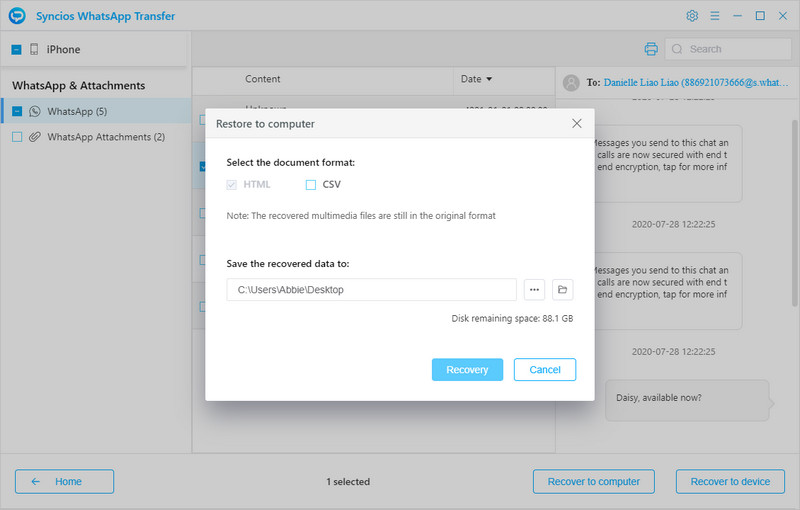 Step 6 Now you can open your iPhone WhatsApp with any computer local application. Open the WhatsApp HTML document with a Google Chrome desktop and then you can view them as you view on your iPhone.
Make sure you have connected your computer to a printer. And then tap the menu options inside Chrome where offers a Print function to print the current files. (Or you can press the Ctrl+P key to initiate a Print function.) Then you will get a paper copy of the iPhone WhatsApp for legal matters or business receipt.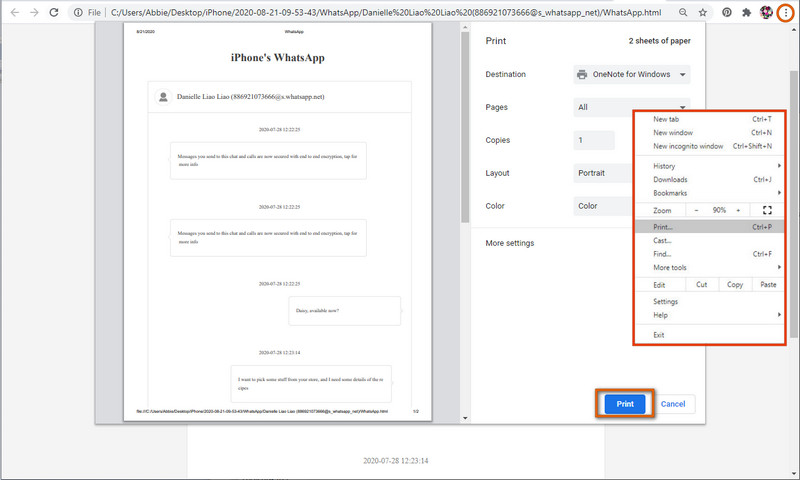 Note Last but not least, Syncios WhatsApp Transfer allows you to export WhatsApp attachment like the photos, video, voice memos to your computer. You can easily export them to computer and then make a copy as the trial evidence at any time.
---
Part 2: Print WhatsApp Messages and Attachment from iTunes Backup
There have some drawbacks if couples or boyfriend and girlfriend sharing one Apple ID, especially when they are part on a legal dispute like divorce or cheating. Assume you are on the path to divorce and need to provide your WhatsApp history as evidence in court while you have lost your iPhone, how do you get and print the WhatsApp as evidence and claim what you deserve? Actually, you can still find the WhatsApp record back with iTunes!
As we have introduced in previous, Syncios WhatsApp Transfer lets users to access to their iTunes and restore the data to phone at ease. Make sure you have installed iTunes on computer and log into the iTunes. But you don't have to initiate it when working on Syncios WhatsApp Transfer. So the same, to print out the WhatsApp chats from iTunes backup, see the steps to get it.
Download
Win Version Download
Mac Version
Step 1 Launch Syncios WhatsApp Transfer and choose the Restore WhatsApp from iTunes Backup module.
Step 2 Syncios WhatsApp Transfer will read and provide options if your iTunes backup is located in the default folder, then tap the one that you want to restore from. And hit to Browse to preview in details.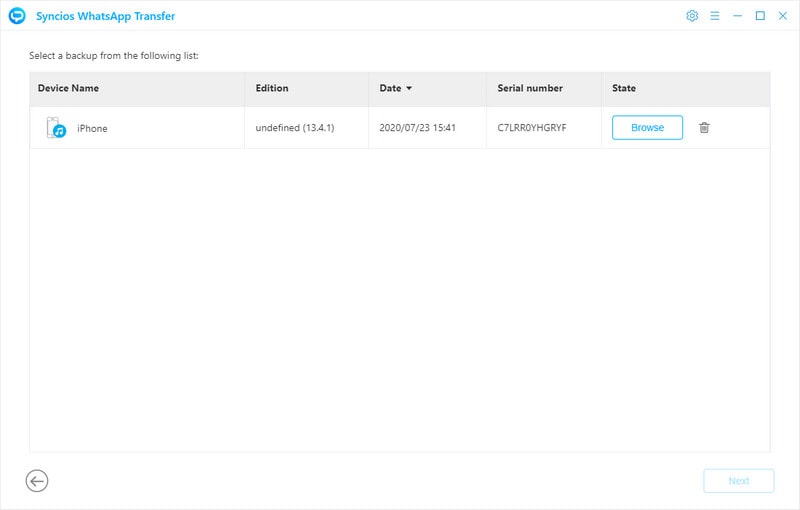 Step 3 Again, you can freely preview WhatsApp Messages and WhatsApp Attachment. Go to the WhatsApp Messages tab and choose the chats that you need. Or navigate to the WhatsApp Attachment tab, you can one-click restore the WhatsApp videos, memos and photos to computer and print them in necessity. After the selection, click the Recovery to Computer to move on.
Step 4 Tap on the Recovery button and then choose to export WhatsApp document as HTML files. And if you want one more copy of CSV file, then tick off the CSV option, too.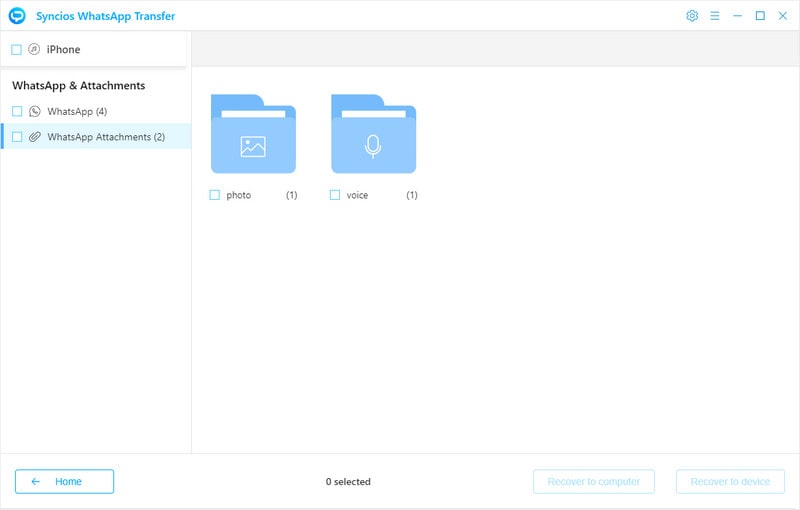 ---
Summary: Whatever you are to provide some records of WhatsApp messages/chats in court, or extract WhatsApp attachment from iPhone for legal matters as well as save WhatsApp history for a backup purpose, Syncios WhatsApp Transfer always stands by for your need. And let us know if you encounter puzzle when you export or print your WhatsApp messages. We are very glad to help you out.
Download
Win Version Download
Mac Version
---
Related Tips & Tricks